Please Write to Your Legislators In Support of Hemp Bills Today
Take Action Today and Receive Hemp History Week Rewards!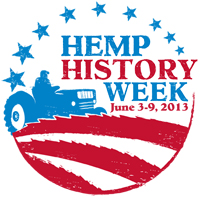 Dear Reader,

We had a very exciting week for Hemp History Week and we have appreciated the outpouring of support for our lobbying efforts during this week of celebration.
Here are some of our accomplishments:
Thanks to your help, we generated more than 10,000 emails and 750 calls to Senate offices in support of hemp farming
Vote Hemp distributed key educational materials to more than 90 Senate offices and met with dozens of staffers over the past few weeks
Senator Leahy (D-VT), who is the Chair of the Judiciary Committee where The Industrial Hemp Farming Act is assigned, is now publicly supporting hemp farming legislation
Educated the public on industrial hemp benefits at more than 880 Hemp History Week events nation-wide
A number of Senators were asked about their stance on hemp by the media, which had not been happening previously, and we hope that this will lead to them being briefed by staff
Last Thursday the Senate voted 75-22 for cloture, a motion to cut off debate, on the Farm Bill and the bill is scheduled for a vote by the Senate this evening. Unfortunately Sen. Wyden's industrial hemp amendment was left without receiving a vote. Only a handful of amendments were voted on and the hemp amendment was one of more than 200 that did not receive a vote. Politics prevented a large number of good amendments from seeing the light of day. At least we have received a lot of good press on the issue of hemp and many more members of Congress are now aware of the subject than there were before.
Even though the hemp amendment to the Farm Bill didn't get a chance for a vote, we still have an opportunity to pass the Industrial Hemp Farming Act, which has already been introduced in both houses of Congress and has bipartisan support. The Senate version of the Act has the same language that the hemp amendment to the Farm Bill did.
We will be meeting with our supporters in Congress over the next few weeks and plan to push for hearings in both the House and Senate. We also plan to organize a briefing for Senate staffers. We still need your help and you will receive Hemp History Week rewards for doing so!
Please call or write to your U.S. Senators in support of S. 359, the Industrial Hemp Farming Act of 2013, and be rewarded with the danceable song: "Can't Stop" from Ozomatli, a Grammy Award winning band! Please take action now:
Also, please write to your U.S. Representative in support of H.R. 525, the companion bill to S. 359, and you'll be able to download coupons from Hemp History Week sponsors including: Dr. Bronner's Magic Soaps, Manitoba Harvest Hemp Foods, prAna, Nutiva, and Navitas Naturals. Take action now:
To help us continue our education and outreach to allow hemp farming and processing in the U.S. once again we ask that you make a donation to Vote Hemp.