On August 20th Vote Hemp board member Christina Volgyesi and Living Harvest CEO Hans Fastre attended a private event at Congressman Kurt Schrader's home in Canby, OR where they had an opportunity to meet Secretary of Agriculture Tom Vilsack. They discussed the economic benefits of resuming industrial hemp farming and asked for the Secretary's help in obtaining a meeting with the Department of Justice on behalf of American farmers and the seventeen states which have passed hemp farming legislation. The following week Secretary Vilsack personally hand delivered our briefing documents to Attorney General Eric Holder at a meeting they had scheduled. Vote Hemp is now working with the United States Department of Agriculture (USDA) and Congressional staff to request a meeting with the Department of Justice. We are also trying to encourage the USDA to revise the inaccurate ten year old Economic Research Service Report:
Industrial Hemp in the United States: Status and Market Potential
.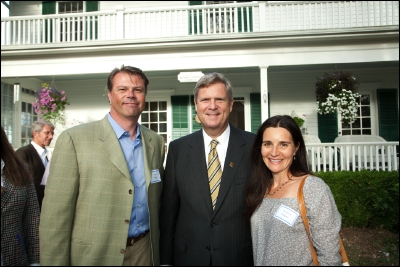 Hans Fastre, CEO and President Living Harvest Foods, Tom Vilsack, Secretary of Agriculture and Christina Volgyesi, Vote Hemp board member.
In February we wrote to you about our goals for this year and the strategies that we were going to use to achieve them. We also asked you to make a donation to Vote Hemp on our web site and told you that
Dr. Bronner's Magic Soaps
has generously agreed to match every dollar you donate, doubling the impact of your contributions:

While the economy has not helped us meet our fundraising goals for this year, we have exceeded what we set out to do to help return hemp farming and processing to the U.S. In addition to securing meetings with officials at the USDA, and continuing to work towards meetings with the Department of Justice, we also had a meeting with the White House Office of National Drug Control Policy (ONDCP) in the first week in August. Eric Steenstra, President of Vote Hemp, and Tom Murphy, our National Outreach Coordinator, met with Kevin Sabet, ONDCP Special Advisor for Policy, and Regina LaBelle, ONDCP Senior Policy Advisor, and discussed a range of issues that surround industrial hemp policy. The follow up on this meeting has been good and we are currently discussing changes to the ONDCP web site and they are working on our request to get a copy of the ONDCP's current policy on industrial hemp in writing. Even if the Obama Administration and the ONDCP don't currently have a policy on industrial hemp we would like to have that in writing.
In July we wrote a
letter to the Senate Committee on the Judiciary
opposing the nomination of Michele Leonhart to be Administrator of DEA. Leonhart is part of the problem at DEA and has not acted reasonably regarding license applications or general policy. To date there still has not been a Committee hearing on her nomination and considering the gridlock in the Senate during this session of Congress they may not have one before the end of the 11th Congress in January of 2011.
A few weeks ago we announced
The Vote Hemp Guide to Hemp Activism, A Concise Guide to Citizen Lobbying on the Hemp Issue
. This eleven page guide will give you the information and tools that you need to confidently and effectively ask your elected representatives to support legislation that will lift the current ban on hemp farming in the U.S. The
Vote Hemp lobbying page
has more information and you can download a PDF copy of this guide.
We are also happy to tell you that we have another co-sponsor for H.R. 1866, the "Industrial Hemp Farming Act of 2009." Rep. Chellie Pingree of Maine's first district signed on last month. Techniques that are in
The Vote Hemp Guide to Hemp Activism
were used during the August recess to gain her support. H.R. 1866 now has twenty-five co-sponsors, including Rep. Ron Paul, the most number it has ever had!
Another part of of our strategy this year was the Hemp History Week postcard campaign to get the attention of Attorney General Eric Holder. Volunteers from across the country spread the cards far and wide, getting physical support for our cause and introducing thousands of new people to the issue. We collected as many signed postcards as we could,
packed them in boxes
, addressed them to the Department of Justice and included a cover letter. If you were not able to sign a postcard in person you may send a virtual postcard to President Obama and Attorney General Holder using our
letter writing tool
.
Remember that there is an election coming up in November, so
register to vote
.
Please remember to make a
contribution
to Vote Hemp today to help us continue working for hemp farming in the U.S. We need and truly appreciate your support!
Regards,
Eric Steenstra
President
Vote Hemp