May 17-23, 2010 marked the
1st Annual Hemp History Week
, a national grassroots education campaign organized by the leading hemp advocacy organizations Vote Hemp and The Hemp Industries Association.
Hemp History Week
was organized with the goal of renewing strong support for hemp farming in the U.S. In addition to events across the country, thousands of hand-signed postcards addressed to President Barack Obama and Attorney General Eric Holder were also collected, which asked them to end the ban on hemp farming in the U.S. and let farmers grow the versatile and profitable crop.
Political momentum in support of hemp farming grew during the lead up to
Hemp History Week
with six new Congressional co-sponsors for H.R. 1866, the Industrial Hemp Farming Act of 2009. All co-sponsors now total 25 members, but H.R. 1866 has yet to be heard in the Judiciary Sub-Committee on Crime, Terrorism and Homeland Security, the committee where H.R. 1866 was assigned.
At Vote Hemp we depend entirely on donations to accomplish our goals and none of our efforts in the past ten years would have been possible without contributions from key supporters of Vote Hemp.

Thanks to donations from supporters like you, we were able to accomplish many of our goals in 2009 and we are getting very close to achieving our ultimate goal, legal hemp farming for American farmers. Vote Hemp is making good progress on multiple fronts and we are working on a number of strategies to accomplish our goals for this year. We need your help to do this and I ask that you make a donation to Vote Hemp.
Dr. Bronner's Magic Soaps
has generously agreed to match every dollar you donate, doubling the impact of your contribution.

As the news in this issue shows, the rest of the world gets it and is profiting off of hemp grown and processed in their countries. With your help we will continue to work towards a solution to the issue here in the U.S.
Regards,
Eric Steenstra
President
Vote Hemp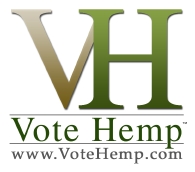 p.s. Late last month the Hemp Industries Association announced that the 17th Annual HIA Convention will be held on Sunday and Monday, November 7-8, 2010 at the Holiday Inn - Civic Center in San Francisco, CA. Please
click here
to learn more and register for the 2010 HIA Convention.