Dear Reader,
While putting together the latest issue of The Hemp News Update I realized that the news was much more related to our legislative efforts than the regular offering and should go out to our entire list. The signing of the Oregon hemp farming bill by Governor Ted Kulongoski was very important on the state level. In Washington, DC our summer intern, Ben Droz, had his industrial hemp samples confiscated at the Capitol. There is more on both of these items in the stories below.
The sad news out of Oregon is that Daryl Ehrensing, who wrote the Feasibility of Industrial Hemp Production in the United States Pacific Northwest study, passed away unexpectedly from a heart attack. It would have been great for him to see the crop grown in the state.
This year the growth of the hemp markets in the U.S. helped with our legislative efforts and many companies provided samples and testimony to help pass hemp bills, resolutions and memorials. This growth is especially evident in the food, beverage and cosmetics markets. HIA member companies Living Harvest Foods and Nutiva were named to Inc. Magazine's 500|5000 List and both companies ranked very well in the Food & Beverage Category. Nutiva is celebrating its tenth anniversary and is holding a HempShake Sale. In this issue the HIA Featured Member is Ruth's Hemp Foods, which is having a 15% off everything sale in their online store just for our readers, so please check out their profile below for the coupon code.
In our current set of Action Alerts on the Federal level we are asking that you write your representatives in Washington and ask them to become co-sponsors of H.R. 1866, the Industrial Hemp Farming Act of 2009, and to work to get hearings for the bill in the committees to which it has been assigned. Please take action and write today!
Finally, please also make a contribution to Vote Hemp today to help us continue fixing the situation here in the U.S.
We need and truly appreciate your support!
Best Regards,
Tom Murphy
Vote Hemp Report Editor
Table of Contents
Dude, Where's My Hemp?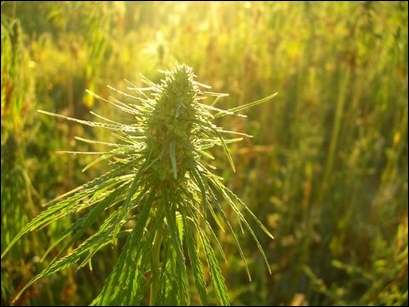 By Jim Iovino
NBC Washington
August 13, 2009
What happens when a hemp activist has his stash confiscated by officers at the U.S. Capitol? He calls for a "beer summit," of course.
A Vote Hemp legislative assistant said Capitol Police seized his samples of industrial hemp fiber on Monday at a Rayburn Building checkpoint. Ben Droz said he was going to use the fiber, along with hemp seeds, hemp hurd and a hemp cinder block, for a scheduled presentation to congressional staffers on the Hill.
"It's ironic that the very items I was using to clear up confusion became the subject of contraband and were confiscated," Droz said.
Hemp Advocates Ask for 'Beer Summit' With Capitol Police


By Emily Yehle
Roll Call
August 12, 2009
Hemp proponents are calling for a "beer summit" with the Capitol Police after they say officers confiscated their bags of hemp seeds and fiber earlier this week.
Benjamin Droz, a legislative assistant for Vote Hemp, said he was headed to the Capitol on Monday when officers stopped him at a security point in the Rayburn tunnel and searched his bag.
Inside were examples of the versatility of hemp: a hemp cinder block, hemp seeds, hemp hurds and hemp fiber. Questioning ensued, and soon several officers were gathered around discussing what to do with the items.
Hemp Shorts:

The personal care line Dropwise (far left) does not bear the USDA Organic Seal but Dr. Bronner's, Whole Earth and Juice Beauty products do merit the emblem. Photo credit: Mike Kepka/San Francisco Chronicle.
Beauty Products Good Enough to Eat?
The San Francisco Chronicle has the story on companies that are determined to use the prestigious USDA Organic certification emblem on their personal care products.
BMW Owners Show Hemp's No Longer Just for Hippies
Ann Woolner consistently offers great commentary about hemp. This one is a must read as well.
Hemp agriculture gains traction at state, local levels
Scott Jorgensen of the Illinois Valley News has some great coverage of the events in Oregon including a positive quote from a County Sheriff.
Growing Industrial Hemp in Damp Oregon Faces Challenges
As we have seen before it looks like the AP has a negative story line that they want to push instead of the positive business outlook that hemp is already providing in the state.
HIA Featured Member - Ruth's Hemp Foods

In the early 1990s, when Ruth Shamai was introduced to hemp as an industrial product, it was not yet legal to grow commercially in Canada, and she was one of the first people to become active in this lobby. During this time, (and with the permission of the Canadian government), Ruth and Dr. Dave Hutcheson started a breeding project that resulted in CRAG, one of the first indigenous seed varieties in Canada, with superior growing traits for the Canadian climate. The hemp lobby's goal to grow hemp commercially in Canada was achieved in 1998.
Ruth had stopped eating meat in the 1960s and had a strong interest in nutrition since that time. "I've always been interested in healthy foods. When my research identified the significant nutritional benefits of the hemp seed, I knew I'd found my calling!" commented Ruth, and Ruth's Hemp Foods was born.
Ruth wanted to introduce hemp into the North American diet, but with so many food products introduced to the market daily, felt it was important to maintain a set of values that she had identified as important. These values have formed the foundation of my company and all our foods. Most importantly, they are free of genetic modification, also contain no synthetic vitamins, no trans-fats, and no refined sugar. Our company slogan is "If these are your Values, this is your Food."
Ruth's Hemp Foods is offering 15% off everything in our online store for readers of The Vote Hemp Report. Please go to ruthshempfoods.com/store and put the items that you will buy in your cart and use the code "TomLovesHemp" for your discount. Remember, Ruth donates 20% of the profit from her Vote Hemp bar, (red, white and blueberry!) to Vote Hemp.
[If you are a member of the HIA and would like to have your company featured here, please submit a small selection of graphics and a profile of no more than a few paragraphs to tom@thehia.org, or call 207-542-4998 for more information. Space is limited and is first-come, first-serve. Your member profile will be seen in the The HIA Member Newsletter as well as in The Hemp News Update, which is read by thousands of subscribers.]
Hemp's Big Test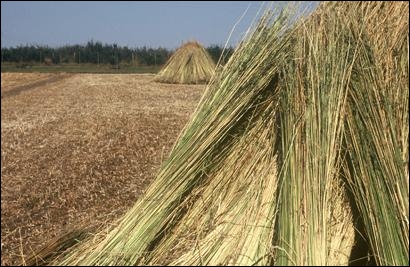 Bundled hemp stalks await transport and processing in a field in China. Photo credit: Photo provided by Ed Rosenthal
By Karen Petersen
Albany Democrat-Herald
August 8, 2009
Industrial hemp has gotten the green light from the Oregon legislature, but don't expect the controversial crop to sprout up in mid-valley fields anytime soon.
Three major hurdles could prevent this potential money-maker from taking root: irrigation, infrastructure and eradication.
"Hemp is a cornbelt crop," said Daryl Ehrensing of the Crop and Soil Science Department at Oregon State University and author of a 1998 report on the feasability of growing hemp in the Pacific Northwest. In this area, "no commercial grower is going to do this on any kind of scale."
Current Action Alerts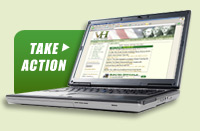 Nationwide: Click here to write your Congressional representative and ask him/her to become a co-sponsor of H.R. 1866, the Industrial Hemp Farming Act of 2009. If he/she is a co-sponsor already, you will be able to thank them and ask them to help get the bill a hearing in committee.
The following states have passed hemp farming bills and/or resolutions or memorials urging Congress to allow states to regulate hemp farming. Please use the links below to write to your Congressional representative if you are from these states.
Maine: Click here to write to Your Representative and ask them to become a co-sponsor of HR 1866.
Montana: Click here to write to Rep. Denny Rehberg and ask him to become a co-sponsor of HR 1866.
New Mexico: Click here to write to Your Representative and ask them to become a co-sponsor of HR 1866.
North Dakota: Click here to write to Rep. Earl Pomeroy and ask him to become a co-sponsor of HR 1866.
Oregon: Click here to write to Your Representative and ask them to become a co-sponsor of HR 1866.
Vermont: Click here to write to Rep. Peter Welch and ask him to become a co-sponsor of HR 1866.
[More...]



Quick Links ...