Dear Reader,
Welcome to the final issue of The Vote Hemp Report for 2008. In this issue, we focus on our successes over the past year and highlight some key developments.

The past year has been a good one for Vote Hemp and our supporters, and we look forward to the new year and a new administration in Washington, DC. Vote Hemp was founded in 2000 by members of the hemp industry and incorporated in the District of Columbia as a 501(c)4 non-profit organization. Since then Vote Hemp has emerged as the lead political activist organization of the hemp industry. Vote Hemp is an accomplished strategic organization working for meaningful change in Washington, DC — a necessary precursor to expanding the hemp industry in the U.S. and worldwide.
Vote Hemp is working to shift federal regulation of industrial hemp farming out of the hands of the Drug Enforcement Administration (DEA) and back to the Department of Agriculture (USDA) and to get hemp farming regulated on the state level. To accomplish these goals, we work on three primary levels: federal and state legislation, media and consumer education, and litigation when necessary.
Speaking of litigation, Rep. Dave Monson and Wayne Hauge were back in court last month in the U.S. Court of Appeals for the Eighth Circuit in St. Paul, Minnesota. They were appealing a decision by the U.S. District Court, District of North Dakota, in Bismarck. All court documents related to the case, including a sound file of the oral arguments, can be found online at our Web site.
Vote Hemp and you, our contributors, are providing financial support for the farmers' lawsuit. If it is successful, states across the nation will be free to implement their own hemp farming laws without fear of federal interference. Vote Hemp depends entirely on donations from supporters like you to do our work. Please make a year-end donation to our Hemp Farmer Licensing and Legal Support Fund now to continue supporting our efforts in North Dakota.
Early in 2008 Rural Vermont, a leading state agriculture policy non-profit organization, held a week-long series of hemp events across Vermont to raise awareness and funds to help pass the state hemp farming bill, H 267. The "Hemp Week" lecture series and film tour featured North Dakota Rep. David Monson and Agriculture Commissioner Roger Johnson, as well as the films "Hemp and the Rule of Law" and "Standing Silent Nation." Rural Vermont, working with Vote Hemp, ensured that an agricultural hemp farming bill was introduced, properly heard in committees and passed into law. Amy Shollenberger, Executive Director of Rural Vermont, was quoted in a local paper as saying "Eventually, the federal government is going to have to change its policy on hemp."
There are still plenty of things you can do, even if there is not an active hemp bill in your state. You can vote right now for our agricultural hemp question in the current "Open for Questions" section of Change.gov which is run by the Office of the President-Elect. Please see our recent National Action Alert for more information.
You can also click here anytime to write your Representative in Congress and ask him or her to co-sponsor HR 1009, the Industrial Hemp Farming Act of 2007, and educate their staff members and colleagues at the same time. If you receive a reply from your Representative, please send a copy to us to help in our efforts.
As 2008 draws to a close, we are looking forward to the next legislative season when we will have the opportunity to introduce (or re-introduce) hemp farming bills, study bills and resolutions on both the state and federal levels. All of this will take planning, coordination and funding. Please make a year-end donation to Vote Hemp today to help us continue our work and bring hemp farming back to its rightful place in America.
Best Regards and Happy New Year,
Tom Murphy
National Outreach Coordinator

Table of Contents
[Vermont] Senate Passes Bill Legalizing Industrial Hemp Cultivation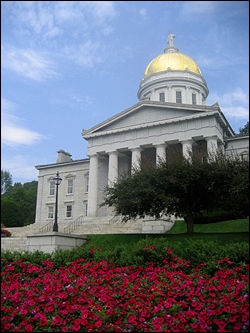 By Peter Hirschfeld
The Barre Montpelier Times Argus
May 2, 2008
Montpelier, VT — The calls came into the Statehouse at a furious pace Thursday morning, inundating the Senate Judiciary's voicemail with ardent votes of support for a bill stuck in committee.
The groundswell wasn't about the state budget, transportation, economic stimulus or other big-ticket must-haves this legislative session. Vermonters, it seems, want their hemp.
"I had 73 calls this morning," said Sen. Dick Sears, chairman of the Senate Judiciary Committee.
Sears, a Bennington Democrat, didn't have occasion to respond to the callers, but he did hear their message. And with some reluctance, Sears allowed the bill to pass out of committee and onto the Senate floor, where legislation legalizing industrial hemp cultivation in Vermont won nearly unanimous support.
ND Farmers Appeal to Grow Hemp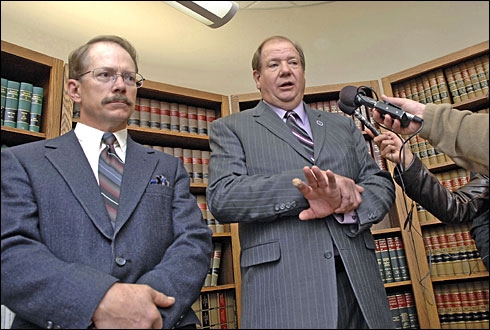 Wayne Hauge, left, and Dave Monson discuss their lawsuit. Photo credit: Will Kincaid / The Bismarck Tribune.
By Donna Leinwand
USA TODAY
November 6, 2008
Two North Dakota farmers will ask a federal appeals court in St. Paul on Wednesday to allow them to grow hemp on their farms, even though the federal government says it's illegal.
Farmer Dave Monson, a Republican representative in the North Dakota Legislature, says the variety of the Cannabis sativa plant grown as hemp is an ideal crop to rotate annually with wheat and barley.
Canadian farmers 20 miles north of his Osnabrock farm do a brisk business selling their hemp to Detroit carmakers who use it inside door panels and for insulation in seats, he says.
Monson says the hemp has no value as a drug because it has a low concentration of THC, the ingredient in marijuana that causes a high.
Hemp a Growing Industry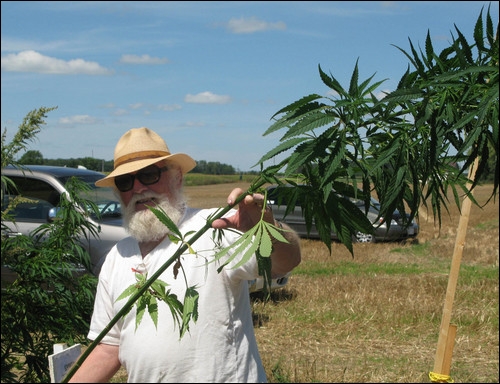 Gordon Scheifele shows an industrial hemp plant. Photo credit: Brian Shypula / The Beacon Herald.
By Brian Shypula
The Beacon Herald
August 18, 2008
Tavistock, Ontario — A decade after it became legal to grow in Canada, industrial hemp finally looks closer to delivering on its potential as a wonder crop.
"It's growing rapidly, but it's a delicate balance still in the growth phase," Gordon Scheifele, former president of the Ontario Hemp Alliance (OHA), said at a field trial open house held on Saturday northwest of Tavistock.
"We want to communicate ... that 'Hey, this is great stuff, and it's going to change our lives with regard to how it moves into the industrial applications, like hemp grain for food,'" he said.
Current Action Alerts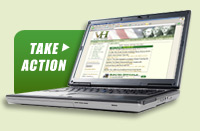 Nationwide: Vote for our agricultural hemp question in the current "Open for Questions" section of Change.gov which is run by the Office of the President-Elect. We would like to get over 2,500 votes for our question and are already halfway there! Please see our recent National Action Alert for more information.
And then also click here to send a letter urging your U.S. Representative to co-sponsor HR 1009, the "Industrial Hemp Farming Act of 2007."



Quick Links ...