Dear Reader,
While most Americans may have let yesterday pass without notice, it was Constitution Day. On September 17, 1787, members of the Constitutional Convention signed a seminal document stating "We the People of the United States, in Order to form a more perfect Union, establish Justice, insure domestic Tranquility, provide for the common defence, promote the general Welfare, and secure the Blessings of Liberty to ourselves and our Posterity, do ordain and establish this Constitution for the United States of America."

In honor of that important document, we want to remind you that Vote Hemp is working to shift federal regulation of industrial hemp farming out of the hands of the Drug Enforcement Administration (DEA) and back to the Department of Agriculture (USDA), and to get hemp farming approved and regulated on the state level.
To accomplish these goals, we especially wish to emphasize your right and responsibility to vote. This is shaping up to be a momentous presidential election, and no matter what your political affiliation — whether major party or third party — if you vote on only one issue, let that be the hemp issue. It helps of course that hemp is supported by folks from all across the political spectrum.

Check out our newly-updated 2008 Voter Guide and see for yourself.

Many people look to deprive you of your vote, but if something is worth stealing, then it's worth taking the little bit of time necessary to learn how to keep it and use it. Being able to tell an elected official that you are a registered voter and that you voted in the last election will make a difference. Please note that many states have voter registration deadlines coming up in the next two weeks.
So, please make a difference. Be a voter. It's easy!
Please click here now to register to vote.
If you would rather not register to vote online, or if you live in a state that is not supported by our online registration form, please click your state on the map on our Voter Registration Information page for more information.
Vote Hemp was founded in May 2000 by members of the hemp industry and was incorporated in the District of Columbia as a non-profit 501(c)4 organization. Since then, Vote Hemp has emerged as the leading political activist organization representing makers and buyers of hemp products and hemp advocates around the world. We have worked hard for meaningful change in Washington, DC, a necessary precursor to expanding the hemp industry in the U.S. and globally.
Vote Hemp is a national, single-issue, non-profit organization dedicated to the acceptance of and a free market for low-THC industrial hemp and to changes in current law to allow U.S. farmers to once again grow this valuable agricultural crop. We educate people on the issues surrounding hemp, register voters, and build coalitions to fulfill our mission.
We are looking forward to the next legislative season when we will have the opportunity to introduce or re-introduce hemp farming bills, study bills and resolutions on the state and federal level. All of this will take planning, coordination and funding. Please make a contribution to Vote Hemp today to help us continue our important work and bring hemp farming back to America.
We depend on and truly appreciate your support!
Sincerely,
Tom Murphy
National Outreach Coordinator

Table of Contents
Do Me the Honor of Being My Fellow Americans and Vote

Late Late Show with Craig Ferguson
CBS
September 10, 2008
Host Craig Ferguson talks about his experiences being a new U.S. citizen and encourages his viewers to register and vote in these two CBS/YouTube videos.
After you've watched these wonderful bits on the Vote Hemp Web site, please go ahead and register to vote!
The Motherlode of All Voter Registration Diaries

By icebergslim
Daily Kos
September 17, 2008
It is bookmark time and forwarding the LINK time. All 50 States of the Union, Voter Registration Information Here. NO EXCUSES.
A few things, you must be a U.S. citizen, resident of the state you are voting in, at least 18 years old by November 4, 2008, and sign your form. Changing or registering for the first time and mailing in your application, make sure you bring I.D. to the polls.
Voting Absentee for military or citizens living outside of the U.S., find information at Vote from Abroad or Long Distance Voter.
Rock the Vote Hits Virginia Tech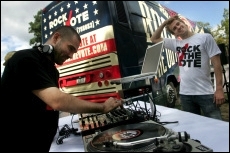 Rock the Vote disc jockey Aaron James. Photo credit: Matt Gentry | The Roanoke Times.
By Greg Esposito
The Roanoke Times
September 16, 2008
BLACKSBURG, VA — A small island of grass next to the Virginia Tech Drillfield became the center of a national youth voter registration effort Monday.
The Rock the Vote bus made Blacksburg one of the first stops on its national tour to register young people around the country to vote in the November elections. The nonpartisan group based in Washington was joined by leaders from Tech's student government, Young Democrats, College Republicans and Students for Obama chapter.
"Regardless of whom you support, this is a good thing," said Dan Geroe, president of Tech's Young Democrats.
Voter Registration by Students Raises Cloud of Consequences

By Tamar Lewin
The New York Times
September 7, 2008
The widespread practice of students' registering to vote at their college address has set off a fracas in Virginia, a battleground state in the presidential election.
Late last month, as a voter-registration drive by supporters of Senator Barack Obama was signing up thousands of students at Virginia Tech, the local registrar of elections issued two releases incorrectly suggesting a range of dire possibilities for students who registered to vote at their college.
The releases warned that such students could no longer be claimed as dependents on their parents' tax returns, a statement the Internal Revenue Service says is incorrect, and could lose scholarships or coverage under their parents' car and health insurance.
Current Action Alert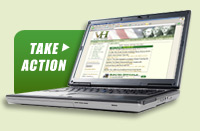 Nationwide: Click here to register to vote in the United States.
Click here to send a letter urging your U.S. Representative to co-sponsor HR 1009, the "Industrial Hemp Farming Act of 2007."
[More...]



Quick Links ...