Dear Reader,
In 2005, Vote Hemp worked with Congressman Ron Paul (R-TX) to introduce the first-ever federal industrial hemp farming act. We launched the bill with a Capitol Hill luncheon featuring hemp food catered by the Galaxy Global Eatery. In addition to the bill's sponsor Dr. Paul, consumer-advocate Ralph Nader, North Dakota Agriculture Commissioner Roger Johnson and North Dakota Republican State Representative and Assistant Majority Leader David Monson were there to speak.

You can view video from the event on our Web site here, and read an article in USA Today about the bill's original introduction, "Industrial Hemp Support Takes Root."
Two years later, we're closer than ever to the goal of restoring industrial hemp farming to its rightful place in the U.S. economy. We're still working with Commissioner Johnson and Representative Monson. Just last week Commissioner Johnson personally delivered applications to the U.S. Drug Enforcement Administration (DEA) for two state-licensed industrial hemp farmers, Rep. Monson and Wayne Hauge. To catch up on the latest news on industrial hemp from North Dakota and around the country, visit our News page.

The DEA has the power to waive federal registration for state-licensed industrial hemp farmers, but if they won't, it's up to Congress to keep the promise our government made to industrial hemp farmers in 1937 when they passed the first federal law regulating marijuana Ñ that they could go ahead and continue raising hemp just as they always had.

And that takes us back to the Industrial Hemp Farming Act. Dr. Paul reintroduced the bill last week as HR 1009, the "Industrial Hemp Farming Act of 2007." Nine additional members of Congress signed on as original co-sponsors, including Congressman Dennis Kucinich, who, as chair of the Domestic Policy subcommittee, could hold hearings on federal barriers to industrial hemp farming.

Please help Vote Hemp urge supportive Senators to introduce a companion bill. There are two Senators on record in support of industrial hemp. Sen. Barack Obama voted for an Illinois industrial hemp bill as a State Senator in 2000, and Sen. John Tester co-sponsored the bill that became Montana's industrial hemp farming act in 2001. (Montana, with a law very similar to North Dakota's, could also license farmers and engage in negotiations with the DEA.)

As a 2008 Presidential hopeful, Sen. Barack Obama is in good company among hemp supporters running for president. These include Congressmen Paul and Kucinich, Iowa Governor Tom Vilsack who voted for a hemp bill while he was in the Iowa Senate, and former Senator John Edwards who returned Vote Hemp's candidate survey in the 2004 election and earned a "B-" grade for his position that industrial hemp research should not require DEA permits.

Getting more state legislatures on record in support of industrial hemp farming is an important part of Vote Hemp's legislative strategy. Read on below for updates on South Carolina, North Dakota, Idaho, California and New Hampshire. In the coming weeks, we expect to have news from Vermont, New Mexico and other states. If there's nothing going on in your state, please write to your state legislators and urge them to introduce a pro-hemp resolution. You can find a draft resolution on our Legislation page.
Finally, if you enjoy reading hemp news that goes beyond legal and legislative updates, please subscribe to our Weekly News Update by clicking the "Update Profile/Email Address" link in the footer below and adding "Weekly News Update" to your Email List Options.

Thanks again for your ongoing support.
Sincerely,
Eric Steenstra
President
Vote Hemp

PS Ñ Be sure to send a letter urging your Congressional Representative to co-sponsor HR 1009, the "Industrial Hemp Farming Act of 2007."
Federal and State Legislative Updates
Industrial Hemp Bill Voted Down in Idaho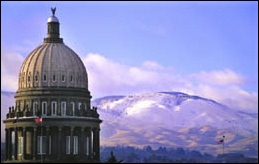 For the third time in eight years, state Agriculture Committee Chairman Rep. Tom Trail (R-Moscow) introduced a resolution that would have asked the U.S. Congress to remove federal barriers to industrial hemp farming. Unfortunately, it was shot down by lawmakers who were concerned that hemp farming could make it easier for marijuana farmers to sneak their crops past law enforcement.
Apparently, they weren't aware that marijuana growers don't want to have their specially-selected female plants anywhere near industrial hemp, whose male plants would ruin the illicit crop with hemp pollen. The threat industrial hemp poses to marijuana is so serious that last year in California legal medical marijuana growers vocally opposed an industrial hemp bill because it didn't contain a clause they desired that would have limited commercial industrial hemp production to agricultural areas of the state where marijuana isn't widely cultivated.
North Dakota Congressional Delegation Avoids Hemp Debate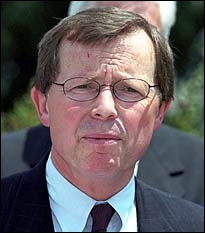 North Dakota Congressman Earl Pomeroy
North Dakota Agriculture Commissioner Roger Johnson said his February 13th meeting with federal drug agents at the DEA in Washington to submit the first applications to grow industrial hemp was not very productive.

Johnson said federal DEA officials were reluctant to accept the applications and fee payments he submitted on behalf of Osnabrock state Representative Dave Monson and Ray farmer Wayne Hauge.

According to Commissioner Johnson, DEA officials would not directly say when they would make a decision on the applications but indicated they would not be approved.

"I felt that we've got a long ways to go with the DEA," Johnson said after the meeting. "They made it quite clear that they still do not understand or believe the distinction between industrial hemp and marijuana. That's a pretty fundamental issue."
New Hemp Bill in New Hampshire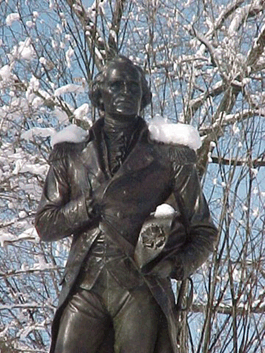 For the seventh time in nine years, an industrial hemp bill has been introduced in New Hampshire.
HB 424 was introduced on January 4, 2007 and has been referred to the House Environment and Agriculture Committee. A hearing is scheduled for 1:00 PM on Tuesday, March 6 in Room 303 LOB.
The bill, introduced by Rep. Derek Owen along with Rep. Susi Nord, Rep. Lee M. Hammond, Rep. Jacalyn L. Cilley and Rep. Frank A. Tupper, would create a regulatory program for industrial hemp farming very similar to North Dakota's and includes a finding that "the development and use of industrial hemp can serve to improve the state's economy and agricultural viability and the production of industrial hemp can be regulated so as not to interfere with the strict regulation of controlled substances in this state."
South Carolina Becomes 28th State to Introduce Hemp Bill


South Carolina currency from 1789. The front of this engraved bill has a vignette of a tobacco plant and a coil of hemp rope.
H 3305, introduced in the South Carolina House on January 17, 2007 by Reps. Bill Herbkersman, R-Bluffton, and William Witherspoon, R-Conway, chairmen of the Agriculture, Natural Resources and Environmental Affairs Committee, would create a committee to study the beneficial uses of industrial hemp.
The bill includes the findings that hemp "has virtually no intoxicating effects when consumed ... and ... is an efficient and economical crop for farmers to grow" and "a variety of useful materials can be made from hemp such as paper, textiles, building materials, food, medicine, paint, detergent, varnish, oil, ink and fuel."
Rep. Bill Herbkersman believes hemp might be a lifeline for South Carolina's faltering tobacco and textile community.
"This has the potential to replace a good part of the tobacco-growing industry," said Herbkersman.
Hemp Bill to be Reintroduced in California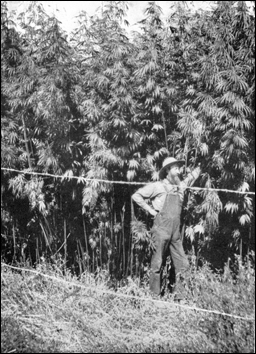 The 1903 USDA Yearbook shows that the hemp grown in Gridley, CA was well over 10 feet tall. Photo courtesy of Hempology.org
The California Industrial Hemp Farming Act will be reintroduced today. Click here to watch a fantastic television news segment that aired on Monday. In the piece, Javier Pena, a DEA special agent, is confronted with the fact that industrial hemp has about as much THC as poppy seeds have opium.
Pena countered, "It doesn't matter. It could be half of a half of a half percent. If it's THC, it's illegal under federal statutes."
This issue has already been settled by the courts in favor of the hemp industry. The trace amount of naturally-occurring THC in industrial hemp cannot be banned under the theory that THC is a scheduled drug. "THC" in the Controlled Substances Act (CSA) applies to synthetic THC, not non-psychoactive industrial hemp.
Hemp Farming Act Reintroduced in Congress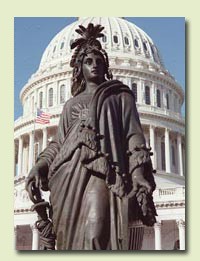 Click here to send a letter urging your Congressional Representative to co-sponsor HR 1009, the "Industrial Hemp Farming Act of 2007."