Dear Reader,

In this issue of the Vote Hemp Report, we bring you an update on HR 3037, the first-ever federal Industrial Hemp Farming Act, and a report on the progress of hemp farming in Canada.


A special note this week. We welcome Patrick Goggin to the Vote Hemp Board of Directors. Patrick began working with Vote Hemp in 2001 on the HIA v. DEA case. He has also taken an active role in helping coordinate our efforts to support the California Industrial Hemp Farming Act (AB 1147). Patrick will surely be a valuable addition to our board.

With this gain we also have a loss. Erik Rothenberg, one of Vote Hemp's long-time board members, has moved on to pursue other interests and business ventures. Erik has been an incredible asset and wrote our Vote Hemp Treatise A Renewal of Common Sense: The Case for Hemp in 21st Century America. It is just as relevant today as it was when it was written in 2001. If you have not read it lately, we suggest that you take another look. We thank Erik for his years of service and wish him well in his new ventures.

In state news, we've included an update on the Vermont hemp bill, which unfortunately won't be leaving the Agriculture Committee this year. Look for news from California and North Dakota in the next Vote Hemp Report.

In the next few months, the California Senate Public Safety Committee will hear hemp farming bill AB 1147. In the next few weeks, North Dakota will become the first state to implement a hemp farming law by allowing farmers to apply for licenses to grow hemp. This is huge news, as such unprecedented state action signals the beginning of the end of industrial hemp prohibition in the U.S.

While the Vote Hemp Report is generally focused on legislative and legal efforts to remove barriers to industrial hemp production, you'll notice that this issue also includes a write-up of a recent scientific article announcing the discovery of a genetic test that differentiates industrial hemp from marijuana. If you enjoy reading hemp news that goes beyond legal and legislative updates, subscribe to our Weekly Hemp News by clicking the "Update Profile/Email Address" link in the footer below and adding "Weekly Hemp News" to your Email List Options.

Finally, note that we have several new gift options for donors, including a hemp hat, Jim Pollock hemp t-shirt and tasty Hempzels pretzel snacks. See these items featured below in the right column.

Thanks again for your ongoing support!

Sincerely,

Eric Steenstra
President
Vote Hemp
National Update
Canadian Hemp 2006: Better Profit Outlook than Any Other Crop


By Bonnie Baltessen
April 21, 2006
Manitoba Co-Operator

The hemp industry in Manitoba is growing like a weed.

Rhea Yates, communications coordinator for Agri-Food Research and Development Initiatives (ARDI), said 30,000 acres of industrial hemp are expected to be grown in Manitoba this year.
Last year there were 12,000 acres in Manitoba, with Canada reporting a total of 20,000 acres. Manitoba was dubbed the hemp capital of Canada.
Keith Watson, diversification specialist with Manitoba Agriculture, said the 30,000 acres to be seeded in Manitoba would be mostly contracted acres. With two Manitoba processors and a new one from Alberta buying hemp, there is plenty of business to spread around.
"The Canadian total will be up quite a bit," Watson added, but declined to guess as to what the Canadian total would be. "The major expansion will be in Alberta and Saskatchewan," he said. He sees acres doubling every year for the next few years. "It's kind of gone through that stage of getting established and in feeling its way, and now it's got some solid processors," he said. "The markets are growing as much as they can handle."
Hemp has a better profit outlook than any other crop in 2006.
According to information from the Parkland Industrial Hemp Growers Co-op, the breakeven point for hemp to cover total costs is 388 pounds per acre. Average or "budget" yields in Manitoba, meanwhile, are about 500 to 600 pounds per acre. The clean grain price for hemp this year ranges from $0.45 to $0.58 (average $0.55) [Canadian, or $0.40 to $0.52 US] per pound.
[Editor's note: This article discusses conventional seed prices, but it doesn't mention that the price for organic seed ranges from $0.85 to $1.00 per pound Canadian ($0.76 to $0.89 US).]
Industrial Hemp and Marijuana Genetically Distinct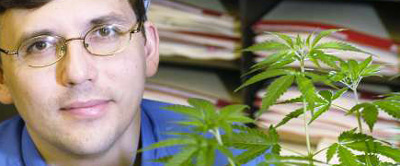 George Weiblen, Assistant Professor of Plant Biology, is one of the University of Minnesota scientists involved in the breakthrough discovery of the different DNA fingerprints in marijuana and hemp plants. The technique could be useful in regulating industrial hemp farming.
Industrial hemp is generally differentiated from marijuana by its THC content. This allows regulators and law enforcement officers to distinguish between drug varieties of cannabis and non-drug agricultural varieties. But the THC test has its limitations.
Industrial hemp and marijuana seeds look the same and can't be tested for THC. The DNA test, which requires only 20 milligrams of plant tissue, can be applied to seeds, making the DNA test very useful in the development and regulation of industrial hemp seed banks.
Lawmakers often promise to address the issue of industrial hemp once it can be effectively distinguished from marijuana. Of course, THC tests, in combination with licensed farms and certified seeds, made that possible a long time ago Ñ not to mention the fact that the difference between marijuana and industrial hemp is visible to the naked eye. The new DNA test definitively confirms that there is no need to confuse industrial hemp with marijuana.
No Vote on Vermont H 455 This Year

Due to Vermont's dairy crisis, a bill to create a regulatory program for industrial hemp farming, H 455, was bumped from the agenda of the Vermont House Agriculture Committee, and a hearing on the bill scheduled for March 29 was cancelled.
Witnesses scheduled to appear (via telephone) at the hearing included Niels Hansen-Trip (Retired Head of the Industrial Hemp Section of Health Canada), Jerome Engel (Saskatchewan Drug Unit), Arthur Hanks (Canadian Hemp Trade Alliance), and Dennis Pelletier (Royal Canadian Mounted Police).
Despite the setback, Vote Hemp remains optimistic about Vermont becoming a hemp state. We hope that all of our Vermont subscribers will continue to help organize support for hemp in the state. The following Vermont hemp businesses are distributing hemp information and petitions:

Natural to a Tee
Vermont Soapworks
The Hempest
Vermont Pepper Works
Way Out Wax
Save the Corporations from Themselves

HR 3037 Gains Cosponsors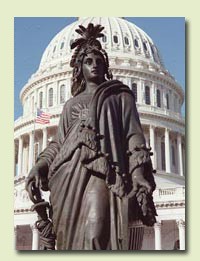 The following members of Congress have joined original sponsor and author Rep. Ron Paul (R-TX) as cosponsors of HR 3037, the Industrial Hemp Farming Act. If you don't see your representative on the list, please contact Alexis Baden-Mayer to discuss strategies for gaining his or her support.

Current HR 3037 Cosponsors

Rep. Tammy Baldwin [D-WI]
Rep. Sam Farr [D-CA]
Rep. Barney Frank [D-MA]
Rep. Raul Grijalva [D-AZ]
Rep. Maurice Hinchey [D-NY]
Rep. Jim McDermott [D-WA]
Rep. Cynthia McKinney [D-GA]
Rep. George Miller [D-CA]
Rep. Martin Olav Sabo [D-MN]
Rep. Fortney Pete Stark [D-CA]
Rep. Lynn Woolsey [D-CA]
Write your Rep. now...