Dear Reader,
Happy New Year! On behalf of everyone working with Vote Hemp to bring back industrial hemp farming, we want to thank you for your continued subscription to our Action Alert email list. In 2005, supporters like you brought Vote Hemp closer than ever to winning U.S. farmers the right to grow low-THC industrial hemp. With your help, we can realize our goal of a free market for industrial hemp in the U.S. Please make a contribution today and get some wonderful hemp products for helping out.
As you can see, we have switched to a new email system that will help us keep you much better informed. Please also take a moment to click the "Update Profile/Email Address" link in the footer below and update your information, which will help us serve you better. Thanks again for your ongoing support. We look forward to a productive 2006 for hemp!
Sincerely,
Eric Steenstra
President
Vote Hemp
2005 Year-End Review
Working to Change Federal Law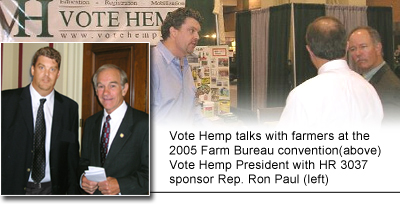 The Industrial Hemp Farming Act of 2005, HR 3037, is the first federal bill to distinguish low-THC industrial hemp from marijuana and let states regulate industrial hemp farming. Texas Republican Ron Paul, pictured above with Vote Hemp President Eric Steenstra, introduced HR 3037 in June 2005.
Vote Hemp is working with national agriculture organizations to gain support for HR 3037. Roger Johnson, North Dakota Agriculture Commissioner and Vice President of the pro-hemp National Association of State Departments of Agriculture, spoke in support of HR 3037 at a Capitol Hill hemp luncheon where the bill was introduced last summer. The National Grange and several state and local Farmers Unions and Farm Bureau Federations also support hemp farming. In 2005, Vote Hemp lobbied farmers to support hemp at the American Farm Bureau Convention. In 2006, we're continuing the effort at California's World Ag Expo and North Dakota's Marketplace for Entrepreneurs. With your help, Vote Hemp can continue this outreach and produce the materials needed to educate local farming organizations. Contact us to get involved.
Asserting the Right to Grow Industrial Hemp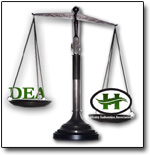 While we advocate for federal legislation, Vote Hemp is also exploring opportunities for a federal lawsuit asserting the right of states to regulate hemp farming within their borders.
Hopes were raised in 2004 when Hemp Industries Association v. DEA struck down the DEA's ban on hemp food and said the DEA had no authority to control non-psychoactive industrial hemp.
After a disappointing lower court decision in White Plume v. DEA, there is optimism on appeal. During oral arguments on December 12, 2005, 8th Circuit Appeals Judge Arlen Beam commented, "It seems asinine to me that they can bring in the Canadian [industrial hemp] and use it but can't grow it."
Vote Hemp eagerly awaits the outcome in the White Plume case as we prepare a case against the DEA for farmers in states like North Dakota, Montana and West Virginia that have industrial hemp farming laws. Please help us earn farmers the right to grow industrial hemp. Let us know if you can volunteer.
Hemp Food Sales Grow 50% Over Last Year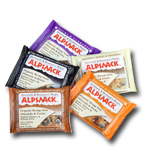 More than 24,000 acres of hemp were licensed in Canada in 2005, a 170% increase from 2004. Canadian hemp farmers are profiting an average of $200-250 CDN per acre growing hemp for the food and body care market. In 2005, one farmer netted per-acre profits of more than $2,000 CDN producing organic hemp seed on an irrigated farm. In the UK, farmers make an average of $350 profit per acre when they harvest seed and fiber simultaneously.
Sales of hemp foods in natural products supermarkets jumped 66% between 2003 and 2004, and that was not a one-time spike. The market grew 50% from an estimated $8 million in 2004 to almost $12 million in 2005. Between 2004 and 2005, retail sales of hemp body care products grew by 15% from $35 million to about $40 million.
Good News for Industrial Hemp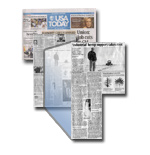 Vote HempÕs earned media credits for 2005 include stories run by USAToday, The Washington Times, The Associated Press, Houston Chronicle, Santa Cruz Sentinel, Farm & Ranch Guide, Long Beach Press Telegram, Fresno Bee, Fox News (Charlotte, NC), The Washington Post, The Kojo Nnamdi Show (NPR) and much more.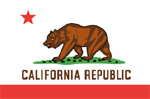 Breaking News: CA Votes on Hemp January 10th AB 1147, the California Industrial Hemp Farming Act, must pass the Assembly Public Safety Committee on January 10th and the full Assembly by the end of the month. Californians, please take action now. Not from the Golden State? You can help by spreading the word and motivating your Californian friends. Please help us make AB 1147 a reality in 2006.
Take action now...
Support Vote Hemp