Dear Reader,
The California hemp bill, SB 676, passed out of the Senate Public Safety Committee earlier this wek by a vote of 5 to 2. The old canards that we still hear, like "hemp sends the wrong messages to children" and "law enforcement officers can't tell the difference between hemp and marijuana" don't seem to work all that well in California. The next stop for the bill is the Committee on Appropriations.
Next week is
Hemp History Week
! There will be events happening in every state. Please be sure to check it out. A state-by-state calendar of
confirmed events
is available. Find out what's happening in your community and invite your friends today!. Join in the celebration of all the wonderful uses of hemp, learn about hemp history, sample modern hemp foods and body care products, and show your support for hemp farming in the U.S.
Remember, hemp is only controversial because law enforcement says it is.
Best Regards,
Tom Murphy
Hemp News Update Editor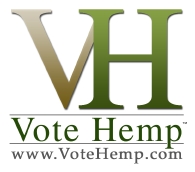 Hemp Shorts: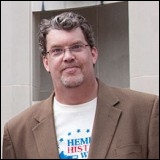 Hemp Days Without Hippy Haze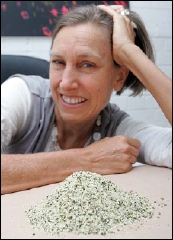 Liila Hass, nutritionist and naturopath.
By Hannah Martin
The Mercury
April 3, 2011
Hobart, Tasmania - Hemp flavoured ice cream, milk, butter and cereals may soon be available in your local supermarket.
Health Minister Michelle O'Byrne has announced she will support an application to allow hemp foods to be sold in Australia.
The application is being considered by Food Standards Australia New Zealand, to allow the sale of foods made from hemp seeds and hemp oil.
Got Hemp Milk?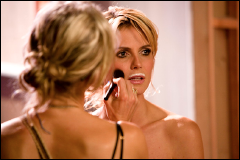 Heidi Montag's famous milk moustache.
Well+Good NYC
April 27, 2011
First there was soy. Then the myriad nut varieties. And now there's hemp-milk that is. It blasted into the mainstream last week when Dr. Oz picked it as his favorite milk alternative on his eponymous TV show. So should you be washing down your (vegan) cookies with this health elixir? We take a look.
Being Green is Hot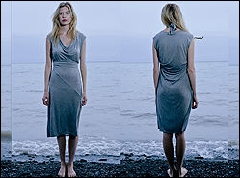 5-in-1 dress made by Sonja den Elzen of Toronto.
By Jill Ellis
Toronto Sun
April 22, 2011
Hemp, bamboo and wood - they're all great products from the earth for flooring, rope or other building materials, but now these renewable resources are being utilized in the making of eco-friendly clothing.
"Scratchy shirts and a few t-shirts made from organic cotton" is how J.D. Graham remembers the beginnings of the eco-fashion movement. Having owned P'lovers in Stratford, Ont. for 11 years, he's seen advancements in the production and acceptance by the public of environmentally friendly clothing.
Hemp-licious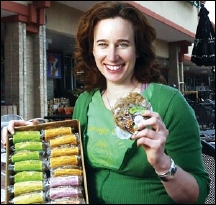 Susan Squibb, co-owner and president of Hemp Sources Inc.
By Jeff Thomas


Boulder County Business Report


April 15, 2011

BOULDER - Historically, of course, it has been about the most useful weed around. And thanks to some energetic and committed Boulder County entrepreneurs, you can add nondairy ice cream to the many and varied uses of hemp.

"We made a few batches for sales in 1998 for the Boulder Creek Festival," recalled Susan Squibb, the co-owner and president of Hemp Sources Inc. of Boulder. "It was kind of a proof of concept."

Actually, Squibb's husband, Agua Das, had been challenged to make ice cream out of hemp seeds, but what began as the couple hand-churning out some batches with the old rock salt and ice method has evolved into distribution stretching into nine states.
Support Vote Hemp

Social Networking