Dear Reader,
I'm excited that in a little less than two weeks the HIA will be holding its annual convention in San Francisco.
The HIA Convention has not been on the West Coast for the past three years, so I expect to see a number of people that could not make it to the 2008 Boston or 2009 Washington, DC events.
If you have never attended before I encourage you to
click here
to register for the convention, which will be held on Sunday and Monday, November 7th and 8th at the Holiday Inn - Civic Center in San Francisco, CA.
In case you missed it, please be sure to check out
The Vote Hemp Report email newsletter
, which came out earlier this month. It it we gave our supporters a news and strategy update. We have made good on the promise that we made earlier this year to expand our outreach and we are now in talks with the United States Department of Agriculture and the White House Office of National Drug Control Policy, as well as continuing to reach out to the Department of Justice. We also have more co-sponsors for H.R. 1866, the Industrial Hemp Farming Act of 2009, than we have ever had before. Next year should be very interesting.
Please remember to vote on Tuesday, November 2nd!
Also remember to make a
contribution
to Vote Hemp today to help us continue fixing the situation here in the U.S.
We need and truly appreciate your support!
Best Regards,
Tom Murphy
Hemp News Update Editor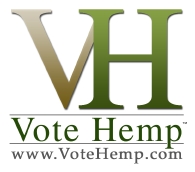 Hemp Shorts:
Photo Credit: The Body Shop
Body Shop hemp ad falls foul of Swedish authority
The use of hemp leaves in an advert commissioned by ethical cosmetics chain The Body Shop, has been condemned by a Swedish municipality, which says that it sends the wrong message to children.
Hemp is No Laughing Matter. Seriously.
Getting past the giggle factor. If we use up all of the bad puns and double entendres do we get to legalize hemp sooner?
Hemp Is Healthy!
Phil Lempert, the Supermarket Guru, shares more about hemp foods.
Planting his Kingdom
Plant Kingdom Bakery's best sellers include hemp energy bars in flavors like coconut, carob and berry, all made with nut butter.
Hemp Crop Sees Good Yields
Grainews
reports that Anndrea Hermann estimated that 20,000 to 25,000 acres of hemp were grown in the country in 2010, which would compare with about 14,000 acres in 2009.
Hemp Produces Viable Biodiesel, UConn Study Finds
By Christine Buckley
UConn Today
October 6, 2010

Of all the various uses for Cannabis plants, add another, "green" one to the mix.

Researchers at UConn have found that the fiber crop Cannabis sativa, known as industrial hemp, has properties that make it viable and even attractive as a raw material, or feedstock, for producing biodiesel - sustainable diesel fuel made from renewable plant sources.

The plant's ability to grow in infertile soils also reduces the need to grow it on primary croplands, which can then be reserved for growing food, says Richard Parnas, a professor of chemical, materials, and biomolecular engineering who led the study.

"For sustainable fuels, often it comes down to a question of food versus fuel," says Parnas, noting that major current biodiesel plants include food crops such as soybeans, olives, peanuts, and rapeseed. "It's equally important to make fuel from plants that are not food, but also won't need the high-quality land."


The Health Benefits of Hemp Butter
By Jacquie Schmall
Helium
October 2010

Peanut, Almond, Cashew, and Macadamia nut butters, are familiar to most Americans. It is safe to say that Peanut butter is the most favored of these, used in traditional ways handed down by generations of caring parents, who were concerned about their children having good protein in their diet. The problem is that some proteins are potential allergens, which include soy, and dairy, as well as peanut proteins. Peanuts may also carry unacceptable amount of a potent carcinogen found on other field crops as well. They are known as Aflatoxins, and are derived from the presence of mold before they are harvested.

The good news is that hemp butter is made from hemp seeds, and no hemp seed allergies have ever been reported. Although most nut butter users have not heard of Hemp Butter, times are changing, and hemp butter is now available in the marketplace. Not the least important fact about hemp butter is that it is a dark green color due to the rich content of chlorophyll,which is a powerful antioxidant.


HIA Featured Member - The Merry Hempsters
The Merry Hempsters
are dedicated to promoting the extraordinary benefits of Cannabis Sativa seed oil (hemp seed oil) through the production of uniquely effective and environmentally friendly lip and skin care products. We use only the finest quality natural ingredients in combination with cutting edge eco-friendly packaging. Effective natural lip balm and body care products in concert with the environmental sustainability of our ingredients and packaging are core concepts in our mission.
Each of our lip balms and skin care products is unique in its healing properties and intended use, however all of our products feature the finest Canadian Certified Organic hemp seed oil as a primary base. Anyone interested in regaining or maintaining health through natural products has probably heard about the benefits of hemp by now, and if they have not we would like them to. Because of the genuine benefits of hemp seed oil and a growing awareness of the importance of sustainability, we have become a very well established presence in the marketplace with outlets all over the United States and Canada.
Ideally, the Merry Hempsters strive to be responsible for the entire life of our products and their packaging. Environmental sustainability, from the creation of the lip balm tubing we use (including all who take part in its creation) to the disposal of that tubing, is the ultimate goal.
We have been searching for a biodegradable form of plastic, so that one day a disposed tube could itself grow the resins it was made from. We use only tree free paper produced from hemp stock and post-consumer recycled content in our correspondence and packaging. Hopefully, we will soon be able to replace the 100% post-consumer recycled paperboard stock and use only tree free hemp stock for future packaging.
We have been in business since 1994. Each year to date has shown an increase in market exposure. We believe that this is due to the fact that hemp not only has good marketing appeal, but it really works. Hemp truly is Good for the Body, Mind and Soul.
[If you are a member of the HIA and would like to have your company featured here, please submit a small selection of graphics and a profile of no more than a few paragraphs to tom@thehia.org, or call 207-542-4998 for more information. Space is limited and is first-come, first-serve. Your member profile will be seen in the The HIA Member Newsletter as well as here in The Hemp News Update, which is read by thousands of subscribers.]
Support Vote Hemp

Social Networking