Dear Reader,
A few weeks ago, I watched the movie
Collapse
which is based on the book
Confronting Collapse: The Crisis of Energy and Money in a Post Peak Oil World
by Michael Ruppert, a former LAPD narcotics detective. When I asked for a review copy of the book, I discovered that decriminalizing the hemp plant and encouraging its widespread domestic production is part of the 25-point program for action at the end of the book!
Speaking of bringing hemp farming back to the U.S., H.R. 1866, the Industrial Hemp Farming Act of 2009, now has more sponsors than it has ever had before. We are taking the next step and asking you to
write to your Senators
in Congress and ask them to introduce a Senate version of H.R. 1866. A bill in the Senate would be another first and would help the cause significantly.
In case you missed it, another program that is part of our strategy this year is
Hemp History Week
, which will be held on May 17 - 23, 2010. A joint project of Vote Hemp and the Hemp Industries Association (HIA), the effort hopes to collect at least 50,000 signed post cards urging President Barack Obama and Attorney General Eric Holder to end the status quo and let farmers grow versatile and profitable industrial hemp. We want you to sign up ASAP to be contacted by our coordinators to begin planning for local town hall meetings to present historical data about hemp farming in your area prior to its prohibition. Please
click here
to sign up today.
Also, if you make a
contribution
to Vote Hemp today to help us continue fixing the situation here in the U.S.
Dr. Bronner's Magic Soaps
will generously match every dollar you donate, doubling the impact of your contribution.
We need and truly appreciate your support!
Best Regards,
Tom Murphy
Hemp News Update Editor
Hemp Shorts:
Using Seeds in the Kitchen
Martha Stewart enjoys a spoon full of hemp seeds on TV.
Beauty Brands Sued For Misusing 'Organic' Term
Dr. Bronner's Magic Soaps, Intelligent Nutrients, Organic Essence and the Organic Consumers Association have filed a complaint with the U.S. Department of Agriculture's National Organic Program concerning the misleading use of the term "organic."
Hemp Crop
Network Ten of Sydney, Australia reports that local gardener Richard Friar is growing Australia's first licensed industrial hemp crop to be grown in an urban area. Video - 1:32. More information is available at
HempXchange
.
Industry veteran Ken Fonville launches EcoSelect Furniture
A company based in Hickory, NC that produces made-to-order, environmentally friendly leather and hemp fabric upholster is selling its products exclusively online.
Hemp Processor in Manitoba Gets Funding
Farm Genesis Group Marketing Inc. has plans to build a hemp oil plant at Waskada, Manitoba, Canada and has received $4.895 million from the federal government and has a commitment of $75,000 from the province.
Ford's Green Team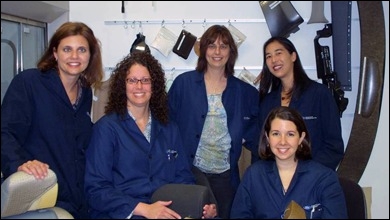 By Jenna Goudreau
Forbes
February 9, 2010

In an industry dominated by men, Ford's all-women renewable materials research team is a rarity. Led by Debbie Mielewski, 46, the group of six innovate novel uses of plastics and natural materials, like soy and hemp, to revolutionize the production of Ford vehicles.

When Mielewski took over the plastics department in 2001, she was charged with big-picture planning-the research would shape Ford's cars 25 years down the road. Already an avid environmentalist-she buys only used clothing and shoes-she decided to steer Ford's materials research towards sustainability and reduce its environmental impact.

Weed is Good - Hemp Comes to the City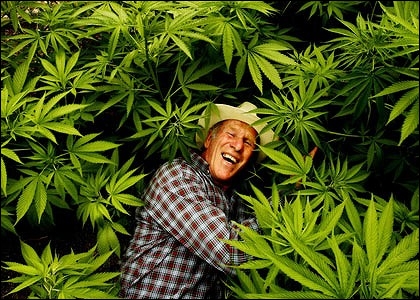 Richard Friar of Sydney, Australia.
Photo credit: Steven Siewert

By Tim Elliott
Sydney Morning Herald
February 2, 2010
Richard Friar loves growing dope. His backyard on the northern beaches is full of the stuff - 500 plants, to be precise.
But Mr Friar is no dealer, and this is no underground plantation. The 66-year-old and his wife, Wendy, are the proud owners of Australia's first licensed industrial hemp crop to be grown in an urban area.
HIA Featured Member - LiViTY Outernational
Livity Outernational
is recognized worldwide for its originality and strength as a truly innovative and conscious fashion brand. Livity is a lifestyle brand that develops and markets a full range of creative garments and accessories to the contemporary and street fashion markets in the expanding natural products industry.
Since Livity was founded in 2001, we have focused on the development of manufacturing and distribution processes that are environmentally sound and socially responsible. Our true passion for the sustainable mission can be felt in every product and communication we make. Livity is more than a traditional brand producing the latest in "green" consumer products. We are a grass roots organization that is leading a critical new movement. Livity is helping to define the lifestyle and business practices of the future and working to promote a diverse new culture that lives sustainably.
One of Livity's key strengths is our sourcing and supply chain expertise. Our passion is sustainable design innovation. Our proprietary Livity Eco-textiles used to produce a line of garments and accessories, headwear, luggage, and even technical outerwear. The Livity brand's unique, low impact product line sets new trends in textile and product design. Livity Outernational is regarded within the fashion industry as the pioneer brand in the realm of eco-conscious fashion products. Our credible mission and authentic image allows us to transcend sub-cultures and retail markets.
In 2009 Livity brought our message to the people during our Coast To Coast Summer Solar Tour. Livity was also a proud participant in the HIA Hemp Pavilions at the Green Festival in Washington, DC and in San Francisco. After the DC Green Festival and HIA convention Isaac Nichelson, President of Livity Outernational, participated in the planting of industrial hemp seed at DEA headquarters Arlington, VA. You can see pictures and video on the
Vote Hemp web site
. Please keep up to date with everything that is happening in our world on the
Livity Outernational Facebook page
.
[If you are a member of the HIA and would like to have your company featured here, please submit a small selection of graphics and a profile of no more than a few paragraphs to
tom@thehia.org
, or call 207-542-4998 for more information. Space is limited and is first-come, first-serve. Your member profile will be seen in the
The HIA Member Newsletter
as well as here in
The Hemp News Update
, which is read by thousands of subscribers.]
'It's Not Pot'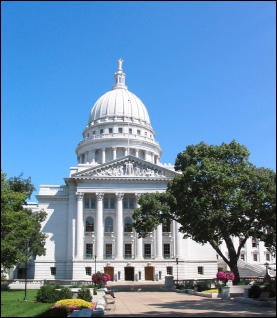 State Capitol, Madison, WI
By Craig D. Reber


Telegraph Herald


February 2, 2010

The United States imports it, but it's illegal for American farmers to grow it.

Wisconsin farmers could soon have the option to grow industrial hemp under a proposal that has cleared the Assembly Committee on Agriculture.

State Rep. Phil Garthwaite's Assembly Bill 206 was originally written to create a legislative study committee to examine the issues surrounding hemp cultivation. However, an amendment proposed by several Assembly members instead allows the state Department of Agriculture Trade and Consumer Protection to license industrial hemp growers.

[More...]