Dear Reader,
In the past few days, H.R. 1866, the Industrial Hemp Farming Act of 2009, has picked up two more co-sponsors: Rep. Sam Farr from California's 17th district and Rep. Janice Schakowsky from Illinois' 9th district. The bill now has eighteen co-sponsors, plus the bill sponsor Rep. Ron Paul. This is five more sponsors than the previous version of the bill in 2007 and seven more than in 2005.
This increased amount of support is no accident. Ben Droz, Vote Hemp's legislative intern, is working on Capitol Hill towards getting a hearing in committee for the bill, which has not happened before, as well as securing new co-sponsors. Additionally, HIA business members have been sending in letters of support and made visits during the HIA Convention Lobby Day three weeks ago. Finally, and just as important, you, supporters of Vote Hemp, have been sending letters and email to your representatives in Washington, DC.
Industrial hemp, low-THC oilseed and fiber varieties of
Cannabis
, continues to make positive economic and social contributions to our society, as the stories in this issue of
The Hemp News Update
demonstrate. Thanks to your generous donations and support from the industry, we are able to continue to make real progress on this issue.
We could not do this important work without your vital support! Please make a
contribution
to Vote Hemp today to help us continue fixing the situation here in the U.S.
We need and truly appreciate your continued support!
Best Regards,
Tom Murphy
Hemp News Update Editor
Hemp Shorts: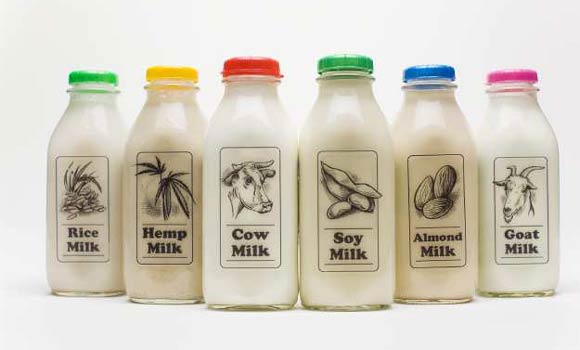 Where to Go to Sow Protest? DEA Grass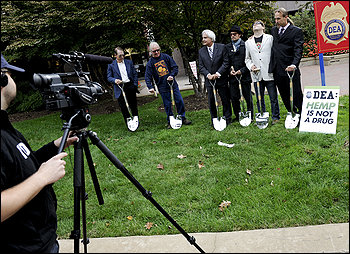 The Hemp Six. Photo credit: Jonathan Ernst/The Washington Post.

By David Montgomery
The Washington Post
October 14, 2009

You want to dig a garden, you need a shovel. You want to dig a guerrilla garden of illegal hemp on the front lawn of Drug Enforcement Administration (DEA) headquarters and get arrested for the cameras, you need a symbol.

Shortly before they all were happily handcuffed Tuesday, the farmers took one look at what the activists had brought to dig with, and just shook their heads.

The symbolic shovels were shiny, chrome-plated affairs, the kind for turning the earth in a Washington photo op, stamped with slogans: "Reefer Madness Will Be Buried." When the shovel blades were experimentally pressed into the mulch outside the group's hotel, they bent like toys.

Industrial Hemp Supporters
Wait on Federal OK to Grow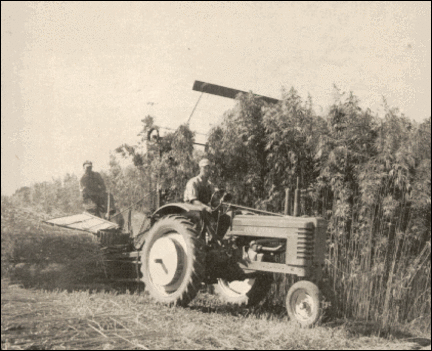 By Eric Mortenson
The Oregonian
October 2, 2009

Supporters had high hopes - sorry - when the 2009 Oregon Legislature legalized the growing of industrial hemp, but it appears the crop is growing nowhere fast.

Even though Oregon made it legal to grow and possess industrial hemp and to buy and sell hemp commodities and products, the federal government hasn't yet signed on. The feds still equate hemp with pot, and no one can grow it until they say so.

"We're still sitting and waiting," said spokesman Bruce Pokarney of the Oregon Department of Agriculture. The agency would license growers and test field samples if hemp growing is allowed. Some people have accused the department of stalling the process, but Pokarney said that's not the case.

Time For a New Course on Industrial Hemp
By Wayne Hauge
The Bismarck Tribune
November 1, 2009

I am a fourth generation farmer, grandfather of three, and have never been arrested for anything. I traveled to Washington, D.C. to join hemp business leaders in a symbolic planting of hemp seeds on the DEA headquarters' front lawn. This action was taken to raise awareness of the distinction between industrial hemp and marijuana. Today non-dairy milks, protein powders, cereals, soaps and lotions are made from the nutritious omega-3-rich hemp seed, while everything from clothing to building materials to automobile paneling is made from the fiber and woody core.

Along with another North Dakota farmer and state Rep. David Monson, I am involved in a lawsuit against the DEA, now in the Eighth Circuit Court of Appeals, to prevent DEA interference with licensed North Dakota farmers cultivating and processing industrial hemp under North Dakota's state industrial hemp program. However, it has been almost a year since the case was given to the judges to decide if states can act without federal government intervention.


ND Farmer Takes Part in Planting Ceremonial Hemp 'Seeds' on DEA's Lawn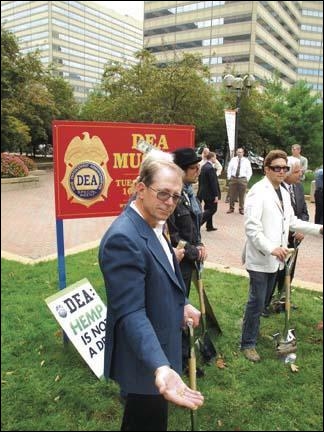 Wayne Hauge, a Ray, ND farmer, in front of DEA headquarters. Photo credit: Bismarck Farm & Ranch Guide.

By Sue Roesler


Bismarck Farm & Ranch Guide


October 21, 2009

They didn't really plant 'viable' industrial hemp seeds on the Drug Enforcement Agency's (DEA) lawn, but they made their point.

Two U.S. farmers, Wayne Hauge of Ray, N.D., and Will Allen of East Thetford, Vermont, took their chrome shovels, dug a hole, and placed toasted food-grade hemp seeds into the ground in front of the DEA in Arlington, Va., last week.

The ceremonial action got them arrested for trespassing, but the main reason for the "planting" was to draw attention to the fact U.S. farmers can't legally plant industrial hemp in the U.S.

[More...]