Dear Reader,
I have been collecting and archiving online hemp news links for over eight years now, and I find it truly amazing that year after year the good news about hemp continues to roll in. Just this morning, I received an unsolicited sales call from a media monitoring company asking me to log into an online tool that they set up for me in order to demonstrate the power and reach of their service. I explained what I was already doing, how long I have been doing it, and some of the tools that I use to convey the news on hemp to you. For now, it seems the human touch beats electronic algorithms. It's also much less expensive and more accurate.
It also helps to be part of the industry and see the trends as they are just beginning to take off. Nearly three years ago, we predicted that new hemp milk products would boost the growth of the hemp food market. We were indeed correct, and hemp milk products are now one of the fastest-growing sectors in the marketplace. After hearing a talk at the 2008 HIA Convention in Boston, I'm convinced that hemp building materials will be a growth industry and help us reach the tipping point for hemp farming and processing in the U.S. once again.
On October 10-11 the HIA Hemp Pavilion at the Green Festival in Washington, DC will have a range of speakers, including one covering building materials, and a large number of hemp companies will be exhibiting their wares. The 2009 HIA Convention will directly follow on October 11-12. Please consider attending one or both events!
On the activism front, Vote Hemp currently has Action Alerts for the residents of California, Maine, Montana, New Mexico, North Dakota, Oregon and Vermont. We need you to write and call your Representatives in Washington, DC and ask them to become co-sponsors of H.R. 1866, the Industrial Hemp Farming Act of 2009. There is also a general Alert for voters from the rest of the U.S.

Please take action today!
Please also make a contribution to Vote Hemp now to help us continue fixing the situation here in the U.S.
We need and truly appreciate your support!
Best Regards,
Tom Murphy
Hemp News Update Editor
Hemp News Update Stories
Hemp Shorts: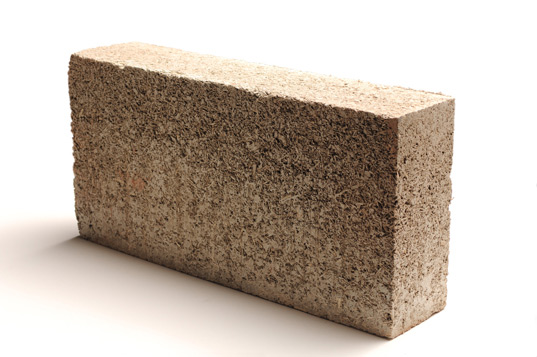 Hemp for Hanes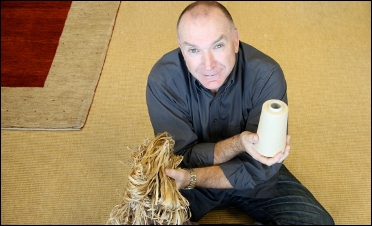 Ken Barker, CEO of Naturally Advanced Technologies
By Erik Siemers
Portfolio.com
August 17, 2009
After nearly a decade of working to prove that burlap-like hemp can be as soft as cotton, Naturally Advanced Technologies Inc. has caught the attention of some of the world's biggest consumer brands. Now it's on the verge of generating revenue from its technology.
"The company is an eight-year overnight success," said CEO Ken Barker.
The Portland, Oregon-based company this month announced a string of deals aimed at commercializing its Crailar Fiber Technology, which employs an enzyme treatment to make hemp and other organic fibers suitable for apparel and other uses.
Don't Smoke It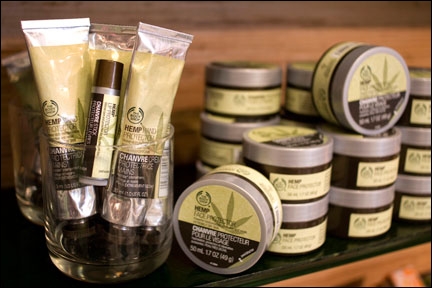 Hemp Products from The Body Shop
By Peter Gorman
Fort Worth Weekly
August 5, 2009

Quick: What single plant can you use to build, insulate, and heat a house; help build and run cars; turn into the finest textiles; use to make tortillas, cheese, veggie burgers, perfumes, skin creams, and suntan lotions — and also to get stoned?
Gotcha. The answer is none. But if you leave out the stoned part, you're talking about hemp, the non-smokable variety of Cannabis sativa, botanical cousin of the Cannabis that gets you high. It's currently grown legally in 30 industrial nations, has a history that dates back to the earliest days of man, was touted by George Washington and Benjamin Franklin, was probably used to make the first American flag, and — if given the chance — might help bring Texas farmers out of troubled times.
Unfortunately, industrial hemp's association with pot has made it illegal to produce here in the United States for the last seven decades, forcing U.S. manufacturers to import it from China, Eastern Europe, and Canada. For a while during the 1990s it was illegal to import it in any form but finished textiles. And even that was suspect under Bill Clinton's drug czar, retired Army Gen. Barry McCaffrey, who, in trying to ban hemp importation, once famously announced to a group of high-ranking Drug Enforcement Administration and U.S. Customs officials that "kids are boiling down their hemp shirts and mixing the essence with alcohol to make marijuana."
Is Hemp a Cash Crop?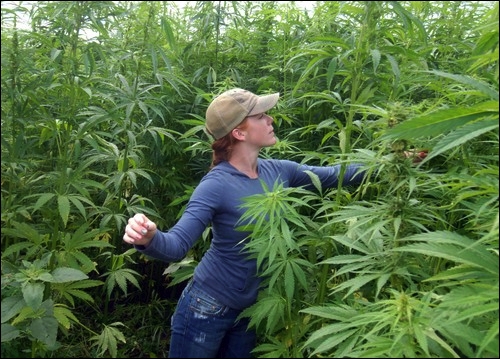 Tiffany Froines roguing a field of Canadian hemp. Photo credit: Scott Wishart / The Beacon Herald.
By Donal O'Connor
The Beacon Herald
July 30, 2009
Private-sector funding for establishing hemp-processing factories may be a hard sell at the moment, but Gordon Scheifele is undaunted in his passion for developing the enormous potential for hemp.
Earlier this week on a farm just east of Tavistock, Mr. Scheifele was showing a group of 16 mostly student workers how to distinguish male and female buds on hemp plants within a 10-acre seed crop.
Plants showing yellowish male buds, he explained, were to be pulled — a task known as roguing. The plants with female buds, which will develop into seeds that can be certified for resale, were to be left alone to grow to maturity.
Industrial Hemp Growth in Oregon Faces Challenges Just Like Pine Ridge Attempt

By Associated Press
News From Indian Country
August 2009
Despite recent approval from state lawmakers, industrial hemp growth in Oregon faces a number of hurdles, including a less than ideal local climate and likely opposition from the Drug Enforcement Agency, an Oregon State University official said.
Hemp and its close cousin, marijuana, were outlawed by the federal government in the 1930s. But Oregon will become one of a handful of states to give farmers the option of growing it when the new law — signed by Gov. Ted Kulongoski during August — takes effect on January 1.
Hemp contains high fiber, protein and fatty acids, and can be used to make food or industrial materials like paper. But it falls under federal anti-drug rules because it has trace amounts of the mind-altering chemical THC that is found in marijuana.
Harvesting Hemp at Hartacre Farms for Biofuel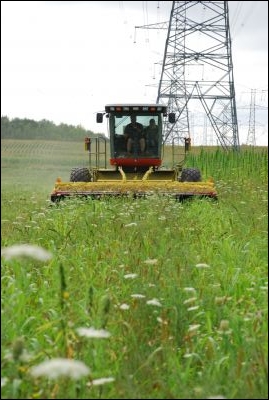 By Aimee Pianosi
NapaneeGuide.com
August 19, 2009
In a white cloud of pollen, 43 acres of hemp was harvested from Hartacre Farms last Tuesday. Herb Hart grew the crop in partnership with Performance Plants Inc. of Kingston, as part of a biofuels project for Lafarge Bath Cement plant, which is working on methods of reducing their reliance on fossil fuels.
According to Kevin Gellatly, director of biofuels business development and media relations for Performance Plants, this particular test plot faced some challenges.
"There were some tough conditions on the lower ground; it got rained out." There were delays in planting, and then rain and more rain, which soaked out some of the seeds.
[More...]