Dear Reader,
Sometimes I get a little frustrated with the slow progress bringing back industrial hemp farming and processing to the U.S., but then I start going through the news clips to put the Hemp News Update together, and I start to feel better with all the encouraging news. On that note, Governor Ted Kulongoski has not yet signed SB 676, the Oregon hemp faming bill, but the news reports are hopeful that he will. Please check out this KATU Video for the latest on that.
Last Friday, Vote Hemp Director Eric Lineback was a guest on the radio show "Charlotte Talks" on WFAE in North Carolina. Click here to read the official blog post on the show and comment on it, as well as listen to it online.
Over in Bath, UK they are building a BaleHaus out of straw and hemp. You can click here to watch it being built on the "Strawcam" and click here to download the BaleHaus data sheet (PDF file 308K) which has a wonderful set of pictures. We should be building houses like this here in America with locally-sourced materials.
Currently, Vote Hemp has active Action Alerts for the residents of Maine, Montana, New Mexico, North Dakota, Oregon and Vermont. We are asking that you write your representatives in Washington and ask them to become co-sponsors of HR 1866, the Industrial Hemp Farming Act of 2009. There is a general alert for voters from the rest of the U.S as well. Please take action and write today!
Finally, please also make a contribution to Vote Hemp today to help us continue fixing the situation here in the U.S.
We need and truly appreciate your support!
Best Regards,
Tom Murphy
Hemp News Update Editor
Hemp News Update Stories
Hemp Shorts: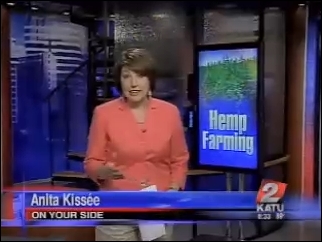 Oregon to Allow Farmers to Grow Hemp
"Oregon is on the verge of becoming the first Western state to allow farmers to grow industrial hemp. A spokesman for Gov. Ted Kulongoski says he plans to sign Oregon's new hemp bill into law. Oregon will then become the seventh state to allow farmers to grow hemp," reports Anita Kissée of KATU TV-2 in Portland, OR about SB 676, the hemp farming bill. Watch the full video.
Jobs Saved as Hemp Factory Sold
UK-based Lime Technology has acquired the business assets of Hemcore, based in Halesworth, England. The business will continue as usual, under the new name Hemp Technology Ltd.
Op-Ed Commentaries: Time to Put Hemp to Use
A clear, well-written piece by Patrick Corcoran in The Charleston Gazette.
Oregon Resoundingly Passes Hemp Bill
Blogger "sfnoggin" pens a diary about the successes of state hemp legislation this season at DailyKos. It's worth a read.
Hemp Could Be a Growth Industry
HIA member Carl Hedberg of Lyndeborough, NH pens a great Letter to the Editor in the Concord Monitor.
BaleHaus: Homes of the Future Could Be Built from Straw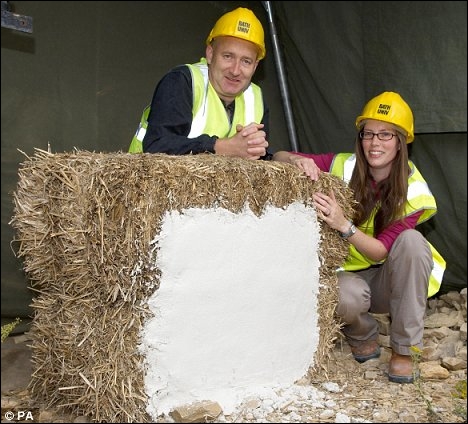 Professor Pete Walker and researcher Katharine Beadle of the University of Bath. Photo credit: Daily Mail.
Daily Mail Online
July 16, 2009
In the Three Little Pigs fable, houses made from straw were prone to being blown down with a puff of air. But a team of scientists believe they could be the building blocks of our future homes.
Researchers at the University of Bath said today they will develop an environmentally-friendly 'BaleHaus' made of straw and ... Cannabis. They will construct the bale and hemp cladding panels on campus this summer.
Hemp High on Agenda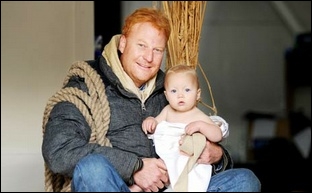 Ecoteam founding director Dr. Keith Bolton. Photo credit: Jacklyn Wagner.
By Hannah Ross
Lismore Northern Star
June 22, 2009
As far as Keith Bolton is concerned, the future of farming on the Northern Rivers lies with industrial hemp.
Dr. Bolton and his farming partner, Kenrick Riley, have recently harvested their first commercial hemp crop at Mr. Riley's property at Jiggi.
The pair hold two of the three commercial [hemp] licences issued by the NSW Department of Primary Industries since it became legal to grow the crop. The other licence is held by Klara Marosszeky in the Nimbin region, who is focused on developing hemp manufacturing.
HIA Featured Member - Farmer Direct Co-operative Ltd.

Farmer Direct Co-operative Ltd. (FDC) is a farmer-owned business that provides the world with ethically-grown and traded food. Our co-operative of 70 Certified Organic family farms and 120,000 acres of farmland produces high-quality, 100% Certified Organic grains, oilseeds, pulses and meats for food manufacturers, distributors and food service providers in Canada, the United States, Japan and the European Union. FDC is a bulk supplier of organic grains specializing in containers, truckloads and railcars.
Incorporated as a co-operative in 2002, FDC has averaged sales of $4.5 million over the past three years. Clients include some of the major independent brands in the organic food industry, plus organic dairy co-operatives and independent flour millers. Farmer Direct Co-operative is also a founding member of the Domestic Fair Trade Association and this summer will be the first organic farmers co-op in the United States or Canada to be certified to domestic fair trade standards by the Agricultural Justice Project.
FDC is committed to its co-operative principles. The following is a list of the Seven Co-operative Principles that guide co-operatives around the world in achieving and activating their values.
Voluntary and Open Membership - We're open to all certified organic farmers who are willing to accept membership responsibilities.


Democratic Member Control - We are a democratic organization controlled by our members (one member, one vote) and governed by a Board of Directors elected from our membership.


Members' Economic Participation - Members are required to make a one-time investment in the Co-op. The investment is valued at 5.5% of their annual sales through the Co-op and helps ensure financial stability through the creation of an equity pool.


Autonomy and Independence - We are an autonomous organization controlled by our members.


Education, Training and Information - We provide education and training for our members, elected representatives, managers and employees, so they can contribute effectively to our development.


Co-operation Among Co-operatives - We serve our members most effectively and strengthen the co-operative movement by working together with other co-operatives through regional, national and international structures. We do our best to strengthen the co-operative movement by building business relationships with sister co-operatives.


Concern for Community - While focusing on member needs, we work for the sustainable development of our community.
For more information, please visit our Web site, call our office at 306-352-2444 or email us.
[If you are a member of the HIA and would like to have your company featured here, please submit a small selection of graphics and a profile of no more than a few paragraphs to tom@thehia.org, or call 207-542-4998 for more information. Space is limited and is first-come, first-serve. Your member profile will be seen in The HIA Member Newsletter, as well as here in The Hemp News Update which is read by thousands of subscribers.]
Hemp Bill Clears Legislature with Little Opposition

By Mitch Lies
Capital Press
July 2, 2009
SALEM — After some jocular testimony, the Oregon House on Monday, June 29, gave its stamp of approval to a bill allowing possession and production of industrial hemp.
The bill, which previously passed the Senate, now goes to the desk of Gov. Ted Kulongoski. His spokeswoman, Anna Richter Taylor, said the governor didn't know whether he would sign it.
Even with the governor's signature, hemp production will remain illegal in Oregon under federal law.
Hemp Hubbub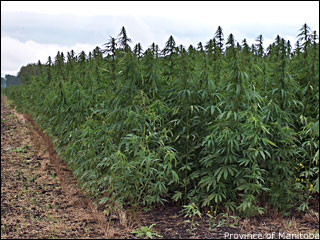 By David Steves
The Register-Guard
July 20, 2009
SALEM — Oregon is about to become the first Western state to permit its farmers to grow industrial hemp.
But there are a couple of problems to be confronted before Oregon becomes a Hemptopia by the Pacific. It's still an illegal crop, according to the federal government.
[More...]