Dear Reader,
Last Tuesday, with little fanfare, Maine Governor John Baldacci signed into law LD 1159, the Maine hemp farming bill. Maine's House had previously passed LD 1159 without objection, and the Senate later passed it by a vote of 25 to 10. The bill establishes a licensing regime for farming industrial hemp, though the licensing is contingent upon action by the federal government. Maine had previously passed a study bill which also defined industrial hemp.
Effective testimony presented to the Agriculture Committee showing the growing marketplace for hemp products — as demonstrated by three huge reusable grocery bags full of donated hemp products — and phone calls placed at strategic moments by supporters in the state were the keys to the successful passage of the bill.
Eight companies, including Dr. Bronner's Magic Soaps, French Meadow Bakery, Hemp Oil Canada, Hemp Traders, Living Harvest, Manitoba Harvest, The Merry Hempsters and Nutiva, have donated products to Vote Hemp to help us educate state legislators about industrial hemp so they can make intelligent and well-informed votes on the bills before them.
These companies have been on the leading edge of the growing hemp food and body care markets, which are currently estimated to be $113 million a year in North American retail sales by the Hemp Industries Association (HIA). Annual retail sales of all hemp products are estimated to be around $360 million. With your help, hemp can truly become the "New Billion-Dollar Crop."
Please make a donation to the Vote Hemp General Fund or Farmer Fund today to help us continue our work and bring hemp farming back to its rightful place in America.
We need and truly appreciate your support!
Best Regards,
Tom Murphy
Hemp News Update Editor
Hemp News Update Stories
Hemp Shorts:

Future May See Hemp Cars

Ted Morton and Doug Horner check out various plant fiber products. Photo credit: Edmonton Journal.
By David Finlayson
Edmonton Journal
June 5, 2009
A car made of hemp may sound like someone's wacky fantasy, but it's as real as General Motors' bankruptcy.
Motive Industries in Calgary is building a vehicle using panels and other parts made of a hemp fiber material that's lighter and cheaper than glass fiber.
It's being put together to try to win the $10 million XPrize competition for the car that gets 100 miles to the gallon and beats other green cars in a race.
Help Save the Earth, Time to Subsitute Hemp for Oil

By Dara Colwell
AlterNet
June 18, 2009
As the recession renews interest in the growing hemp marketplace as a potential boon for the green economy — even Fox Business News has touted it — hemp is becoming impossible to ignore.
But the plant's potential extends far beyond consumer-generated greenbacks. A low-input, low-impact crop, industrial hemp can play a significant role in our desperate shuffle to avoid catastrophic climate change.
"In terms of sustainability, there are numerous reasons to grow hemp," says Patrick Goggin, a board member on the California Council for Vote Hemp, the nation's leading industrial-hemp advocacy group.
HIA Featured Member - Global Hemp

Global Hemp formed in April 1996 as both an educational resource and retailer. Founder Eric Pollitt recently stated, "Education is essential to the success of any new product, service or idea. Having evangelized hemp for over thirteen years, I have to admit that hemp has come a long way, but there is still a good deal of work that needs to be done before many misconceptions are overcome."
One of the primary objectives for Global Hemp is to get products made in-part or fully of hemp into the hands of the masses. Each product sold is a vote for hemp, as people vote with their wallets. As the hemp industry continues to grow in terms of sales, the federal U.S. government will have to take notice!
"The original store opened in November of 2003. However, for quite some time, we have really outgrown the feature set of what is available to us with our current store platform," says Pollitt. An all-new Global Hemp Store will open in the second half of June 2009.
The new store will continue to offer the same great line of products, including body care, clothing, food and twine. "The two main differences will be in the look and feel of the Web site and a slew of new tools that will benefit shoppers if they choose to take advantage of them," said Pollitt. For example, users will be able to search by keyword, but also by any particular affinity, such as vegan, paraben free, kosher, etc. They will also be able to sort by price, brand, manufacturer and more. Pollitt continues, "While these types of features are certainly not new to e-commerce, they are an improvement over what we currently offer."
Other improvements and new features include one-page checkout with much improved shipping options, voluntary user accounts (no need to re-enter contact info), add to wish list, email a product page to a friend, live chat, Google checkout and more. Features that will be added at a later time include wholesale accounts and ordering, an affiliate program, and a mobile version for iPhone users.
If ordering from either the original or new store, all products are in-stock and are available for immediate delivery at www.globalhemp.com and www.globalhempstore.com.
[If you are a member of the HIA and would like to have your company featured here, please submit a small selection of graphics and a profile of no more than a few paragraphs to tom@thehia.org, or call 207-542-4998 for more information. Space is limited and is first-come, first-serve. Your member profile will be seen in The HIA Member Newsletter, as well as here in The Hemp News Update which is read by thousands of subscribers.]
Hemp Bringing Highs to Farmers' Lows

By Joan Silver
100 Mile House Free Press
June 16, 2009
100 Mile area farmers are on the cutting edge of local diversification. They're working with industrial hemp, a crop that was grown for thousands of years before the government banned it.
"The word hemp was being used for medicinal or illegal drug side so it got a bad rap. The government said OK, just quit the whole thing altogether," said Erik Eising, the hemp coordinator hired by the District of 100 Mile House through the Hemp Steering Committee.
He said the government re-introduced the crop 10 years ago and they now have the technology to test that growers are using the low THC (tetrahydrocannabinol) plants. THC is the psychoactive ingredient in marijuana.
How About This for a 'Green' House?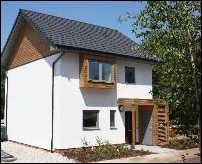 By Staff
Bedford Today
June 17, 2009
This three-bedroom house may look like an ordinary home, but it is actually a "revolutionary" property of the future, constructed from natural hemp for only £75,000.
Designed by Bedford firm Archial Architect, the building is constructed from hemcrete, a mixture of hemp plants and lime.
The plant absorbs around five tonnes of carbon dioxide during its rapid growth period, making the fabric of the house carbon neutral.
[More...]