Dear Reader,
It seems like we are expanding the Overton Window, and the traditional media is including a range of possibilities for industrial hemp that just a few years ago mostly generated pot-infused headlines and reeked of controversy. While this week's CNBC story "Hemp Wars Fire Up" cannot escape the seemingly ubiquitous double entendre, it does present the growing hemp marketplace as a straight business story, muck like the FOX Business News story last month. The worldwide hemp trend is getting to the point where it is impossible to ignore.
While we are just learning how to take hemp seriously here in the U.S., the rest of the world is getting on with the business of developing markets, farming and processing techniques. On May 27-28 the European Industrial Hemp Association (EIHA) will hold their 6th International Conference. This is the largest gathering of hemp experts in Europe and is well worth attending. Please see the EIHA Conference site and download the Conference PDF for the latest information on this important event.
Closer to home, we have made some navigation updates to the Vote Hemp Web site, along with some layout changes on the Home page, to make finding things easier. Action Alerts now have a prominent position on the right-hand side of the page, just below the new Legislation tab which makes it easy to find the status of federal and state hemp legislation. We hope that these changes help you find more easily what you need on our site and facilitate your taking action to help us change the situation here in the U.S.
We continue to work very hard on the hemp issue. Please make a contribution to Vote Hemp today to help us continue our important work.
We need and truly appreciate your support!
Best Regards,
Tom Murphy
Hemp News Update Editor
Hemp News Update Stories
Hemp Wars Fire Up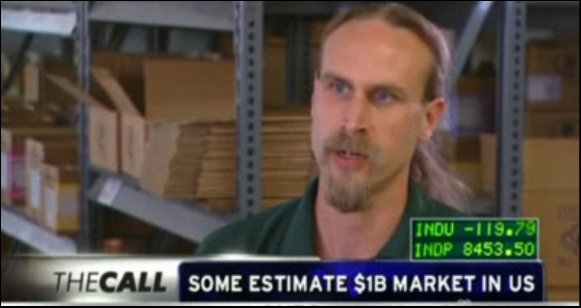 David Bronner of Dr. Bronner's Magic Soaps. Photo credit: CNBC.
By Jane Wells
CNBC
May 11, 2009
What if Americans could buy cigarettes but were banned from growing tobacco? Buy bread but not allowed to grow wheat? That is the case with industrial hemp, a product in everything from car doors to milk ... legally.
Hemp farming was banned in the U.S. decades ago as part of the earliest drug wars. Hemp contains THC, like marijuana. But hemp is not marijuana. "It's like a Chihuahua versus a Saint Bernard," says David Bronner, President of Dr. Bronner's Magic Soaps, which sold $29 million in hemp-related products last year. The THC in industrial hemp is so minute that "the only thing you will get from smoking it is a headache," says Gregg Baumbaugh, CEO of FlexForm Technologies, which uses hemp in car doors for Dodge Vipers. Both companies import their hemp from Canada or France, adding 10 to 15 percent to costs.
"A classic overreach," says Rep. Ron Paul, the one-time Presidential candidate who has co-sponsored a bill to legalize domestic production of industrial hemp. "There's not another country in the world that prohibits the raising of hemp. Only in America ... I mean, it's utterly ridiculous."
Hemp — The Law, The Musical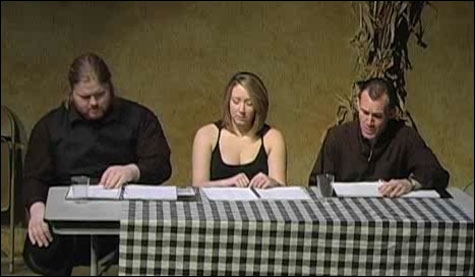 A reading of The Caitlin County Hemp Wars play. Photo credit: The Phoenix.
By Chris Faraone
The Phoenix
April 29, 2009
When liberal congressmen like Barney Frank begin co-sponsoring bills with libertarians like Ron Paul, there must be something funny in the air. That stench — according to activists, agriculturalists and economists alike — is the manure that Drug Enforcement Administration (DEA) officials have fed Americans about industrial hemp for decades, which has resulted in policies that allow for hemp to be imported, but not ones that let suffering American farmers cultivate it themselves.
Coincidentally simultaneous with the landmark (and fashionably dubbed) Paul-Frank proposal — which would lift senseless restrictions on industrial hemp farming — local playwrights Terry Crystal and Don DiVecchio are rolling out their five-years-in-the-making musical, The Caitlin County Hemp Wars, for one night only at the Zero Arrow Theatre in Harvard Square. Their motivation is simple: banning non-psychoactive hemp because of stigmas regarding its genetic cousin marijuana is like banning bananas because of Ron Jeremy.
"It's outrageous that something so potentially useful is illegal to grow in the United States," says Crystal, a Boston University librarian who first became interested in hemp as a functional material while studying at the Rhode Island School of Design more than a decade ago. "It's ridiculous, and you just have to wonder why."
Flax and Hemp to be Featured in New Era Bio-Composites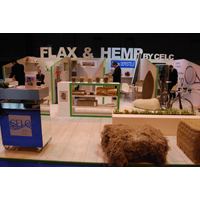 Innovation in Textiles
April 29, 2009
At the recent JEC Composites exhibition at Porte de Versailles, Paris, CELC Masters of Linen showcased the use of flax and hemp fibers in the future world of renewable composites. According to CELC, the environmentally sustainable properties of these two European-grown fibers are proving increasingly attractive to manufacturers seeking to incorporate sustainable solutions into their products.
The natural mechanical properties of flax and hemp bring high performance and competitive cost to new composite materials now being used in the automotive, furniture, boat building and leisure industries, the organization says.
"As renewable fibers, European-grown flax and hemp help safeguard the environment, as their cultivation requires no irrigation, little or no artificial fertilization, and no pesticides. Their use within an otherwise intensive crop rotation regime allows the land to recover fertility and quality, to enjoy an 'environmental pause,' encouraging bio-diversity," a spokesperson for CELC Masters of Linen said.
6th International Conference of the EIHA

The 6th International Conference of the European Industrial Hemp Association (EIHA) is happening later this month in Germany. Experts from all over the world will meet in order to exchange information about the latest developments concerning hemp and other natural fibers.
The spectrum of participants will range from cultivation consultants, primary and further processors, traders, mechanical engineers and investors, to numerous small and medium-sized enterprises, to global enterprises and suppliers. They all share a common interest in the utilization of hemp raw materials in industry.
Date: May 27-28, 2009
Venue: Rheinforum
Kölner Straße 42
50389 Wesseling (near Cologne)
Germany
Organiser & Contact:
nova-Institut GmbH
Dominik Vogt
Chemiepark Knapsack
Industriestraße
50354 Huerth
Germany
phone: +49(0)2233-48-1449
email: dominik.vogt@nova-institut.de
More about the EIHA 2009 Conference...