Dear Reader,
The latest issue of the Vote Hemp Report, our email newsletter that goes out to our entire list, just came out last week and covered our legislative efforts on the state and federal levels, but there is more general hemp news out there. Many of you want more than just an occasional Action Alert or update during the legislative season.
One of the most important things you can do is to help us grow our mailing list. The more people we can reach, the more we can educate. Through your interest and efforts, we have added thousands of subscribers to this news list since we launched it more than three years ago. Thank you all very much!
Our educational efforts have been quite successful. An excellent example comes from White County, Illinois where the local County Sheriff knows the difference between commercially distributed hemp brownies and the more infamous ones. We have come a long way in the last decade.
We have a ways to go, though. The Farm & Ranch Guide reports that NDSU is still looking for funding for their industrial hemp research site. NDSU has a "Memorandum of Agreement" with the DEA to grow hemp, but they need funding to meet the stringent requirements — and you can help!
Please make a donation today to our Farmer Support Fund to help NDSU and would-be North Dakota hemp farmers. If everyone on this list donated just $5.00 each, we could fund their research and have hemp in the ground.
We need and truly appreciate your support!
Best Regards,
Tom Murphy
Hemp News Update Editor
Hemp News Update Stories
Hemp Couture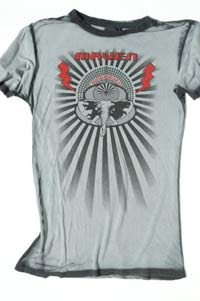 Two Jupiters Space Maven Hemp T-shirt. Photo credit: The Santa Barbara Independent.
By Shannon Kelley
The Santa Barbara Independent
April 16, 2009
If you're as eco-conscious as you are style-savvy, lately you may have found yourself wondering: Whatever happened to hemp? It was, like, the fabric of the future, man ... 20 years ago. The hemp crop was going to save the world. Then cotton went organic, bamboo came on the scene, and hemp took a backseat. But recent Santa Barbara transplant Rob Jungmann is ready to take back the wheel, and with more than 15 years of experience in the world of hemp attire, he knows wherefrom he speaks.
For Jungmann, it all started back in 1993's grunge-happy Seattle, when he decided to design an outdoor line of hemp clothing with the goal of getting it carried by none other than the big daddy superstore of adventure gear itself, REI. He and his partners were told their best shot would be to hit up the Outdoor Retailer trade show. They did.
"We did great," Jungmann said, with a pause for dramatic effect, "in Japan."
Unusual Crop for Waterloo Farmer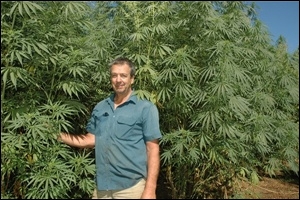 Waterloo hemp farmer Merv Robinson. Photo credit: Bunbury Mail.
By Kaitlyn Offer
Bunbury Mail
April 15, 2009
A controversial new industry is budding in Bunbury.
Hemp grown to make anything from paper and clothes to biodegradable plastics and stronger concrete blocks could be a new major industry for the city and outer regions.
Waterloo hemp farmer Merv Robinson is set to harvest his first crop of the versatile plant in the next month.
HIA Featured Member - Hemp Traders

Hemp Traders began in 1993 selling both wholesale and retail hemp products such as fabric, twine, rope, oil, clothing and more.
Lawrence Serbin, President and Owner of Hemp Traders, began envisioning the amazing possibilities of hemp as far back as 1990, when he was just about to graduate from the University of Southern California.
Lawrence looks back many years to the beginning of Hemp Traders: "After graduation, my entrepreneurial spirit began to kick in. Having a firm commitment to nature, I wanted to start a business that emphasized my environmental concerns. One morning I woke up, and it hit me like a ton of bricks! I would start a company that would utilize hemp as a natural resource to help the planet. My optimism soon turned to frustration when I realized that there were virtually no suppliers or markets for hemp products at that time. I soon realized the difficulty of selling a new material to buyers who had never heard of hemp. Fortunately, people's concerns about their health and the environment are now leading them to choose products which address those issues."
Currently hemp textiles occupy a small but growing market. About 45% goes into apparel, another 45% goes into home furnishings, and the remaining 10% goes into accessories and footwear. Demand has been growing due to the general rise in demand for environmental products, the increase in quality and selection, as well as the lowering of costs.
Lawrence recently wrote an article for The HIA Member Newsletter, entitled "The Modern State of Hemp Textiles," which goes into much more detail. You can read it here.
Please contact Hemp Traders to see how they can help you with your hemp-related needs. They keep all their products in stock for immediate delivery.
[If you are a member of the HIA and would like to have your company featured here, please submit a small selection of graphics and a profile of no more than a few paragraphs to tom@thehia.org, or call 207-542-4998 for more information. Space is limited and is first-come, first-serve. Your member profile will be seen in The HIA Member Newsletter, as well as here in The Hemp News Update which is read by thousands of subscribers.]
NDSU Still Looking for Funds for Industrial Hemp Research Site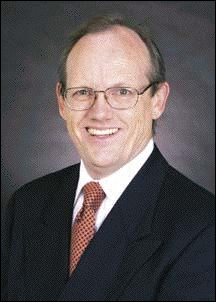 D.C. Coston of NDSU. Photo credit: NDSU.
By Sue Roesler
Farm & Ranch Guide
April 22, 2009
Time is running out on North Dakota State University (NDSU) having time to plant and develop industrial hemp varieties this spring, but the university continues to work toward that goal.
D.C. Coston, Vice-President for Agriculture and University Extension at NDSU, said they haven't found the funding yet to start a research plot.
"We're searching for a sponsor to get the structure built," Coston said last week. "I don't know if we'll be able to find funding sources in time to get it up this spring."
He estimates it would cost from $80,000 to $90,000 to put in a couple acres of field plots surrounded by the type of security the Drug Enforcement Administration (DEA) requires.
[More...]