Dear Reader,
Over the past decade, the U.S. has labored under an industrial hemp policy that was set by the White House Office of National Drug Control Policy (ONDCP) under the Clinton Administration and continued into the Bush administration, which culminated in the DEA trying unsuccessfully to ban hemp foods.
Instead of being a leader in the re-emerging worldwide agricultural hemp industry, we have been the target of empty (but emotional) talking points delivered by people who don't really believe what they are saying. That's how policy works — someone sets the policy and everyone else just plays along to keep their jobs.
Well, there is going to be a new czar in town, and we are going to have an opportunity to have questions asked about industrial hemp in Seattle Police Chief Gil Kerlikowske's ONDCP Director hearing in the Senate Judiciary Committee.
Right now, the most important thing you can do is write your Congressional representatives and ask them to co-sponsor the Industrial Hemp Farming Act of 2009! Over 1,200 Vote Hemp supporters like you have written so far. If you have not done so already, please click here and take action today.
Then, please make a contribution to Vote Hemp to help us continue fixing the situation here in the U.S.
We need and truly appreciate your support!
Best Regards,
Tom Murphy
Hemp News Update Editor
Hemp News Update Stories
Hemp's Future in Chinese Fabrics


China's President, Hu Jintao, visits the country's first commercial hemp fiber processing mill. Photo credit: Hemp Research Centre.
International Year of Natural Fibres 2009
UN Food and Agriculture Organization (FAO)
March, 2009
Zhang Jianchun, Director General of China's Hemp Research Centre in Beijing has a dream: to see lush green plantations of Cannabis sativa growing across 1.3 million hectares of the country's farmland. That would be sufficient, Zhang calculates, to produce up to 10 million tonnes of hemp plants a year and, with it, around two million tonnes of hemp fibre.
Expanded production of hemp, he says, offers enormous benefits for China. First, it would provide a major new source of fibre for the textile industry, reduce dependency on cotton and, in the process, free large areas of cotton-growing land for food production. In addition, hemp cultivation would generate extra income for millions of small-scale farmers in some of the country's poorest rural areas.
China currently produces less than 5,000 tonnes of hemp fibre annually from a cultivated area of around 20,000 ha. That is just a fraction of the 5.6 million ha dedicated to cotton (China is the world's biggest cotton grower, with a harvest of some 6.6 million tonnes in 2006). Among natural fibres processed for use in Chinese textiles, hemp output ranks far behind that of wool and silk and of other bast sources such as flax, jute, kenaf and ramie.
Hemp - A Break Crop Alternative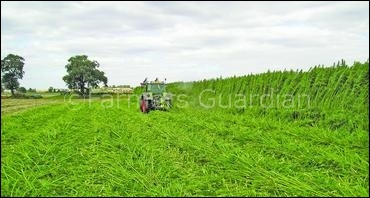 Hemp field at harvest. Photo credit: Farmers Guardian.
By Dominic Kilburn
Farmers Guardian
March 3, 2009
Growers still to make a final decision on cropping choice this spring, and those with a larger acreage to drill than originally planned for, could look to grow hemp under contract as an alternative to regular break crops.
That's according to East Anglian-based processing and marketing company Hemcore, which says that hemp can offer a competitive gross margin — characterised by high yields and low input — while providing additional benefits such as good weed control opportunities, fewer field operations and improved soils.
Richard Smart, who joined the company as fieldsman for the crop earlier this year, says that Hemcore is actively searching for farmers to grow the crop this spring, following last year's opening of a state-of-the-art factory in Halesworth, Suffolk — capable of 50,000 tonnes per year throughput.
HIA Featured Member - The Good Dog Company

Based in Golden, Colorado, The Good Dog Company designs and manufactures durable, earth-friendly pet products that are priced for the mainstream consumer. Founded in 2003, they strive to be the most recognized name in hemp pet gear. Kim Oliver, the founder of The Good Dog Company and an inspired dog owner, wanted to understand more about the hemp plant and the stigma attached to it when her interest was sparked by a series of timely circumstances. After researching more about this misunderstood plant and learning about its many benefits and uses, Kim quickly found herself in the hemp pet product business.
As people have become more aware of the company's mission of sustainability and manufacturing all-natural pet products in the U.S., combined with the general growth of the natural products industry, the company continues to successfully expand into markets outside of the traditional pet distribution channels. The Good Dog Company products are sold in pet stores, natural grocers and outdoor retailers across the United States and Canada, as well as in several countries overseas. Pets are treated like family, and people want to outfit not only themselves, but their best friends in earth-friendly and unique products. They offer products for dogs and cats of all shapes and sizes — hemp collars, leashes, harnesses and toys.
The Good Dog Company's products have been featured in several industry trade magazines including Pet Business and Animal Wellness and their products have also appeared on Good Morning America as ethical and useful, natural pet products.
As liaisons to customers that are often uniformed or misinformed about hemp, The Good Dog Company strives to not only educate consumers of why hemp makes a great pet product, but also to teach retailers on the advantages and sustainability of the hemp plant in all of its uses.
[If you are a member of the HIA and would like to have your company featured here, please submit a small selection of graphics and a profile of no more than a few paragraphs to tom@thehia.org, or call 207-542-4998 for more information. Space is limited and is first-come, first-serve. Your member profile will be seen in The HIA Member Newsletter, as well as here in The Hemp News Update which is read by thousands of subscribers.]
Stonehedge Bio-Resources to Build Hemp Processing Facility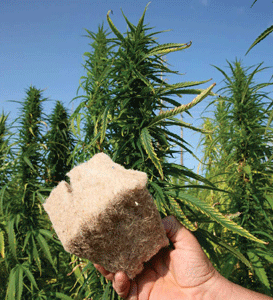 Hemp insulation. Photo credit: Stonehedge Bio-Resources Inc.
By Bryan Sims
Biomass Magazine
April 2009
Stonehedge Bio-Resources Inc. is looking to convert hemp into a viable biomass energy crop. In January, the Ontario-based company received $2 million from U.K. investors to construct an industrial hemp processing facility in Northumberland County, Ontario.
According to John Baker, founder and chairman of Stonehedge Bio-Resources, the company has been involved in the plant genetics and breeding of various hemp species for more than a decade, and has been commercializing the crop for myriad industrial uses for the past three years. "We have found that hemp has multiple uses as a biomass crop," he said. "It can also sequester carbon and mitigate greenhouse gas emissions."
Baker anticipates breaking ground for the facility in April or May. Commissioning and start-up could begin within 12 to 15 months after that. The plant may employ up to 27 people within the next two years, he added.
[More...]