Dear Reader,
Instead of sending out a year-end issue of
The Hemp News Update
with a basic rehash of the top news stories of the past year, we are sending you a regular issue covering recent happenings. All of the news is not good, but we continue to make good progress. If you do want an annual legislative wrap-up and did not read
The Vote Hemp Report
email newsletter, please
click here
and you may read it online on our Web site.
It's the end of a big year, and of course we would appreciate your year-end
contribution
to Vote Hemp to help us continue fixing the situation here in the U.S., but we know that money may be tight, so we also offer you many opportunities to help in ways that money alone cannot buy.
The most important thing that you can do right now is to forward this email to people whom you know and encourage them to
join our mailing list
and support our cause. Our ability to reach out to new people, educate them about the issues surrounding industrial hemp and ask them to write to their members in Congress is invaluable. We are also expanding our social media strategy. We have a number of people following us on
Twitter
, and in the past month alone we have seen the number of fans on our
Facebook
page double! With your help, we can double all of our subscriber lists in the coming months and increase our reach that much more.
Thank you very much for all that you do for this cause. We look forward to telling you more about our plans for the potentially huge year ahead. Stay tuned.

Best Regards,
Tom Murphy
Hemp News Update Editor
Hemp Shorts:
Building with Hemp:

Asheville on the Forefront of a New Green Technique
By John Boyle
Asheville Citizen-Times
November 22, 2009
Leave it to Asheville to be the first place in the country to build not just one, but two houses largely out of hemp.
Ben Jones, left, and Stephen Yazell help prepare a hemp mixture so that it can be applied to the walls of the house build by Anthony Brenner off of Town Mountain Road in Asheville. Photo credit: John Fletcher.

Well-established as a green building center, Asheville has two homes under construction - one in West Asheville, another off Town Mountain Road - that use hemp as a building material. The builders and Greg Flavall, the co-founder of Hemp Technologies, the Asheville company supplying the building material, maintain that they're the first permitted hemp homes in the country.
"This area is known to walk the talk of being green," Flavall said, adding that the Asheville area has by far the largest percentage of Leadership in Energy and Environmental Design, or LEED, builders of anywhere in the country. Hemp is derived from the same plant that marijuana comes from. Although it contains very little of the active ingredient that gets people high and is completely impractical to smoke, it's still illegal to grow it domestically.
Hillcrest Resident, 99, Stays Involved with Current Events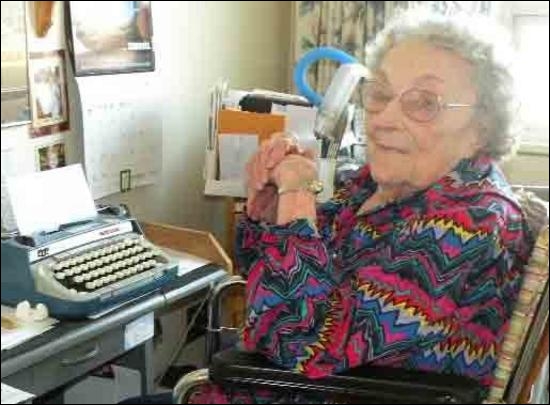 Esther Wissbaum. Photo credit: Lorri Sughroue / McCook Daily Gazette.

By Lorri Sughroue
McCook Daily Gazette
December 14, 2009
Some people become apathetic to the ways of the world as they get older. Not 99-year-old Esther Wissbaum of McCook.
Wissbaum keeps busy on her 1977 manual Smith Corona typewriter, pounding out letters to newspapers about a variety of issues, such as the decline of common courtesy ("What's wrong with saying 'You're welcome?'" "Nowadays people say 'No problem.' What does that mean, exactly?'") to legalizing industrial hemp.
Wissbaums's last letter about hemp prompted Gov. Dave Heineman, who disagreed with her stance, to writer her back.
"I was so mad, I threw the letter away," Wissbaum said. "He didn't approve of marijuana being grown - I don't either - but hemp is different than marijuana, with very little THC in it. Maybe he didn't understand what I was saying. Hemp would be a great crop for our farmers to grow, don't you think?"
HIA Featured Member - Hemp Technologies
Hemp Technologies LLC Making U.S. and World Hemp History in Asheville, NC
By David Piller
Two groundbreaking hemp house projects recently got underway in Asheville, North Carolina. By the time you read this, all of the walls of the first "permitted" hemp house in the U.S. may already be up. If that's the case, you're likely to find walls going up over at the next project: the first passive hemp home in the World. Playing their part in both of these historic homes are HIA members, Greg Flavell and Dave Madera, co-owners of
Hemp Technologies LLC
.
This is the interior view of the first section of wall that was done at the first permitted Hemcrete¨ home in the U.S. Note the recycled black plastic forms, electrical box with hemp packed around it, and the top of the window sill.



The seed of this company was planted one night a couple years ago, when Greg was introduced to hemp by a friend who had written a thesis about it for law school. Intrigued by what he heard, Greg began researching hemp online, and got even more inspired by what he learned. For Greg, with over 20 years experience as a builder, it was his discovery of hemp's use as a building materials that really took his interest to a new level. Looking to learn more he traveled to the UK in April 08, where he attended a seminar on building with hemp and lime and met Ian Pritchett, the developer of Hemcrete¨ and founder of Lime Technology UK.

Arriving back in the States, he and Dave, with whom he had done a lot of building projects in LA, began discussing starting a company to distribute Hemcrete¨ and bring this technology to the United States. Dave lives in Asheville and felt that there was plenty of fertile soil there for the venture. Greg liked what he heard, moved here, and together they formed Hemp Technologies LLC in October 2008. One of their first outreach/educational events was a 2 day seminar they put on Jan. 23rd & 24th, 2009 which was attended by 35 people, including several individuals from Asheville's Building Code Enforcement, Fire Marshals, and Building Safety departments. After being educated about Hemcrete¨, these folks had no hesitation granting the builders of the projects the necessary permits.






Here is a shot of the exterior of the same wall after some of the outside forms had been taken down. Note the yellow and red clips that lock the forms together, as well as one of the clamping methods we used to counteract the very slight bows characteristic of the forms used.



The house that I was fortunate to spend a great deal of time in helping to build is the one that is the first permitted hemp house in the US (AKA the Push House). The walls in this house are 12 inches thick and built around a stick frame structure. Greg and Dave both wanted to ensure the house was built right that they donated their time and energy to this project. The designer of this project Anthony Brenner has been doing an ongoing blog well worth checking out. Here you can find the TV News segment that aired Thanksgiving Day, a link to the feature article that appeared in the Asheville Citizen Times, and a great assortment of pictures.

The Nauhaus Project, the first passive hemp house in the world, the Nauhaus Prototype, incorporates 16 inch thick Hemcrete¨ walls into a building design that is cutting edge to say the least. Mario Machnicki from American Lime Technology and Ian Pritchett traveled to Asheville to lend some invaluable technical expertise to this project. On the project blog, Nov. 12th entry, you can watch a great educational interview that Ian did that day with Clarke Snell, a green building author and one of the designers of the Nauhaus.

I hope that some day many of you will have the opportunity to see Hemcrete¨ for yourself - it's incredibly inspiring. Visit their site to learn more about attending a seminar, the next one will be taking place on Saturday, January 9th, to visit or volunteer on the Nauhaus and other upcoming projects. While you're at it, be sure and sign their guest book with a hearty "hat's off " for being such pioneers!

[If you are a member of the HIA and would like to have your company featured here, please submit a small selection of graphics and a profile of no more than a few paragraphs to tom@thehia.org, or call 207-542-4998 for more information. Space is limited and is first-come, first-serve. Your member profile will be seen in

The HIA Member Newsletter

, as well as here in The Hemp News Update which is read by thousands of subscribers.]

Court Says No to Hemp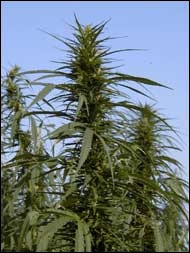 Canadian Hemp. Photo credit: Manitoba Agriculture, Food and Rural Initiatives
By Jordan Smith


The Austin Chronicle


December 23, 2009

More than a year after two farmers appeared before the 8th U.S. Circuit Court of Appeals to argue for their right to grow industrial hemp without the intrusion of federal narcos, the court ruled Dec. 22 in favor of the Drug Enforcement Administration and, by default, the ban on U.S. hemp farming.

According to the court's decision, industrial hemp, the non-narcotic cousin of marijuana, is nothing more than dope and thus is regulated by the federal Controlled Substances Act. And it matters not that hemp is grown for its seed, oil and fiber, and contains less than one percent tetrahydrocannabinol, or THC, the main psychoactive ingredient in drug marijuana. "Under the CSA, marijuana is defined to include

all

Cannabis sativa L. plants, regardless of THC concentration," the court wrote. "The CSA likewise makes no distinction between Cannabis grown for drug use and that grown for industrial use."

[More...]