Dear Reader,
It never ceases to amaze me that public safety departments and law enforcement associations oppose hemp farming. They should be enforcing laws as they exist, not lobbying for changes to the law or setting policy. That's the purview of the legislative and executive branches. It is also obvious to me that there is a coordinated effort of a national level to sow seeds of doubt in the minds of state legislators. You have to ask yourself — where are the orders coming from? DEA perhaps?
Jim Franklin, who should be identified as the Executive Director of the Minnesota Sheriffs' Association, is quoted in The Minnesota Independent story Hemp, Hemp, Hooray as saying "Additional research has shown that it is not a viable crop. The market for the product is very limited, and Canada, for one, has mountains of hemp they can't sell."
Interestingly enough this is exactly the same set of arguments that was presented to the New Hampshire House Environment and Agriculture Committee hearing by Major Russell Conti. When asked what was the source of his research the Major answered that others in the department had gathered it and presented it to him. When asked if he would change his position if DEA changed theirs, the major replied no, he would not. The House killed the hemp farming bill, HB 399, today by a vote of 262-98.
I find it amazing that law enforcement officials have become experts in agricultural and economic policy! You can help us overcome the objections of law enforcement to hemp farming and study bills.
Please make a contribution to Vote Hemp today to help us continue fixing the situation here in the U.S.
We need and truly appreciate your support!
Best Regards,
Tom Murphy
Hemp News Update Editor
Hemp News Update Stories
Edible, Affordable Indulgences for 2009

Tempt ice creams are made of hemp milk.
By Melody Lan
Wall Street Journal
January 16, 2009
Could frozen hemp milk provide a silver lining for the food business in a down economy?
The National Association for the Specialty Food Trade anticipates a 4% downturn for the industry this year. But sales in subcategories like specialty beverages, snacks and premium chocolate continue to grow.
The reason: These less pricey items are a means for people to continue to treat themselves well when times are challenging, says Ron Tanner, NASFT's vice president of communication and education.
In a 2008 specialty-food industry report, dollar sales for gourmet snacks increased nearly 31%, drinks jumped as much as 37% (depending on the type) and candy rose about 85% between 2005 and 2007.
Industrial Uses Targeted for Hemp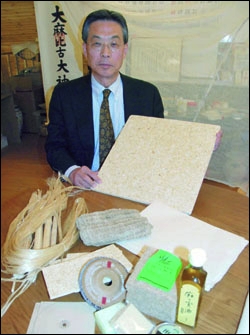 Hidetaro Funayama. Photo credit: Kyodo News.
By Akiko Koga
The Japan Times
February 19, 2009
Kitami, Hokkaido (Kyodo) Despite the bad impression many have of hemp due to a perceived rise in marijuana use, the city of Kitami in Hokkaido is trying to create a buzz by cultivating the plant for its many industrial uses.
The plant is grown on a plot on a hill slightly outside the center of the city, which lies on the coast of the Sea of Okhotsk, and protected by a 2.7-meter-tall fence covered with grating.
Hidetaro Funayama, 58, represents a group involved in a city development project aimed at growing hemp without a narcotic component for the production of construction materials and "washi" paper.
HIA Featured Member - Nutiva

Since 1999, Nutiva® has operated as a values-driven company dedicated to nourishing people and planet. Our line of organic hemp and coconut super foods are now sold in over 5,000 stores in the U.S., Canada and the UK. Nutiva's online store ships more than 500 orders a month, and we are offering HIA Members and readers of The Hemp News Update a one-time 20%-off coupon (use code HIA) which is good until March 20, 2009. Please go to the Nutiva store online and remember to enter the coupon code during checkout.
Our watch words — nutritious superfoods, healthier people, and a sustainable planet — express our commitment to move beyond conventional food industry practices to embrace a bigger picture that supports the long-term well-being of humanity as a whole. As an expression of its corporate citizenship, Nutiva donates 1% of its sales to support sustainable agriculture, including organizations like Vote Hemp, and to sponsor organic farming conferences and school tree-planting programs.
Popularizing Hemp Foods

Nutiva introduced America's first hemp food bar at a time when the extraordinary nutritional value and ecological benefits of hemp foods were little known. The hemp food bars earned Nutiva a welcome place on the shelves of health food stores across the nation. Nutiva then introduced other hemp foods, including hemp oil, shelled hemp seeds, and hemp protein which in 2003 was awarded the title "Best New Supplement" at the Natural Products Expo Show in Washington, DC.
In 2006, Nutiva introduced HempShake, a line of organic flavored hemp protein powders, and won a second time for "Best New Supplement" at the Natural Products Expo Show in Washington, DC.
Today, Nutiva is America's #1-selling brand of organic hemp oil, hemp seeds and hemp protein. Nutiva is helping to cut down packaging waste and is saving hemp food lovers money with its vacuum-sealed bulk offerings of Shelled Hempseed, Hemp Protein + Fiber and Hemp Protein 50% products.
Latest Hemp Foods

In January 2009, Nutiva rolled out four new hemp products:
13oz Organic Hempseed
30oz Enviro Pack Hemp Protein + Fiber (This product contains 75% less packaging waste vs. jars.)
16oz & 3lb Hemp Protein 50% (This delicious new nutty protein has less than half the fiber compared to our Hemp Protein + Fiber. One customer even said that it tastes like Chex® cereal!)
Our R&D labs have several other innovative hemp foods underway, which we hope will keep the hemp food revolution going even stronger.
The team at Nutiva thanks all hemp advocates and our customers for this exciting journey towards creating a world where organic hemp is planted fence row to fence row across the U.S. A ten-times increase in hemp food sales over the next decade is our vision to help make this dream become a reality.
[If you are a member of the HIA and would like to have your company featured here, please submit a small selection of graphics and a profile of no more than a few paragraphs to tom@thehia.org, or call 207-542-4998 for more information. Space is limited and is first-come, first-serve. Your member profile will be seen in the The HIA Member Newsletter as well as here in The Hemp News Update, which is read by thousands of subscribers.]
Hemp: A Unique Flavor — And Good For You, Too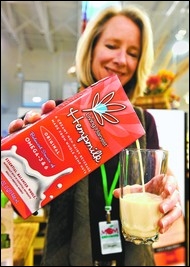 Margaret Hluch of MOM — My Organic Market. Photo credit: Sam Yu.
By Lauren LaRocca
The Frederick News-Post
February 25, 2009
Long known for its strength and durability in products like clothing and paper, hemp might prove to be just as beneficial in another medium: food.
Turns out, hemp is a leading source of protein (especially beneficial for vegetarians and vegans), it contains all 10 essential amino acids, it's high in fiber, and it tastes good, too, if an acquired taste.
Christina Volgyesi, originally from Canada but now living in Portland, Ore., stumbled upon hemp protein powder during a trip home after never having seen it in the States.
[More...]