Dear Reader,
There are many simple things that we all can do to help stop global warming, not only on Earth Day (Tuesday, April 22) but every day. Many of us have learned to reduce, reuse and recycle, but even more importantly we need to make our dollars count by purchasing high-quality products that do what they are supposed to, last longer and have less impact on the environment. Products made with hemp can do all of these things and more.
We do need to be realistic, however. Our information-driven industrial society is not going to vanish tomorrow and leave us to fend for ourselves. We often refer to hemp as "industrial hemp," a reminder that it is an integrated part of our larger society. Hemp will still need to be grown, processed, packaged, transported and sold to consumers within the system that we now have. We are not going to be taken back magically in time to a place where hemp is grown on small plots, harvested with horse-powered farm implements, processed in a small-scale cottage industrial setting and used only locally.
We can work towards a future where the best aspects of older systems and more modern ones are integrated to create a better, more sustainable one. Think globally and act locally. Hemp is a part of this future, but farming it locally will be key as fuel and transportation costs increase. Hemp-based building materials are a perfect example of products that should be grown, processed and used locally.
On another note, reasonable hemp farming legislation continues to be introduced and passed in Australia, although they do need to amend their food regulations, along with New Zealand, to allow hemp seed to be used as a food product for people. It can't right now, and that's just plain silly — the exact reverse of the situation here in the U.S., where hemp can be used in human foods but cannot be farmed.
Please make a contribution to Vote Hemp today to help us continue fixing the situation here in the U.S.
We need and truly appreciate your support!
Best Regards,
Tom Murphy
Hemp News Update Editor
Hemp News Update Stories
D.C. Gets a (Perfectly Legal) Hemp Store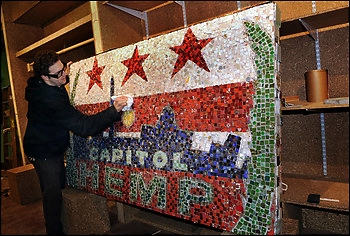 Adam Eidinger of Capitol Hemp.
Photo credit: Gerald Martineau/The Washington Post.
By Annys Shin
The Washington Post
April 7, 2008
Like most social change, the District's first all-hemp emporium arose from years of complaining. The chief complainer: Adam Eidinger, professional protester and erstwhile political candidate. His complaint: "We're the last major metropolitan area in the U.S. that doesn't have a hemp store."
Determined to see Washington join places like New York, Boston and even Burlington, VT, Eidinger decided to open his own store, Capitol Hemp.
Until now, Eidinger has not been known as a businessman but as a spokesman for antiwar activists, stadium protesters, angry bicyclists and people who frequent natural-food stores.
Capitol Hemp grew out of his work for Vote Hemp, a District-based group devoted to lifting restrictions on hemp farming. (Hemp is legal to import into the United States but cannot legally be grown here.) He found that a lot of people still confuse the industrial variety of Cannabis with the recreational variety. By showcasing hemp clothing, shoes and food, Eidinger said he hopes to dispel misconceptions about hemp.
HIA Featured Member - KicX Nutrition Inc.

KicX Nutrition Inc. is an innovative and exciting company located in Guelph, Ontario, Canada that focuses on the development of natural health and wellness products targeted to both the human and pet markets. Since the company was started back in 1998, their business has evolved, expanded and grown by great strides. This is a result of the developing, manufacturing and marketing of "good-for-you" private labeled products within multiple retail categories and channels.
The real seeds of growth were planted in 2005 when they launched their own line of natural, feel-good pet products under the "NuHemp" brand. The NuHemp family encompasses several pet categories with gourmet dog treats, functional food toppings, shampoos and conditioners, and topical therapy products. With the launch of BIO-Nesting in September 2007, NuHemp products began to utilize all of the key parts of the hemp plant — fiber, seed and oil. With a truly diverse range of products, NuHemp nourishes pets inside and out!
NuHemp's products have been featured with critical acclaim in over 50 high-profile publications. These accolades have reached beyond the pet industry with feature articles in the New York Post, appearances on Global TV, City TV and Good Morning America, and a recent spotlight on Martha Stewart Living Radio.
Thanks in part to the pioneering work done by many Canadian organizations and HIA members to promote hemp across all industries, NuHemp will be entering the U.S. marketplace on June 1. They have had tremendous success with their brand since its launch three years ago in both the specialty pet and natural health markets in Canada. NuHemp welcomes inquiries from distributors and sales brokers who may be interested in working with the company to build its U.S. dealer base and market presence.
In 2009, the NuHemp family will be joined by a full line of premium human health and beauty products, building upon its tremendous success in the pet market!
[If you are a member of the HIA and would like to have your company featured here, please submit a small selection of graphics and a profile of no more than a few paragraphs to tom@thehia.org, or call 207-542-4998 for more information. Space is limited and is first-come, first-serve. Your member profile will be seen in The HIA Member Newsletter, as well as here in The Hemp News Update which is read by thousands of subscribers.]
The Home Ecologist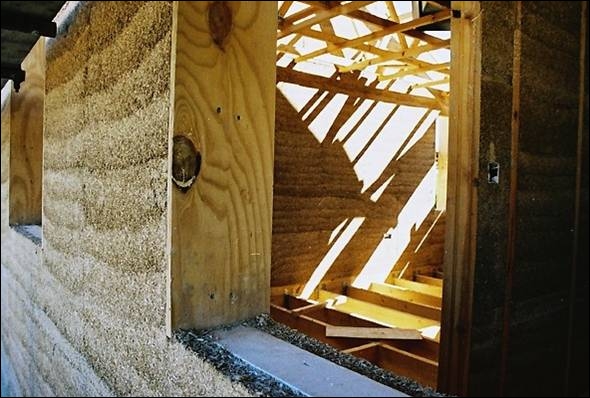 By Donnachadh McCarthy
Independent
April 9, 2008
I have managed to avoid the home extension craze, involving as it does significant resource consumption and CO2 emissions. Globally, the concrete industry emits about seven percent of total CO2 emissions, due to the energy required to turn crushed limestone and clay into concrete.
The concrete blocks used in a typical home result in the emission of 40 tons of CO2, equivalent to seven years' worth of emissions from the house.
But if that extension is unavoidable, what can you do? This was the problem Adnams Brewery faced with their new eco-friendly distribution center. Then the management hit on a solution. They teamed up with Lime Technology, who supplied Hemcrete blocks made from lime and hemp. Adnams even provided development funding to enable mass production of the 90,000 blocks.
Hemp Crops Get Green Light
Adelaide Now
April 9, 2008
The NSW government has given the go-ahead for the commercial production of hemp crops.
The plant, a species of Cannabis, has little tetrahydrocannabinol (THC) and cannot be used as a drug.
But it is an excellent source of fiber and oil.
Primary Industries Minister Ian Macdonald said a potentially lucrative industrial hemp industry was not far off following changes to be introduced by the government.
[More...]