Dear Reader,
Since the last issue of The Hemp News Update came out, I flew to California and joined up with my family, who are all on a driving vacation of the United States. If you have never taken a cross-country road trip, and you ever get the opportunity to do so, please take it, especially if you live in a city. It really is amazing to realize how huge this country is and — after a drive through Northern California, Oregon, Washington, Idaho and Montana — how much we are still an agricultural and industrial country.
Thankfully, hemp news continues to come out, vacation or not. The New York Times Blogs covered the Reason Foundation's new policy study entitled "Illegally Green: Environmental Costs of Hemp Prohibition." I have read the summary, and author Skaidra Smith-Heisters seems to have put together a very realistic and balanced look at hemp. Anyone who works on industrial hemp legislation or wants to reinforce and expand their knowledge of hemp would do well to read this policy paper.
If you haven't seen it yet, do also check out Robbie Anderman and Errol Francis' YouTube video "Hemp Education 101." I am reminded of it because of this in-depth background story by the same name in Barry's Bay This Week by Kate Weldon.
Education on all levels, from producers to consumers and legislators to voters, continues to be the key to all of this, but it is surprisingly time-consuming and expensive. Ignorance and misunderstanding are more expensive still, so it really is worth the investment for all of our futures.
Finally, then, please make a contribution to Vote Hemp today to help us continue fixing the situation here in the U.S.
We need and truly appreciate your support!
Best Regards,
Tom Murphy
Hemp News Update Editor
Hemp News Update Stories
Glenwood Textile Company Weaves Way to Success with Hemp

Cindy Elliott of EnviroTextiles.
Photo credit: Kara K. Pearson/Post Independent.
By Phillip Yates
Post Independent
March 11, 2008
It might be Glenwood Springs' biggest, but smallest business you've never heard of.
Inside the old Immanuel Baptist Church is EnviroTextiles, a sustainable and biodegradable textile business. The company counts clothing designer Ralph Lauren as one of its clients. Singer Jack Johnson wears their T-shirts.
EnviroTextiles specializes in textiles made from hemp plant fiber used to make 100-percent hemp yarns. The company also sells textiles made of a mix of hemp and organic cotton, tencel and silk.
Not Just Another Brick in the Wall

Klara Morasszeky with some hemp bricks. Photo credit: Rudi Maxwell.
By Rudi Maxwell
The Northern Rivers Echo
March 4, 2008
Ten years ago researcher Klara Morasszeky emerged from the Regional Forestry Agreement process angrier than she'd ever been in her life.
"We give timber companies an excuse to destroy forests for building materials when there is a viable alternative out there," Ms. Morasszeky, a former consultant to Greening Australia, said.
And so she set about researching green, alternative building materials, travelling around the world and experimenting until she found what she believes to be the best source: hemp.
HIA Featured Member - Hemp Oil Canada

Hemp Oil Canada is North America's largest producer and processor of bulk hemp food products, supplying dozens of other value-added food manufacturers with healthy hemp food ingredients. In addition to this bulk wholesale supply, Hemp Oil Canada is also the major private label co-packer of a wide array of retail hemp food brands.
In February of 2008, Hemp Oil Canada celebrated its 10th Anniversary. Company Founder and President Shaun Crew looks back fondly at the last 10 years, agreeing that it has been nothing less than a "trail blazing" experience. "I recall the look on the faces of many friends and colleagues when I announced that I was leaving a stable, corporate career position to start up a hemp food processing company."
The early years of the company were quite uncertain and not without financial losses. The creation of an entirely new market, in which the company would sell completely new health foods, developed from unique, new food production processes and was a challenge that drove the company in the early days. "We were careful then, however, to walk before we ran, expanding our production capacity at the same pace as the market developed," says Crew.
Located in Ste. Agathe, Manotiba, Canada with a staff of fourteen, Hemp Oil Canada is busy today with its third expansion of processing infrastructure to meet the ever-growing demand for hemp food ingredients and products. Hemp Oil Canada produces cold-pressed, cold-filtered hemp seed oil, hulled hemp seed, toasted hemp seed, hemp protein powder, hemp flour and hemp coffee. "We take great pride in our role in the development of a number of hemp food ingredients," he adds, referring to the development of hemp protein powder, hulled and toasted hemp seeds.
Hemp Oil Canada's hemp food ingredients can be found in a wide variety of value-added hemp foods, from hemp milk and cereal to hemp bread and nutrition bars. The most exciting development for the company today is being given the opportunity to work with some of North America's largest food processing entities. "These same companies would have turned us away and shunned the idea of using hemp just ten years ago. Now they are contacting us to include hemp ingredients in their recipes," comments Crew.
Hemp Oil Canada exports their products to over fifteen countries worldwide. The company's products are available as USDA certified organic, kosher and Fair Trade. In 2008, they will also attain their ISO 22000 and HACCP certifications.
[If you are a member of the HIA and would like to have your company featured here, please submit a small selection of graphics and a profile of no more than a few paragraphs to tom@thehia.org, or call 207-542-4998 for more information. Space is limited and is first-come, first-serve. Your member profile will be seen in The HIA Member Newsletter, as well as here in The Hemp News Update which is read by thousands of subscribers.]
The Return of Sail, and Hemp?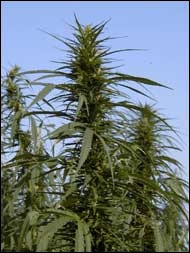 Canadian hemp. Photo credit: New York Times/Government of Manitoba.
By Andrew C. Revkin
New York Times Blogs
March 20, 2008
It seems there's a push toward the future through the past (pedicabs in Manhattan being just one example). Here are two more examples, involving sails on cargo ships and a proposal to legalize farming of hemp, a plant that was once a big crop in the United States, and was banned because the industrial variety (very different than the plants grown to smoke) still has a trace of the compounds that give marijuana its punch.
The Reason Foundation, which worships at the altar of free markets, is not the first place you'd think of turning to learn about hemp.
Yet the group recently put out a report concluding that the ban on hemp cultivation in the United States is preventing the development of an important crop that can compete with everything from cotton and polyester to some building materials. And hemp is much more environmentally sound than existing alternatives that are heavily subsidized.
[More...]