Dear Reader,
Even though it's an election year, progress continues to be made on hemp bills in a few states. As we reported in the last issue, things are going well for the hemp farming bill in Vermont. The latest information is that the bill is likely to be taken up in the Senate in mid-March. Things could be going better for the hemp study bill in Wisconsin, however. The bill has been recommended in committee, but is having a hard time getting a floor vote. Wisconsin residents, see our recent Action Alert for more information and to take action.
On a more positive note, the hemp farming bill in Minnesota, which was carried over from last year, was amended and passed out of the House Agriculture Committee and referred to the Public Safety Committee, where it eked out a close vote, but there is some opposition.
Over the weekend, I took the time to re-read the North Dakota farmers' appeal that was filed late last month. It seems long at 48 pages, but it's actually a pretty easy read. I found on page 23 that the District Court relied on material outside the pleadings, the USDA's Industrial Hemp in the United States: Status and Market Potential (2000), and quoted from the report in its decision. If you have the time, please download and read the appeal yourself.
As many of you are aware, HIA Board Member Alex White Plume and his family lost their house in Manderson, South Dakota to a devastating electrical fire late in December. I have been very impressed with the generosity of people in the hemp industry! Since the fire, thousands of dollars have been donated to the White Plume family through The Hemp Report, Vote Hemp and the HIA — and Nutiva donated a late-model Apple PowerBook laptop.
The photograph that illustrates the Indian Country Today story at the end of this newsletter was taken by Matt Rankin and was originally in the post at The Hemp Report entitled White Plumes Rebuild, where you can make donations. Please donate, and encourage others to help as well. Many thanks to those who have already done so!
Finally, please make a contribution to Vote Hemp today to help us continue fixing the situation here in the U.S.
We need and truly appreciate your support!
Best Regards,
Tom Murphy
Hemp News Update Editor
Hemp News Update Stories
VT Senate Weighs Industrial Hemp Bill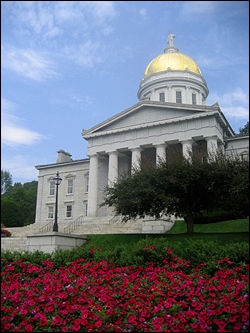 By Cyrus Levesque
The Addison Independent
February 25, 2008
Addison County — The Vermont Senate is considering a bill to legalize industrial hemp for growth and sale in Vermont. Rep. Michael Fisher, D-Lincoln, one of bill H.267's sponsors in the Vermont House of Representatives, said that hemp could make a new, very versatile crop for Vermont's agricultural industry.
"I've been hearing for a long time that this was an important crop for Vermont farmers to grow," Fisher said.
Hemp can be used for a wide variety of products, including textiles, biodegradable plastics, biofuels and even food. However, it is closely related to Cannabis sativa, better known as marijuana. "Law enforcement has said for a long time that they don't want us to grow hemp because it looks like marijuana," Fisher said.
Bill to Legalize Hemp Production Introduced

By Jake Grovum
The Minnesota Daily
February 28, 2008
In the coming weeks, state legislators will have the opportunity to either blaze a trail toward cannabis legalization or pass on the grassroots movement altogether.
A bill authored by Rep. Phyllis Kahn, DFL-Minneapolis, in support of industrial hemp production in Minnesota is making its way through House committees.
Passing the legislation could bring research opportunities to the University and economic benefits for farmers who call the crop a potential cash cow, with a number of practical uses in products like paper, plastic and clothing.
HIA Featured Member - Fianna Spa Fashions

Amy Brooks and Kathy Huston are co-founders of Fianna Spa Fashions and design eco-friendly uniforms for spas. When first researching fabrics, what they found was astonishing! Polyester — which most uniforms are made from — is very damaging to the environment. Kathy, when looking into natural fibers, happened upon hemp and the array of hemp blends that are available. She gravitated to this fiber instantly because of the anti-microbial properties and, after months of research and testing, continued to find the hemp blends to be an optimal choice for spa uniforms.
At the time Fianna was created, Kathy and Amy did not foresee the booming trend of "greening" within the spa industry, they just wanted to create a fashionable, comfortable spa uniform that did not damage our planet. Fianna is also proud to govern under the Fair Trade Guidelines.
Being an eco-friendly uniform company definitely makes Fianna unique and quite possibly ahead of its time, but they are not always welcomed with open arms. Sustainability takes education and, at times, compromise.
Fianna's owners now understand their job description does not only involve designing and selling but educating as well. With the spa industry employing over 230,000 people, according to the ISPA 2004 Spa Industry Study, they are banking that more spa owners, directors and managers will eventually see that the choices they make can change the world.
For more information, please feel free to call them at 303-456-6307, or visit their Web site.
Fianna is now offering overstock items at savings of up to 60%. Please call Kathy or Amy to take advantage of this great offer.
In Spite of Obstacles, White Plumes Carry On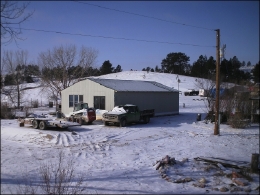 The White Plume's New Shelter. Photo credit: Matt Rankin.
By Waylon Pretends Eagle
Indian Country Today
February 22, 2008
MANDERSON, SD — Their home was destroyed by an electrical fire in December of 2007, but Alex and Debra White Plume haven't skipped a beat in their activities both close to home and abroad.
The former Oglala Lakota Nation president has been tapped by a biofuels company to travel to Africa where he said he will be able to accomplish some of the goals he had set for his tiyospaye on the Pine Ridge Reservation.
"I am finally getting to do what I wanted to do here on the reservation, but I have to leave this country in order to do that," White Plume said in a phone interview the week of Feb. 18.
Ray Farmer Fighting to Grow Hemp Product
North Dakota farmer Wayne Hauge. Courtesy photo.
By LeAnn Eckroth
The Williston Daily Herald
February 25, 2008
Ray farmer Wayne Hauge knows a good cash crop when he sees one.
In industrial hemp, he finds almost boundless potential. Its uses span from fabrics, to food products to biofuels.
Hemp's red light comes in the form of federal regulations which mistakenly label it in the same category as marijuana.
[More...]