Dear Reader,
A lot has happened in the world of hemp since our last issue. One item, the passage of H 267, the hemp farming bill, by the Vermont House was truly stunning. The vote was an amazing 126 to 9, well more than veto-proof. Passage of the bill was insured by the hard work of many people, especially the agriculture policy non-profit Rural Vermont. If you are a Vermont resident and you have not done so already, please write to your House representative and thank them for passing H 267.
On the other hand, things are not going as well in Wisconsin for their hemp study bill, AB 146. The Assembly Committee on Rural Economic Development voted 9-0 last year to recommend passage, and the bill was carried over to this year. The bill is having a rough time getting a floor vote, however, and this is the last term for the bill's sponsor, Rep. Gene Hahn.
The best thing to do is to write a postcard to Assembly Speaker Michael Huebsch and Assembly Majority Leader Jeff Fitzgerald and respectfully request that AB 146, the hemp study bill, get a vote on the floor of the Assembly. Please, no phone calls or emails. Wisconsin residents, see our Action Alert for more information and to take action.
In North Dakota, prospective hemp farmers, State Representative David Monson and Wayne Hauge, have filed an appeal to the U.S. Court of Appeals for the Eighth Circuit of their case against the DEA that was dismissed in District Court last November. Scientific evidence clearly shows that industrial hemp, which includes the oilseed and fiber varieties of Cannabis that would be grown pursuant to North Dakota law, is genetically distinct from the drug varieties of Cannabis and has absolutely no use as a recreational drug.
All of this requires time and effort, and costs money, so please make a generous contribution to Vote Hemp today to help us continue fixing the situation here in the U.S.
We need and truly appreciate your support!
Best Regards,
Tom Murphy
Hemp News Update Editor
Hemp News Update Stories
ND Farmers Renew Hemp Licenses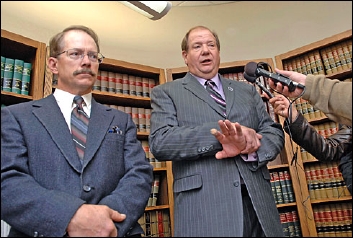 North Dakota Farmers Wayne Hauge, left, and David Monson. Photo credit: Will Kincaid, Bismarck Tribune.
By Blake Nicholson, AP
USA Today
February 1, 2008
BISMARCK, ND — Two North Dakota farmers who received the nation's first state licenses to grow industrial hemp have been granted renewals, though forces outside the state will largely decide whether the farmers will ever get a crop in the ground.
David Monson and Wayne Hauge had state licenses in hand last year but never got approval from the federal Drug Enforcement Administration (DEA). This year, they are hoping for a favorable ruling from the 8th U.S. Circuit Court of Appeals, a change of heart by the DEA, or action by Congress. None is likely by Spring planting season.
Hauge said Thursday he paid his $150 license renewal fee even though he sees no possibility of seeding industrial hemp this Spring. "We just wanted to keep the licenses going," he said.
Hemp Foods Turn Healthy Profit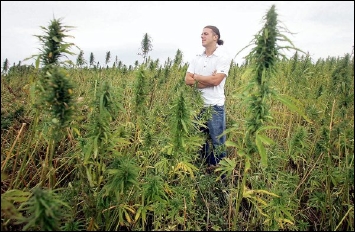 Mike Fata of Manitoba Harvest Hemp Foods & Oils. Photo credit: Ken Gigliotti, Winnipeg Free Press.
By Larry Kusch
Winnipeg Free Press
February 12, 2008
As an 18-year-old, Mike Fata weighed 300 pounds and decided to go on a no-fat diet.
It almost killed him.
But while researching essential dietary fats, he got excited about the nutritional benefits of hemp.
Thirteen years later and more than 100 pounds lighter, Fata heads Manitoba Harvest Hemp Foods & Oils, a company with projected sales this year of $6 million and customers as far flung as Europe and Australia.
HIA Featured Member - Two Jupiters

The HIA has been a major part of my life beginning in 1994. That's when a handful of amazing people met in Phoenix, AZ for the first time to discuss the possibilities of industrial hemp being grown in the U.S. That is when the HIA began in an effort to help clean up our air, water and land. I think we all left that first HIA meeting incredibly energized and proud of our forward-thinking ideas. I know I left believing hemp would be grown in America by the year 2000.

Well, here we are now 15 years later with global warming at the forefront of our news, America still has not signed the Kyoto Protocol, and California Governor Arnold Schwarzenegger has vetoed industrial hemp bills twice in the past two years. Who would have thought it would be this difficult to help promote an idea that cleans up our environment and creates industry for our society at the same time?
All you can do is keep trying, and that is exactly what I have been doing. Since 1994, I have founded three companies in the U.S., Manastash, Two Jupiters and most recently Jungmaven. In Japan, we launched Phatee in 2001 which has become a huge success. How do I do it? I just keep my eyes and ears open for trends and make clothing I want to wear. When you see my clothing lines, you are looking into my closet. It's what I want to wear, and everything is made out of hemp.
You must keep it fresh. I design two new lines every year and show them at six different trade shows. Some new products coming in 2008 are 100% hemp thermals, 100% hemp tees made in the U.S., 100% hemp style UGGS ("NUGGS"), camouflage hemp belts, hoodies and polo shirts. Many of our products are hand-painted, making them one-of-a-kind. Everything we create has a message and deep meaning.

You are invited to visit our Web site for more information about our product lines and new ideas.

I believe you create the experience that makes a difference.
Robert E. Jungmann
Two Jupiters and Jungmaven Ltd.
President/CEO/Founder
VT House OKs Hemp for State's Farmers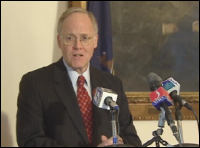 Vermont Governor Jim Douglas.
Photo credit: WPTZ-TV.
Stewart Ledbetter
WPTZ-TV
February 8, 2008
MONTPELIER, VT — The Vermont House of Representatives gave overwhelming final approval Friday to a bill which sets up procedures for farmers to begin growing hemp. Its provisions, however, hinge on a policy reversal from the U.S. Drug Enforcement Administration (DEA), which has banned domestic hemp production since World War Two.
Hemp is a biological cousin to marijuana, though it contains only trace amounts of the chemical THC responsible for marijuana's psychoactive effect. Hemp was widely harvested into the 1940s, and the U.S. government encouraged its cultivation.
The plant is used to make textiles, fuel and food. Hemp seed oil is found in a range of cosmetics manufactured outside the U.S.
"It's very popular," said Colleen Kinney, assistant manager at The Body Shop in downtown Burlington, referring to a hand creme she has trouble keeping in stock. "It's one of the most popular items we have in the store."
[More...]