Dear Reader,
Last Wednesday, January 30, the Vermont House Agriculture Committee voted 11-0 to support H 267, the state hemp farming bill. The committee worked hard to craft a bill that would allow farmers to grow hemp in the state, while addressing some of the concerns raised by opponents. A vote by the Vermont House is expected tomorrow. If you are a resident of Vermont and have not yet called your Representative, please read our Vermont Action Alert and make the call today!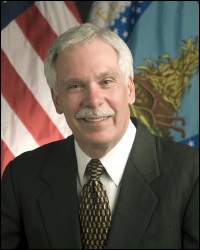 Former North Dakota Governor Ed Schafer, who signed the state's hemp farming law in 1999, was sworn in as the 29th Secretary of the U.S. Department of Agriculture (USDA) on January 28, 2008. The Farm & Ranch Guide reported that the Schafer nomination was confirmed unanimously by both the Senate Agriculture Committee and the full Senate. For more on what this may mean politically for hemp farming in the U.S., please check out The Vote Hemp Report email newsletter The State of Hemp that was sent earlier this week.
On a final note, last week I was talking with a reporter about the potential of hemp farming. He asked what our opponents' facts were against hemp bills. I explained that in our opinion their arguments were merely political and emotional and tended not to be factual at all. For example, compare the following two statements from law enforcement regarding the issue of potentially growing pot within a hemp field.

Sgt. Dean Hoover of the Saskatchewan Drug Unit recently testified before the Vermont House Agriculture Committee, where he stated that "it would be really easy to spot marijuana plants in the center of a hemp field because there's such a difference in the look. Hemp plants are absolutely filled with seeds, and of course marijuana are all female plants, so there are no seeds. They want the smokable product." Such is the case, and that is indeed a reasonable statement of the facts. No pot grower would ever operate within (or anywhere near) a hemp field.

Now compare that to testimony from Vermont State Police Lt. Warren Whitney, Assistant Director of the Vermont Forensic Laboratory, who suggested that if hemp were legalized in Vermont and permits issued, there would be an incentive to plant a couple more valuable pot plants among the hemp plants. Simply not true for various reasons, but stated with authority while playing on fear and emotion.
It's easy to fight ignorance, but it's much harder to fight the party line — and that's what we're really up against. Please make a contribution to Vote Hemp today to help us continue fixing the situation here in the U.S.
We need and truly appreciate your support!
Best Regards,
Tom Murphy
Hemp News Update Editor
Hemp News Update Stories
Hemp Product Plant Perfect Fit for Craik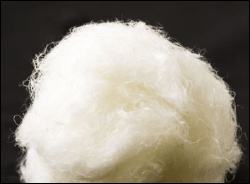 By Trevor Newell
The StarPhoenix
January 29, 2008
REGINA — The town of Craik, located about 140 kilometers south of Saskatoon, will be the site of a new manufacturing plant that will make environmentally-friendly products from hemp.
When the plant is finished, it will have about 20 full-time workers, making it one of Craik's biggest employers, according to Mayor Rod Haugerud.
Better Processes Dispel Uncertainties of Hemp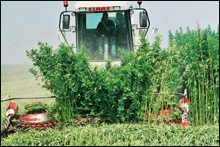 By Paul Spackman
FarmersWeekly Interactive
January 24, 2008
Hemp has had a mixed press over recent years, but changes to the harvesting and processing of the crop could see it increase in popularity.
The area of contracted hemp is predicted to jump from 2,000 to 5,000 acres in 2008 and hit 20,000 acres by 2011. At least that is what Hemcore director, and Essex farmer, Dan Squier reckons.
"We believe the markets are there, the production capacity is there, and we're soon to have the new factory at Halesworth in Suffolk, which will have a 7t/hr capacity, compared with 1-1.5t/hr at the old Maldon site."
A Little Hype about the Benefits of Hemp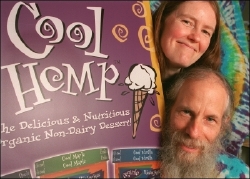 By Katrina Simmons
The Hamilton Spectator
January 31, 2008
Before it was legal to grow hemp in Canada, Christina Anderman was experimenting with hemp seed recipes.
"I've always been a food lover," says the owner of The Cool Hemp Company.
"I had learned that hemp was really nutritious, and wanted to help get the word out about its benefits."
After much experimentation, this small, family-run company in Killaloe, Ontario (near Pembroke) now makes organic, non-dairy frozen desserts that are as nutritious as they are refreshing.
Pushing Hemp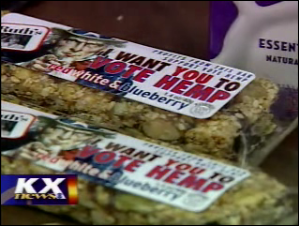 Perry Olson reporting
KXMB-TV, CBS 12
January 21, 2008
Hemp ... a crop that could one day be grown in fields across the state.
But to get to that point there are still numerous hurdles that need to be cleared, the most important making growing it legal.
The past few weeks brought two setbacks for those in favor of the government making the crop legal.
That isn't deterring an area farmer.
Perry Olson has the story.
[More...]