Dear Reader,
The legislative season is now in full swing in a good number of states. Hemp bills have been carried over from 2007 in five states and are expected to see some action in committee soon. We have great hope for the Vermont hemp farming bill this year. The agriculture policy non-profit Rural Vermont is holding a week-long series of hemp events across the state this week to raise awareness and funds to help pass the bill.
The "Hemp Week" lecture series and film tour features North Dakota Rep. David Monson and Agriculture Commissioner Roger Johnson, as well as the films Hemp and the Rule of Law and Standing Silent Nation. For more information on "Hemp Week" and how you can help pass the hemp bill in Vermont, please see Rural Vermont's Web site.
Over the past few weeks, there have been quite a few letters to the editor and editorials on hemp farming in newspapers, mainly in North Dakota. Most of the letters were in the Grand Forks Herald and The Bismarck Tribune. State hemp farming license-holder Wayne Hauge's piece "Industrial Hemp Poses No Threat" in the Grand Forks Herald on Sunday was a reply to earlier letters by certain opponents of all things hemp. Hauge and State Rep. David Monson have filed a lawsuit against the DEA to remove federal roadblocks to reviving commercial hemp farming in the U.S. Please read on for complete coverage of the exchanges.
A letter by Earl Callahan to the editor of The Daily Star in central New York asks that we "Reinstate [the] U.S. Hemp Industry." In his letter "Hemp: Nothing Will Change" to The Minot Daily News, Jason Hysjulien pens this insightful observation: "One is left wondering if the DEA runs Congress or if Congress runs the DEA."
Please see our online Media Guide and write your own letter in support of hemp farming. Please also make a contribution to Vote Hemp today to help us reinstate a hemp farming and processing industry here in the U.S.
We need and truly appreciate your support!
Best Regards,
Tom Murphy
Hemp News Update Editor
Hemp News Update Stories
No Evidence for Vilifying Hemp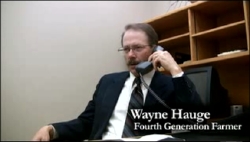 By Wayne Hauge
Letters, The Bismarck Tribune
January 18, 2008
[Ed. note: this letter is in response to letters by Jeanette McDougal and John Coleman of Drug Watch International.]
I am proud and honored by the negative comments by McDougal and Coleman, as well as being mystified by their statements, which provide little evidence to support their negative stance on industrial hemp.
I am proud and honored that McDougal recognizes North Dakota farmers as solid citizens; however, to state that marijuana has any correlation to the efforts by me and everyone I have to date come in contact with is sorely mistaken. I personally will have nothing to do with legalization of pot.
To suppose that marijuana can be planted inside a field of industrial hemp and achieve any degree of so-called recreational high is again misleading. Far more likely would be to grow pot inside a corn field.
Hemp: Nothing Will Change

By Jason Hysjulien
Letters, The Minot Daily News
January 13, 2008
So "Team Dakota" won't talk about hemp in spite of the product being supported by Agricuture Commissioner Roger Johnson and our own state legislature. The reason given that the DEA has spoken. One is left wondering if the DEA runs Congress or if Congress runs the DEA.
One also wonders why we even pay taxes to support state governments when their wishes are continually superceded by those of the federal government. Do our own state representatives not know what is in our best interests? What power do states even possess anymore?
It does not take a study from NDSU to find out the benefits of hemp, nor does it require a $50,000 fence to keep people out. One would assume people in the DEA, who are supposed to be knowledgable about drugs, would know about a thing called cross-pollination. The desirable female plant would be contaminated by the male. Besides, who in their right mind would grow a huge field of pot, even if it were possible? In other words, pot would not be grown in a hemp field.
HIA Featured Member - Cool Hemp Company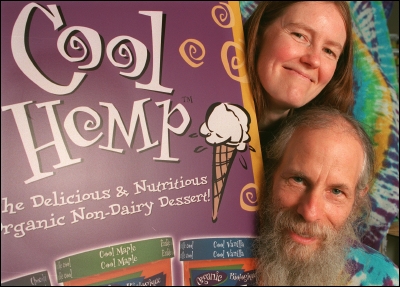 The Cool Hemp company, located in rural Eastern Ontario, Canada, had its beginnings in 1997, a year before hemp became legal to grow in Canada. Intrigued by a magazine article about the many benefits of this newly rediscovered food, and an ad from the Ohio Hempery for a bag of hemp seeds and a little instruction and recipe book, Christina Anderman began experimenting, using the only legal form of hemp seed available at the time, birdseed hemp from China.
Christina was eventually joined by her husband Robbie and three sons in launching Cool Hemp non-dairy frozen dessert (an organic, Fair Trade ice cream substitute) and Cool Hemp energy cookies on the Canadian market in 2001. Their mission was, and still is, to draw people's attention to the many health and environmental benefits of hemp food and fiber, and to support small organic family farmers locally and in developing countries. With help from their many new friends in the organic, Fair Trade and hemp industries, they have succeeded in introducing thousands of people to hemp, through attending dozens of health and environment shows and events, and by selling Cool Hemp non-dairy frozen desserts (in Natural, Maple and Chocolate flavors) in about 100 natural food stores and 200 grocery stores across Canada.
Cool Hemp non-dairy frozen desserts, based on dehulled hemp seeds, are delicious and smooth due to the particular qualities of hemp protein and hemp oil that are ideal for making a non-dairy ice cream. They are nutrition-packed, of course, because of their high hemp content, with one half of one's daily need for Omega-3 and Omega-6 in each 1/4-pint serving.
The company is working on new products (frozen chocolate-covered bars on a stick) and new flavors (Mixed Berry and Fair Trade Coffee). They are also looking for someone to bring Cool Hemp into the U.S., so their friends to the south can enjoy the yummy and nutritious treat, too!
Hemp: Versatile, Eco-Friendly, But Illegal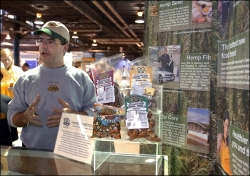 Shawn House talks about his Hempzels Pretzels. Photo credit: Intelligencer Journal.
By Michael Yoder
Intelligencer Journal
January 12, 2008
HARRISBURG, PA — Shawn House is on a crusade to try and educate the public about the misunderstood main ingredient of the food products he sells: hemp.
The resident of Columbia has an elaborate stand in the Pennsylvania Marketplace at the Pennsylvania Farm Show, which ends at 5 p.m. today.
House's stand includes products from his business, Hempzels, and an historical display of hemp products made in Lancaster County.
House said hemp has been demonized for more than 70 years because of its close relation to its cousin, marijuana. However, hemp is not marijuana and should not be treated as such, he emphasized.
[More...]