Dear Reader,
In this issue of The Hemp News Update, we continue our efforts to show the progress being made around the world to bring back agricultural hemp farming. The government of Canada has released a 400-page National Industrial Hemp Strategy and is actively supporting their farmers and industry. Another state in Australia has successfully passed legislation to regulate the growing of hemp and is now licensing farmers. Industry leaders in that country are laying the groundwork necessary to legalize the sale and consumption of hemp foods as well. It is interesting to note that hemp fiber is even being exported from Australia and Canada to China!
President-elect Barack Obama continues to put together his Cabinet and yesterday nominated former Iowa Governor Tom Vilsack to be Secretary of Agriculture. Vote Hemp and the Hemp Industries Association (HIA) are hopeful that Mr. Vilsack, who as an Iowa State Senator voted in committee to pass a hemp study bill in 1997, will see oilseed and fiber varieties of Cannabis as a valuable agricultural opportunity for U.S. farmers.
Unfortunately, the last two presidential administrations have had the contention that "hemp cultivation may be a stalking-horse for the legalization of marijuana" and have seen the hemp issue solely as a drug policy issue rather than as the agricultural, environmental and economic development issue it truly is. In the process, sadly, they have spent untold vast sums of money fighting losing legal and public relations battles.
All of the hard work that the hemp industry has done in the past decade has also been costly in both time and money. If not for that investment, however, we would not now have a market for hemp foods or hemp-based cosmetics and bodycare. This effort was made possible in large part by Dr. Bronner's Magic Soaps and you, the numerous supporters of Vote Hemp and the HIA. We have won many battles along the way, but the war is not yet over.
So, won't you please consider making a year-end contribution to Vote Hemp today to help us continue fixing the situation here in the U.S. With your help, we will win the fight.
We need and truly appreciate your continued support!
Best Regards,
Tom Murphy
Hemp News Update Editor
Hemp News Update Stories
Hemp Shorts:

Freshly harvested hemp seeds. Photo credit: Manitoba Harvest.
Green With Envy
A well-done story from Capitol News Online, an online news magazine run by students in the Journalism program at Carleton University in Ottawa, Canada. Please be sure to also check out the narrated slide show "Nature's Multitasker" (requires Flash player).
Industrial Hemp Growers Launch National Plan
The National Industrial Hemp Strategy was recently introduced at the Canadian Hemp Trade Alliance (CHTA) Conference and Annual General Meeting in Winnipeg, Manitoba. You may download the 400-page document on the Vote Hemp Canada page.
Hemp Rules Under Review
The bylaw that restricts the sale of hemp products in the British Columbia City of Langley is on the city council agenda. Be sure to check out the quote from Councillor Gayle Martin. The HIA provided background information on legal hemp products to Mayor Peter Fassbender and his staff and received a positive reply.
Industrial Hemp Production in Canada
The numbers are in from Health Canada for industrial hemp production in 2008.
Building Sustainably: Low Energy Construction
Learn about building with hemp at this seminar being hosted by Hemp Technologies Inc. in Asheville, NC on January 23-24, 2009.
End Hempseed Food Ban: Businessman

Kim Hough of Hemp Resorces Ltd. Photo credit: John Mokrzycki / The West Australian.
By Cathy O'Leary
The West Australian
November 29, 2008
A Perth businessman wants the Federal Government to lift a ban on the sale of hempseed foods and oils for human consumption, arguing they have a better balance of essential fatty acids than popular fish oil.
Hemp Resources chief executive Kim Hough has written to his local MP and Foreign Affairs Minister Stephen Smith calling for an exemption from the Australian food standard which makes hemp foods illegal for human ingestion.
Hempseed and its oil come from the leaf of the Cannabis plant but do not have any psychotropic properties [Ed. Note: the seed and oil actually come from the flowers]. They are already used in food products such as health bars, salad oils and dairy substitutes overseas.
Grow Your Own Hemp Industry

Hemp researcher and grower Keith Bolton. Photo credit: The Northern Rivers Echo.
By Andy Parks
The Northern Rivers Echo
November 27, 2008
China's insatiable demand for iron ore has been the basis for Western Australia's booming export industry, but another natural resource has been making its way to the East.
According to Nimbin-based hemp researcher and grower Klara Marosszeky, a Western Australian hemp grower is exporting all of his crop to China, including a contract to supply the Chinese military. The military are using the material to create "hemp food packs" that include hemp milk, hemp chocolate, hemp cake, hemp coffee and hemp protein powder, amongst other food products.
"You can use the meal like flour. It was used by most cultures of the world in the last century," she said.
HIA Featured Member - French Meadow Bakery

Gazing out onto the pristine fields of French Meadow, Lynn Gordon was attending a cooking class and pondering a new recipe for bread that would accommodate her macrobiotic diet. The diet prohibited her from eating breads loaded with yeast and sugar; the natural leavening process breaks down complex carbohydrates and glutens, rendering the bread more digestible and the nutrients more easily absorbed. Thus, the idea for the all-organic and functional French Meadow Bakery was born.
Opened in 1985, French Meadow Bakery is the longest continuously-running certified organic bakery in the U.S. Lynn's early vision for a variety of delicious, innovative, healthy breads and sweet goods has blossomed into an extensive and award-winning product line of gluten-free, vegan, yeast-free and kosher parve foods known for their great taste, texture and performance qualities. French Meadow Bakery uses natural ingredients and no artificial colors, flavors or preservatives. The bakery is USDA Certified Organic, Quality Assurance International Certified Organic, Certified Gluten-Free by the Gluten Free Certification Organization, a program of The Gluten Intolerance Group, and Certified Low Glycemic for Diabetics by The Glycemic Research Institute.
Lynn's passion for unique and trend-setting functional foods for all consumers manifests itself in such popular products as Healthy Hemp Bread, Men's Bread, Women's Bread, Healthseed Spelt Bread, delectable cookies, cakes and desserts. Fourteen new and trendy products were introduced within the last year, and a dozen more are currently in creation. All products are available at mainstream grocers and natural food stores.
French Meadow Bakery continues its founding commitment to be a sustainable company that educates its customers on the lifelong benefits of organic foods and healthy eating, and the company supports small farmers. The bakery uses certified organic grains and non-GMO ingredients, which are grown in balance and harmony with nature, further sustaining the health of the planet.
Twenty-three years after Lynn's auspicious vision in that now-famous field, French Meadow Bakery's mission reaches a welcoming international audience with its new strategic business alliance with Rich Products Corporation. French Meadow Bakery's future is ripe with community involvement, education and environmental sustainability on a global scale, leading the industry to new peaks in healthy and delicious eating innovations.
[If you are a member of the HIA and would like to have your company featured here, please submit a small selection of graphics and a profile of no more than a few paragraphs to tom@thehia.org, or call 207-542-4998 for more information. Space is limited and is first-come, first-serve. Your member profile will be seen in The HIA Member Newsletter, as well as here in The Hemp News Update which is read by thousands of subscribers.]
The DEA's Dopiness: Hemp Farmers Growing Nothing But Impatient at Government Roadblocks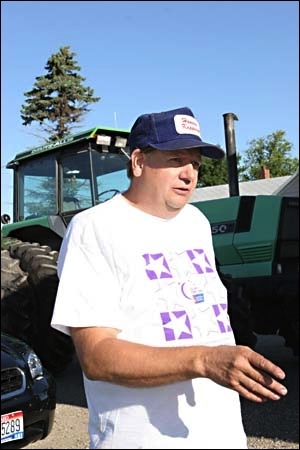 North Dakota House Speaker and hemp farmer David Monson. Photo credit: Scott T. Samson / The Austin Chronicle.
By Jordan Smith
The Austin Chronicle
November 28, 2008
Two North Dakota farmers were back in court Nov. 12, arguing before the 8th U.S. Court of Appeals that the federal government should not be allowed to block their attempts to farm non-narcotic industrial hemp. Specifically, the farmers argue that because their proposed cultivation is an entirely intrastate proposition, sanctioned by state law, the Constitution's commerce clause precludes the Drug Enforcement Administration's (DEA) ability to regulate their hemp farming within the state. "The question is whether the mere existence of the [hemp] plant on the farmers' property can affect marijuana commerce," the farmers' attorney Joe Sandler argued to the court. "The answer to that is no."
North Dakota lawmakers in 1999 passed legislation that would allow state farmers to cultivate industrial hemp — a cousin of the drug marijuana that contains only trace amounts of tetrahydrocannabinol (THC), the drug's main psychoactive ingredient. Hemp was once a major American staple crop (the federal government actually encouraged farmers to grow it during World War II), but by the end of the 1950s (thanks to a variety of factors, including a weakened market), the crop disappeared from the landscape.
[More...]