Dear Reader,
Steve Levine, President of the HIA, wrote in the most recent HIA Newsletter that the "2008 HIA AGM & Convention was a great success. Last month in Boston, a group of about 40 HIA members, including the new Board of Directors, got together and listened to an international group of hemp business leaders and entrepreneurs who spoke during a full day of presentations. It was truly amazing."
I was lucky enough to have been able to attend the convention for the first time, and I agree that it was amazing! Vote Hemp had a board meeting as well and we are working hard to help educate and advocate for agricultural hemp in the new administration. Next year the HIA will be holding its convention in Washington, DC and we will have an opportunity to see up close what progress we have made on issues related to farming hemp again in the U.S.
In related news, two North Dakota farmers, who filed a lawsuit in June of 2007 to end the Drug Enforcement Administration's (DEA) ban on commercial hemp farming in the U.S., will be back in court today in St. Paul, Minnesota. The farmers, North Dakota State Rep. David Monson and Wayne Hauge, are appealing a decision by the U.S. District Court, District of North Dakota. The oral arguments before the U.S. Court of Appeals for the Eighth Circuit are open to the public and all court documents related to the case can be found online.
In 2007 the North Dakota Legislature removed the requirement that state-licensed industrial hemp farmers first obtain DEA permits before growing hemp. The question before the Eighth Circuit Court of Appeals will be whether or not federal authorities can prosecute state-licensed farmers who grow non-drug oilseed and fiber hemp pursuant to North Dakota state law. Vote Hemp, the nation's leading industrial hemp advocacy group, and its supporters are providing financial support for the lawsuit. If it is successful, states across the nation will be free to implement their own hemp farming laws without fear of federal interference.
Vote Hemp depends entirely on contributions from supporters like you to do our work. Your contribution to our Hemp Farmer Licensing and Legal Support Fund will help North Dakota farmers.
We need and truly appreciate your support!
Best Regards,
Tom Murphy
Hemp News Update Editor
Hemp News Update Stories
Hemp Shorts:

A Guide to Milk Alternatives
Lori Corbin, "The Food Coach," at KABC-TV in Los Angeles does a very good job taking a look a non-dairy beverages, including hemp milk.
Oral Arguments Set in Hemp Appeal
The Bismarck Tribune has the latest in the case of two North Dakota farmers who want to grow industrial hemp. Vote Hemp and their supporters are helping to fund the case.
Hemp Harvest in the Ord
HIA Member Hemp Resources has just harvested the first hemp in Western Australia's Ord Valley region in nearly a decade, and looks to plant 500 hectares next year. Chief executive Kim Hough hopes that legislation will be passed so that hemp seed may be sold as a food product in Australia.
Hemp for Car Parts – New Eco Businesses Grow from Plants With EU and EEDA Funding
Business Weekly reports that hemp fiber for car parts will be supported through the InCrops Project.
False Results Put Drug Tests Under Microscope
This USA TODAY story begins" For Nadine Artemis and Ron Obadia, August began with plans for a family vacation in Minnesota. The vacation ended with the two Canadian citizens being led through Toronto's airport in handcuffs, locked up and separated from their baby." The rest is a must read.
Click here (mp3 sound file) and listen to this intriguing and educational interview on Boston Progressive Talk Radio with Hempest co-founder Jon Napoli that gives some insight on some of the goals of the store.
Millionaire Puffs Up Hemp Uses

Ryan Sharp of Perfect Food Co. at the HIA Convention. Photo credit: Will Nunnally, Boston Herald.
By Greg Turner
Boston Herald
October 21, 2008
The Hemp Industries Association wants Andrew Lahde to put some of the millions he made as a hedge-fund manager where his mouth is.
The trade group latched onto Lahde after he called it quits from the world of finance Friday in an eyebrow-raising letter in which he thanked "stupid" investors for enriching him and pushed for the legalization of marijuana.
But Lahde also hyped hemp, the non-drug cousin of Cannabis, as an untapped food and energy source.
Surfboard Shapers Ride an Eco-Friendly Wave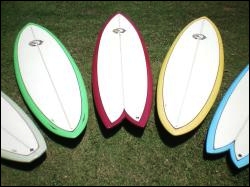 Country Feelings Surfboards on Oahu's North Shore uses plant-based materials. Photo credit: Kyle Bernhardt.
Hawaii Blogs
SF Gate
October 8, 2008
This summer Jeff Bushman and Kyle Bernhardt launched the Country Feeling Surfboards line, which uses "soy- and sugar-based foams, plant-based and solar-activated resins, and hemp, silk, and bamboo cloth," according to their press release. As Bernhardt explained in a phone interview last night, he and his partner, both originally from California, had been "messing around with the stuff" for almost two years before they decided to create their line of boards built from alternative materials.
"All last year I was riding daily my prototype boards," said Bernhardt, a Peninsula-raised surfer who went to San Francisco State University and ran the San Francisco Surf Shop before heading to Haleiwa in 1999. "There's a learning curve that's been happening – the first blanks we got were not good, but now they're a lot better. For the recreational surfer, they're totally up to par."
Among other emission-reducing measures, Country Feelings uses soy-based foam blanks from Homeblown USA and sugar-based blanks from Ice-Nine Foamworks for its shapes, which include fishes, single-fins, twin-fins, funboards, longboards, and stand-up paddleboards.
Owner Told to Stop Selling Hemp Items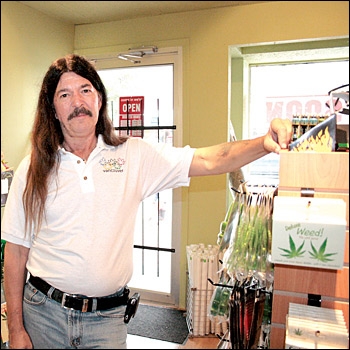 Randy Caine of Hempyz. Photo credit: Heather Colpitts/Langley Advance.
By Heather Colpitts
Langley Advance
November 4, 2008
Stop selling hemp products.
That's the solution offered gift and novelty store owner Randy Caine if he wants to keep Hempyz open downtown.
On Monday, a package arrived from Langley City's law firm, Woodward Walker, ordering him to stop selling hemp products.
N.D. Farmers Appeal to Grow Hemp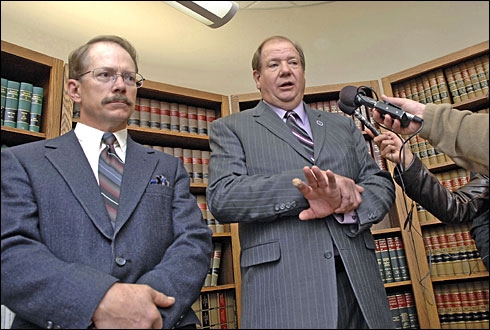 Wayne Hauge, left, and Dave Monson discuss their lawsuit. Photo credit: Will Kincaid, The Bismarck Tribune.
By Donna Leinwand
USA TODAY
November 6, 2008
Two North Dakota farmers will ask a federal appeals court in St. Paul on Wednesday to allow them to grow hemp on their farms, even though the federal government says it's illegal.
Farmer Dave Monson, a Republican representative in the North Dakota Legislature, says the variety of the Cannabis sativa plant grown as hemp is an ideal crop to rotate annually with wheat and barley.
Canadian farmers 20 miles north of his Osnabrock farm do a brisk business selling their hemp to Detroit carmakers who use it inside door panels and for insulation in seats, he says.
Monson says the hemp has no value as a drug because it has a low concentration of THC, the ingredient in marijuana that causes a high.
[More...]