Dear Reader,
We are now less than two weeks away from the HIA Convention and AGM in Boston. In past years, many businesses and HIA members have made in-kind donations of merchandise to the HIA for our Silent Auction Fundraiser. I invite you to contribute by making a donation of goods or services today.
You and/or your company will be recognized here in The Hemp News Update, as well as in the HIA Member Newsletter and the Convention Report. Please call me at the HIA office at 707-874-3648, or email me at tom@thehia.org, and I would be happy to facilitate your much-needed donation.
The 15th Annual HIA Convention & Annual General Meeting (AGM) will be held on Sunday and Monday, October 19-20, 2008, at the Best Western Roundhouse Suites in Boston, Massachusetts, USA, directly after the Natural Products Expo East and BioFach America shows. We have lined up some great featured speakers and plan to have a great time learning about the latest developments in the hemp industry.
Please consider joining the HIA and find out what we can do to help you and your business prosper.
Please also consider making a contribution to Vote Hemp today to help us get hemp planted and growing once again here in the U.S.
We need and truly appreciate your support!
Best Regards,
Tom Murphy
Hemp News Update Editor
Hemp News Update Stories
Hemp Shorts: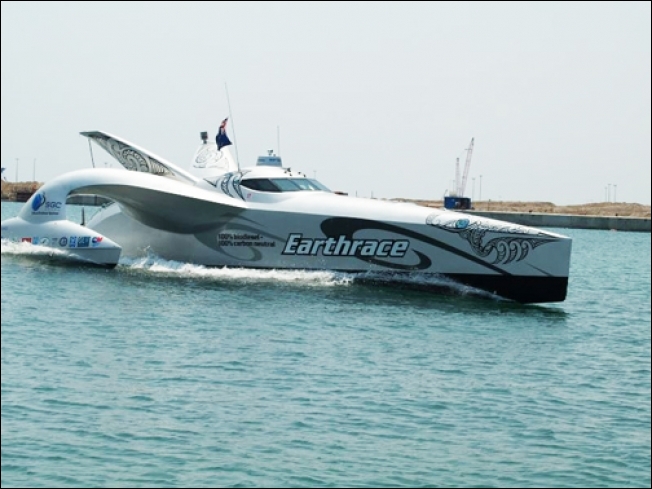 Earthrace Eco-Boat. Photo Credit: BVI Tourist Board.
Earthrace Eco-Boat Prepares to Make a Stop in the BVI
The Earthrace, which runs on 100% biodiesel, is the first boat in the world to use hemp composite. The boat set a new world record for a powerboat to circumnavigate the globe, completing the journey in just under 61 days earlier this year. Earthrace, which is for sale, is currently on a world tour, and its next stop is the British Virgin Islands.
Manitoba to Back Dauphin Hemp Processor
The Manitoba government pledged $4 million in loans and grants for Parkland Biofibre's proposed $20 million processing plant at Dauphin, which is planned to make residential-grade insulation and animal bedding from Manitoba-grown hemp fiber.
But Hemp and Weed Aren't the Same Thing
Sonya English, a journalism and economics major, pens a well-written missive in The University Daily Kansan, which argues that the debate on hemp in the realm of drug policy "is ludicrous and unsupported."
Couple Arrested for Carrying Raw Chocolate
Nadine Artemis and Ron Obadia of Living Libations have an unfortunate experience that mirrors the Punk Rock Soap Opera where Dr. Bronner's liquid soap tested positive for GHB — only this time it's chocolate and hemp and involves international borders. A more detailed version of the story can be found at Natural News.
Upcoming American Lime Technology Symposium

Designing with Hemp and Lime Biocomposite
November 12, 2008 — Montgomery, Texas
American Lime Technology and Olde World Exteriors are pleased to announce their upcoming architectural symposium on environmentally-friendly hemp and lime biocomposite building materials. This event, which will take place on November 12, 2008 in Montgomery, Texas, will feature world-recognized experts and practitioners in the field of sustainable design and construction.
Presenters will include Ian Pritchett, Managing Director of UK-based Lime Technology, Ltd., Jeremy Blake, Principal in the UK-based architecture firm Purcell Miller Tritton, Bruce King, author and structural engineer, and others.
There will also be on-site demonstrations of hemp and lime construction techniques, and attendees will enjoy a tour of the Hopewell Project, including the Pottery Studio and Chapel, which is the first Tradical Hemcrete® building project constructed in the United States.
To learn more and register, please visit the American Lime Technology Web site, or call Bruce Petersen at 773-414-5486.
Tropical Trial for Hemp Crop Turns Heads

Chinese hemp trials in Ord. Photo credit: The West Australian.
The West Australian
September 8, 2008
The Ord irrigation region has produced a variety of crops in its 45-year history, but few have attracted as much interest from passers-by, and the occasional police officer, as current trials of Chinese hemp.
Reaching 2m, the industrial crop was planted in June by Perth-based Hemp Resources to test its performance in the tropical region.
Though similar in appearance to illegal Cannabis crops, industrial hemp's drug-like qualities end there, managing director Kim Hough said.
Hemp Seeds a Great Source of Beneficial Fats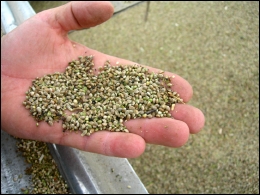 Handful of Hemp Seeds. Photo credit: Luke Zigovits/Vote Hemp.
By Laurie Steelsmith
The Honolulu Advertiser
September 11, 2008
Q. What are hemp seeds? Are they good for me, and if so, why?
A. Hemp seeds are a wonderful new addition to the health food aisles at your grocery store. Not to be confused with their cousin, the "other" hemp seeds used to grow marijuana for psychoactive use, legal hemp seeds have a nutty, smooth flavor and are used to make a variety of food products — from hemp flour and hemp protein powder to hemp oil and hemp milk. They are also used to grow industrial hemp, which is found in a wide range of products, including clothing, textiles, papers and biodegradable materials, and is used as an alternative fuel source.
Eating hemp seeds can benefit your health in a number of ways. They are rich in essential fatty acids — fats that you need, but have to ingest because your body can't make them — including omega-3 fats. Omega-3 fats can promote the formation of anti-inflammatory hormone-like substances called prostaglandins, which can help people lose weight and assist in recovery from many types of disorders.
Hemp Instead of Cotton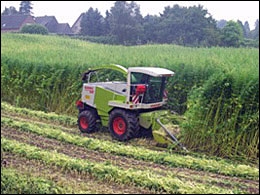 Harvesting hemp at the WUR field. Photo credit: Radio Netherlands Worldwide.
By Thijs Westerbeek
Radio Netherlands Worldwide
September 29, 2008
Cotton cultivation is a disaster for the environment, and the farmers who grow cotton don't see many benefits from their labor. However, if researchers at the Netherlands' University of Wageningen get their way, things will be very different in a few years' time, thanks to the new varieties of hemp they have created.
There's a small field of hemp less than ten kilometers east of Wageningen, but it doesn't look very promising. The plants have all been chopped down and have been left, exposed to the elements, rotting on the ground.
Even though the hemp field doesn't look very prepossessing, the investigators from Wageningen University and Research Centre (WUR) are extremely pleased with the crop, as this new hemp variety may be able to break cotton's monopoly position as the textile crop of choice. Leaving the hemp to rot is simply part of the production process.
[More...]
Join the HIA!