Dear Reader,
I really love the Fall. The kids are done with their daily trips to camp and are headed back to school. It's nearing harvest time, and that means fair time as well. Real, old-fashioned agricultural county fairs are wonderful things, and one really gets a sense of where our food comes from.

Not too long ago, many people farmed and processed their own food and fiber. I saw the flax break below at a museum at my local fair, along with a lot of other implements used to farm and process raw flax into finished linen cloth. They are very similar to those that were used to process hemp fiber in the same manner. Before he passed away, my Grandfather gave us a spinning wheel for flax fiber. It had been in the family for a century, and my wife now uses it to spin hemp yarn.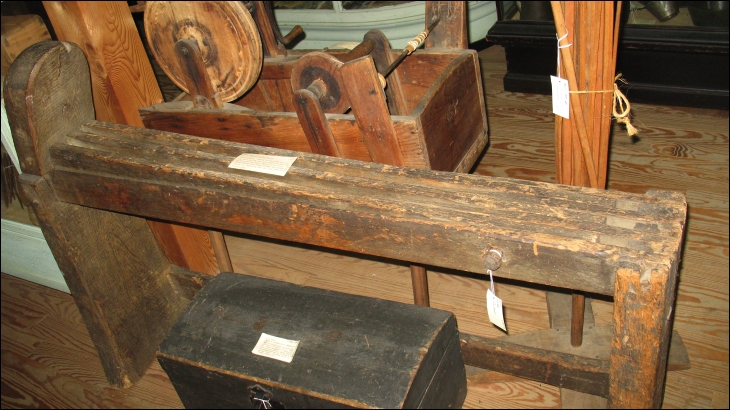 A flax break seen in the Matthews Museum at the Union Fair.
Some displays featured modern equipment like wood stoves that use compressed agricultural waste bricks or pellets for fuel. These bricks and pellets can in fact be made from hemp hurds, a by-product of growing hemp for seed or fiber.

While the Reason Foundation found in their policy study Illegally Green: Environmental Costs of Hemp Prohibition that "it is unlikely that industrial hemp would be a primary crop for either biodiesel or ethanol production where more valuable markets exist for hemp," they did, however, state that "biomass could be expected to serve as a secondary market for fiber hemp (as is sometimes the case in Europe) or as a local fuel source, whether in the form of biodiesel, pellets for heating, or other emerging fuels."
As transportation costs increase, and thus importing fuel and fiber from other countries becomes more expensive, we will need to develop local sources of these raw materials. Entities in other countries, like the Green Energy Growers Association (GEGA) in Ireland (see our featured article), support bio-energy farmers and conduct research on the development of energy crops. America must not be left behind in these developments — our country must consider all options, including hemp, and choose the best.
Help us make that happen. Please make a contribution to Vote Hemp today, so that we may continue fixing the situation here in the U.S.
We need and truly appreciate your support!
Best Regards,
Tom Murphy
Hemp News Update Editor
Hemp News Update Stories
Hemp a Growing Industry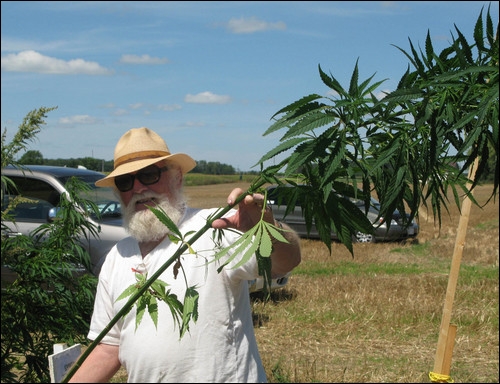 Gordon Scheifele shows an industrial hemp plant.
Photo credit: Brian Shypula/The Beacon Herald.
By Brian Shypula
The Beacon Herald
August 18, 2008
Tavistock, Ontario, Canada — A decade after it became legal to grow in Canada, industrial hemp finally looks closer to delivering on its potential as a wonder crop.
"It's growing rapidly, but it's a delicate balance still in the growth phase," Gordon Scheifele, former president of the Ontario Hemp Alliance, said at a field trial open house held Saturday northwest of Tavistock.
"We want to communicate ... that 'Hey, this is great stuff, it's going to change our lives with regard to how it moves into the industrial applications, and the hemp grain for food,'" he said.
Time to Speak Up on Hemp Farm Licensing

The Land
August 26, 2008
A draft of the proposed new licensing scheme to allow industrial hemp production in NSW is available for public comment for 28 days.
The Iemma Government passed the Hemp Industry Bill in June this year, paving the way for a new industrial hemp industry in NSW.
Minister for Primary Industries Ian MacDonald put out an invitation to farmers to comment on the proposed licensing regulations, which are necessary to ensure the crop is grown only under license and only by applicants of "good repute."
HIA Featured Member - Earth Friendly Network

The Earth Friendly Network was founded by Amie Nguyen in 2002 after her daughter was born with abnormalities as a result of environmental toxins. When she discovered the cause of many of our health problems could be traced back to our diet and environmental toxins, she also decided that she was going to tell everyone who would listen what she had discovered. She channeled her energy into developing four Web sites and an eBay store that focused primarily on hemp products.
Earth Friendly Goods became the focus of the Earth Friendly Network, and along with her sister, Carie Cave, she opened a brick and mortar store in Tulsa, Oklahoma. Although the store was a bit ahead of its time in Tulsa and had to be closed a year after opening, the online store continued to grow and flourish. It is a variety store with a mission ... to provide not only top-of-the-line hemp products, but also information and guidance to shoppers.
Former Earth Friendly Goods Store in Tulsa, Oklahoma.
By the very nature of current restrictions on the production of hemp in this country, industrial hemp manufacturers have limited market awareness of their products. The Earth Friendly Network brings their products to a wider audience of consumers, while promoting and reinforcing hemp's image as a premier source of earth-friendly products. Through involvement in the HIA and other industry-specific groups, contact with customers, social networking and the newly-developed Greener Network, they are reaching out to the masses to help them embrace industrial hemp products.
[If you are a member of the HIA and would like to have your company featured here, please submit a small selection of graphics and a profile of no more than a few paragraphs to tom@thehia.org, or call 207-542-4998 for more information. Space is limited and is first-come, first-serve. Your member profile will be seen in The HIA Member Newsletter, as well as here in The Hemp News Update which is read by thousands of subscribers.]
Hemp Food Week Highlights Seed's Versatility in Cooking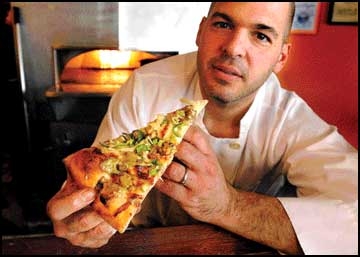 Biga Pizza chef and owner Bob Marshall.
Photo credit: Kurt Wilson/The Missoulian.
By Chelsi Moy
The Missoulian
September 4, 2008
This little seed can be roasted, toasted, fried, frozen, poured, stored and baked.
When it comes to hemp — and the seeds it produces — the possibilities are endless. And that's no hallucination.
This week, local Missoula business owners tested the limits of hemp seeds in various culinary delights, from hemp milk lattes to pizza and breakfast muffins. Highlighting the high-nutrition ingredient at local eateries is all part of Hemp Food Week, an event building up to this weekend's 13th annual Hempfest at Caras Park.
Gesco Network to Pioneer Biomass Field Trials of Hemp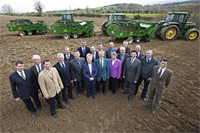 By Ray Ryan
Irish Examiner
September 4, 2008
The Green Energy Growers Association (GEGA) has secured an exclusive agreement for Ireland from the European Union-licensed National Federation of Producers of Hemp (FNPC) in France.
The agreement enables GEGA, through its associated Gesco Network, to provide farmers and growers across Ireland access to a range of industrial hemp varieties and technologies.
GEGA, based in Carrick-on-Suir, has also been appointed as a representative for Ireland to the EU Common Market Organisation for Flax and Hemp. Hemp is one of the world's strongest natural fibers. It has been used to make cloth and rope for more than 10,000 years.
[More...]
Join the HIA!