Dear Reader,
In our last issue of The Hemp News Update we were left hanging as to when the Vermont hemp farming bill would be sent to Governor Douglas for his signature or veto. Since then we have had enough political intrigue to satisfy even the most jaded observer. If you subscribe to our Vote Hemp Report email newsletter you may have received part of the news as well as our press release yesterday.
Governor Douglas received the bill and forwarded it on to the Secretary of State intending it to become law without his signature. But, this fomented a constitutional controversy as the Secretary of State's office refused to accept the bill and asked for opinion from Attorney General if the bill should become law or not. The Attorney General's office sent a Formal Opinion to the Secretary of State in support of Governor's action. So, the Secretary of State accepted Attorney General's opinion and made the bill Act No. 212 late last Friday.
Hemp is being grown in more and more countries around the world. It is even being grown in Iceland! In Australia Hemp Industry Bill 2008 has now passed through both Houses of the New South Wales Parliament. The bill introduces a new licensing scheme to allow the production of industrial hemp there.
Here in the U.S. we are subjected to misinformation on a grand scale. We can and must correct stories like the ditchweed is marijuana story below. It is time consuming, but is well worth the effort. DEA marked their 35th anniversary this month, so we don't expect the lies from them and the ONDCP to stop anytime soon barring a miracle.
We are now looking forward to the next legislative season when we will have the opportunity to introduce or re-introduce hemp farming bills, study bills and resolutions on the state and federal level. All of this will take planning, coordination and funding. Please make a contribution to Vote Hemp today to help us continue our work and bring hemp farming back to America.
We need and truly appreciate your support!
Best Regards,
Tom Murphy
Hemp News Update Editor
Hemp News Update Stories
Hemp Shorts: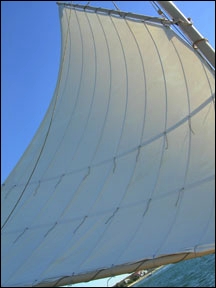 Hemp sails of the Sarah. Photo credit: Cape Cod Maritime Museum.
Historic Boat Sails To Benefit Museum, Society
The Cape Cod Chronicle reports on the South Shore Tour of the Cape Cod Maritime Museum's Catboat Sarah, a hand-built replica of an 1886 Crosby Catboat, on July 1 - August 31, 2008. She has a canvas sail gaff-rigged with hemp, manilla halyards and cleats and blocks made of wood.
AG Rules Hemp Bill Is Legal
By Peter Hirschfeld, of the Vermont Press Bureau, has a local angle on the controversy surrounding the Hemp for Vermont bill in The Barre Montpelier Times Argus.
Attorney General Says Hemp Bill Is Constitutional
Vermont Public Radio covers the same story, but with a more state oriented angle.
Vt. Attorney General OKs Hemp Bill
Legal News Line of Washington, DC has a short, but well written piece as well.
7 Healthy Hemp Foods to Try
Liza Barnes at SparkPeople writes that "Hemp is the New Flax."
Airbus, CSIR to Develop Natural Fibres
Airbus announced a partnership with South Africa's Council for Scientific and Industrial Research (CSIR) to develop a natural-fibre material for aircraft interiors.
Growing Naturally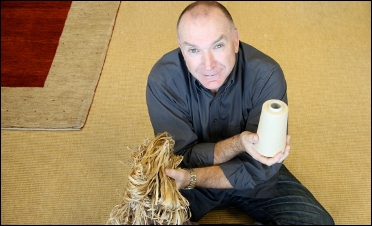 Ken Barker, CEO of Naturally Advanced Technologies. Photo credit: Cathy Cheney, Portland Business Journal.
By Robin J. Moody
Portland Business Journal
June 27, 2008
Hemp's time has finally come, Ken Barker, chief executive of Naturally Advanced Technologies Inc., likes to say.
For years, fast-growing and water-wise hemp has been touted as a sustainable alternative to cotton, arguably the most toxic crop on the planet and one of the most water-intensive. The catch: Hemp-based fabrics have lacked the softness and versatility of combed cotton.
Until now.
Industrial Hemp Crops To Be Sown In NSW By Spring

The Land
June 30, 2008
Industrial hemp is a step closer to becoming a new production crop in NSW, following the passing of the Hemp Industry Bill 2008 through the NSW Upper House last week.
The bill, which introduces a new licensing scheme to allow the production of industrial hemp in NSW, has now passed through both Houses of NSW Parliament.
Minister for Primary Industries Ian Macdonald says the licensing scheme means industrial hemp crops can be planted this coming spring.
HIA Featured Member - EnviroTextiles, LLC

HIA Board Member Summer Haeske currently serves as the National Sales Manager of EnviroTextiles, LLC, a family-owned company based in Glenwood Springs, Colorado, which imports and distributes hemp and hemp blend yarns, fabrics and finished textile goods. Haeske began working with Barbara Filippone when Filippone started EnviroTextiles back in 2001.
Filippone is recognized as a pioneer in the business of hemp textiles. Filippone re-opened the Western textile market to Romanian hemp back in the early 1990s, followed by Chinese hemp after 1996. At this time, Haeske helped create Earth Goods, one of the first hemp apparel lines. Now in her eighth year at EnviroTextiles, Haeske possesses a full understanding of how to design and inspect fabrics, as well as how to pattern, grade and finish products. Together, Haeske and Filippone grew the company to $1 million in sales in 2006.
Not only does Haeske manage sales, but she also organizes fashion shows for events that EnviroTextiles has sponsored, including the first sustainable business conference at the Fashion Institute in New York City in 2007. One of Haeske's favorite projects was for MTV's "Pimp My Ride" show, which featured the Earth Day car upholstered in sustainable hemp fabrics provided by EnviroTextiles.
This past January, Haeske worked with top designers Versace, Calvin Klein and Donna Karan, each of whom incorporated EnviroTextiles' fabrics into their designs featured at the 2008 Earth Pledge event during New York's Fashion Week "Future of Fashion." The designs were also showcased at Barney's 5th Avenue for the month of February.
[If you are a member of the HIA and would like to have your company featured here, please submit a small selection of graphics and a profile of no more than a few paragraphs to tom@thehia.org, or call 207-542-4998 for more information. Space is limited and is first-come, first-serve. Your member profile will be seen in the The HIA Member Newsletter as well as here in The Hemp News Update, which is read by thousands of subscribers.]
Growing Wild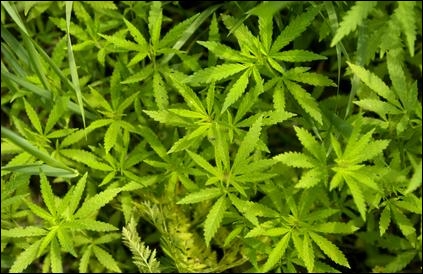 Juvenile "marijuana" plants in Medina Township, Illinois. Photo credit: Matt Dayhoff/Journal Star.
By Anita Szoke
Peoria Journal Star
May 29, 2008
ROME, IL — They may only be about a foot tall right now, but in a few months, the wild marijuana plants in the area can grow into one big problem.
That's why Medina Township and the Peoria County Sheriff's Department teamed together Thursday to destroy the illicit wild weed found growing in rural Medina Township before it matures and before others can get to it.
"We're working to eradicate it and get it this year before it gets to maturity," said Medina Township Supervisor John Dawson.
Growers Breeding New Hemp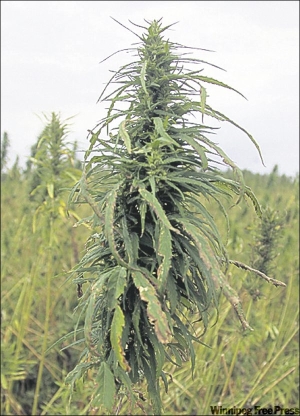 By Martin Cash
Winnipeg Free Press
June 25, 2008
Hemp growers in the Dauphin region are going back to some of the original hemp breeds in the area from the 18th century to come up with new varieties.
Unlike more commercially acceptable grains like wheat and barley, commercial hemp growers must register and certify the seed they use every crop year. That is largely a result of regulatory pressures, mostly from the United States, about concerns over the control of marijuana which is another type of hemp.
Joe Federowich, chairman of Parkland Prairie Hemp Growers Co-Op, said it takes several years to certify and register new varieties of hemp seeds. If the region is ever to be successful in developing an industrial hemp processing plant, it is going to need a much larger supply of seeds to feed the plant with fibre, he said.
[More...]
Join the HIA!