Dear Reader,
Happy New Year! Welcome to the latest issue of The Hemp News Update, formerly called the Weekly News Update. The newsletter is now a joint venture between Vote Hemp and the Hemp Industries Association (HIA) and incorporates the HIA's "Hemp Friends" email list, now that the HIA Newsletter is for HIA Members only. It will include new HIA-related features, as well as the best hemp news to be found, and will be sent roughly every other Tuesday.
Now that the holidays are over, reality is creeping back in a rather harsh manner. HIA Board Member Alex White Plume and his family lost their home to a fire late last month in South Dakota. Please see the HIA Featured Member story at the end of this newsletter for details and to find out how you can help them in this time of need. If you want additional information, please feel free to email me.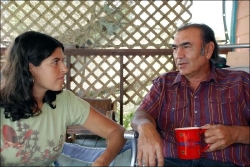 "Standing Silent Nation" filmmaker Suree Towfighnia with Alex White Plume.
Events in North Dakota are progressing in a number of directions. North Dakota State University (NDSU) is weighing its options to be able to conduct hemp research this year. Prospective hemp farmers, state Rep. Dave Monson and Wayne Hauge, have applied for state hemp farming licenses again this year and have also filed an appeal of the recent dismissal of their lawsuit against the DEA. Please read the story "ND Delegation Won't Take Up Hemp Issue" for some key quotes from Rep. Monson and Congressman Earl Pomeroy. It looks like we really have our work cut out for us in the upcoming year.
Please help us start the year off right by making a contribution to Vote Hemp today to help us bring back hemp farming once again to this great country.
There is much work to be done, but together we look forward to a successful and productive 2008!
Best Regards,
Tom Murphy
Hemp News Update Editor
Hemp News Update Stories
ND Delegation Won't Take Up Hemp Issue


By Mary Clare Jalonick, AP
The Bismarck Tribune
December 31, 2007
WASHINGTON, DC — The three members of North Dakota's congressional delegation see little hope in Congress for state farmers who want to grow industrial hemp.
Members of the state's all-Democratic delegation — Sens. Byron Dorgan and Kent Conrad and Rep. Earl Pomeroy — say they have no plans to introduce or push legislation that would make it easier for farmers around the country to grow the crop.
U.S. District Judge Daniel Hovland last month dismissed a lawsuit filed against the U.S government by two North Dakota farmers, saying federal law considers industrial hemp to be the same as marijuana, which is an illegal drug. In his ruling, Hovland suggested asking Congress to change the definition of industrial hemp to explicitly distinguish it from marijuana.
That idea has no traction in Congress, the state's delegation says.
Producers Renewing State Hemp Licenses, Appealing Lawsuit Decision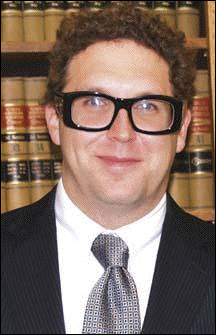 Adam Eidinger, Vote Hemp Communications Director
By Staff
Farm & Ranch Guide
December 20, 2007
North Dakota producers, Wayne Hauge of Ray and state Rep. Dave Monson of Osnabrock, are renewing their North Dakota license applications to grow and process industrial hemp in the state in 2008.
In a separate action on Dec. 12, attorneys filed an appeal of the farmers' lawsuit against the DEA on their behalf in the U.S. Court of Appeals. Their lawsuit was dismissed by a federal judge on Nov. 28.
Hauge said he has already sent in his application to grow hemp in North Dakota.
HIA Featured Member - Alex White Plume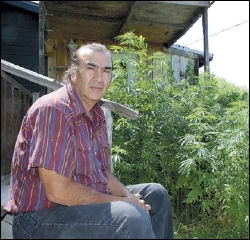 Alex White Plume on his back steps
Pine Ridge Indian Reservation, Manderson, SD
Photo credit: AP/Chet Brokaw.
On the morning of December 20, Alex White Plume, who serves on the HIA Board of Directors, and his family lost their home in Manderson, South Dakota to a devastating electrical fire. Alex was away on business, and his wife Debra, still in her housecoat when discovering the blaze, only had time to hastily grab her grandson, pipe, purse and cellphone and get out the door. Everything burned, including years of important papers, tribal artwork and their computer — a total loss. "It all happened in a half hour," Debra said.
Alex has written a few emails to his friends and supporters since the fire, and here is a short paraphrase of them:
Thank you for your prayers and support; we want to remain on the land. The house burned to the ground and we lost everything we owned, so we are starting now to work to clear the rubble and prepare to rebuild. We are still in shock and thinking is painful. I have been clearing out all the black burned rubble in hopes of finding something of value. My wife's jewelry is melted and I could not find anything.

I hope in the month of January we will be set up somewhere near the place. I want to start building in the spring, and this gives me a few months to plan for it. Lumber and building materials will be helpful. I looked at a camper that I may set up for the short haul. We appreciate the generosity of everyone, and every penny will be appreciated. I will accept any used or new hemp clothing. We are going to rebuild and need financial support. I need cash to rebuild, and I will have to sell my buffalo to start.

To read more about this story, click here.
The Hemp Report has set up a PayPal account to accept contributions. For transparency, all funds will go through Vote Hemp's bank account and then be sent directly to Alex and his family. To make a donation and help the White Plumes rebuild, please click the link below.
NDSU Moves Toward Starting Industrial Hemp Research in 2008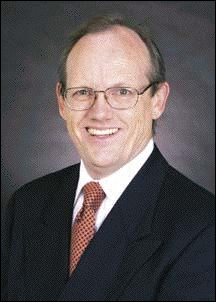 Dr. D.C. Coston, NDSU Vice President for Agriculture and University Extension
By Sue Roesler
Farm & Ranch Guide
December 20, 2007
North Dakota State University (NDSU) may begin planting industrial hemp seed next spring to fulfill a 1999 legislative mandate, says a university official.
The land grant university has been waiting on the Drug Enforcement Administration (DEA) to approve its application to conduct hemp and hemp seed research for North Dakota farmers since then.
The DEA finally acted on the application last month within days after a federal judge admonished the agency for its non-action. That rebuff was part of a lawsuit judgement that went against two North Dakota farmers who wanted to grow industrial hemp.
NDSU Vice President for Agriculture and University Extension, Dr. D.C. Coston, said he has been part of continuing discussions on the decision they received from the DEA.
[More...]