Dear Reader,
Hemp farming legislation is once again at the top of the news. The California Assembly has passed AB 684 by a vote of 41 to 29 (with 9 members not voting). The bill now heads to the Senate. It is reported that Governor Schwarzenegger has not yet taken a position on the measure. If you are from California, please remember to write your Senator and ask her or him to support AB 684 and hemp farming in California.
Things did not fare so well for HB 424 in New Hampshire. Once again, the hemp farming bill there has been killed in the Senate. Overcoming law enforcement objections is key to getting hemp bills passed, but simply adding provisions to overcome these objections does not seem to be enough. We also need to overcome seventy years of misinformation and a lack of political will. Every failed bill is a learning experience, and with education to overcome ignorance and hope to overcome fear, New Hampshire will eventually pass a hemp bill.
It has been said that hemp can be used to produce more than 25,000 products, and we see it being put to more and more uses every year. Products range from hemp-reinforced composite epoxy pallets to the latest food trend, hemp milk.
These products and many more could (and should) be made from hemp grown and processed domestically.
Please make a contribution to Vote Hemp today to help us continue fixing the situation here in the U.S.
We need and truly appreciate your support!
Best Regards,
Tom Murphy
Weekly News Update Editor
Weekly News Update Stories
Soy's New Competition: Hemp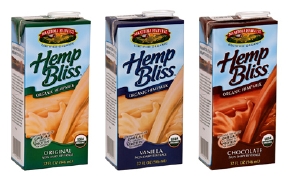 By Janet Cromley
Los Angeles Times
May 14, 2007
Like a bloodhound, Gira Balistreri is racing through the palatial Whole Foods Market in El Segundo, sniffing out some of her favorite foods.
A new employee at the 65,000-square-foot flagship store, she goes directly to several shelves of hemp shakes and snacks, then trots over to tidy rows of hemp butter and oil, then rushes down an aisle and snaps up a fresh package of hemp tortillas on her way to the hemp bars, hemp bread and hemp bagels.
"Hemp," she says excitedly, "is just an awesome seed."
Balistreri isn't alone in her devotion. In the last two years, sales of hemp food products in markets and grocery stores rose by more than 50%, propelling the unassuming seed to an $8.6 million industry, according to SPINS, a market research and consulting firm for the natural products industry.
Hemp Milk Hits Store Shelves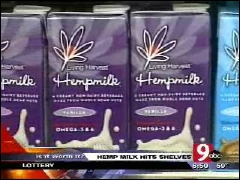 WSYR-TV, ABC News
Syracuse, NY
May 9, 2007
Soy milk, almond milk and rice milk have a new friend on the store shelf: hemp milk.
The non-dairy alternative just came out this month. It's made from the nuts, or seeds, of the hemp plant, and is already flying off shelves nationwide. Is it worth it?
There's hemp protein powder, hemp bars, hemp shakes, and hemp cereal. Now, there's milk to go along with that breakfast meal.
There are 25,000 uses for hemp. Naturtyme's owner Wendy Meyerson says you could live off it, from clothing to food and even lip balm. Hemp milk is another option for those allergic to dairy or soy.
Possibilities are Endless for Newest Crop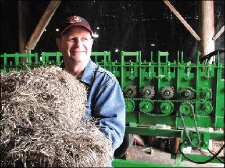 Editorial
The Intelligencer
May 14, 2007
Dazed and Confused, Cheech and Chong ... Dude, have you seen my crop?
You'll have to excuse Grant Moorcroft if he tells you he's heard every pothead joke around. And with good reason, he is, after all, one of the area's most accomplished growers of a strain of hemp that's all about industrial as opposed to recreational.
With 30 acres of the crop, Moorcroft works hard for the fibrous end product, and for that any farmer of any crop would surely doff his or her cap to him. Anyone who's tried to take off a crop before the fields turn to slop or the rains make the product unsalable knows what a challenge farming can be.
Add to those inherent hurdles of agriculture what must be an endlessly annoying task of explaining and clarifying his crops for the uninitiated — that and keeping dummies who think you can smoke this hemp out of his fields — and Moorcroft's got his work cut out for him.
North Dakota Hemp Heads Toward Federal Showdown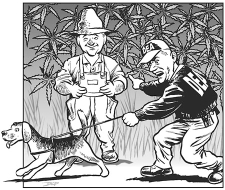 By Jordan Smith
The Austin Chronicle
May 11, 2007
The growing season in the northern Midwest is fairly short. So a letter from the U.S. Drug Enforcement Administration describing all the reasons it's impossible to expedite the applications of two North Dakota farmers seeking federal approval to farm industrial hemp is, in effect, a refusal to allow farmers there the opportunity to cultivate hemp this year. And, if history is any indication, the letter also suggests it is unlikely the federal narcos will ever allow cultivation to happen — at least not without a fight. It is a fight North Dakota's farmers are ready for.
In February, North Dakota Agriculture Commissioner Roger Johnson traveled to Washington, D.C., to deliver to DEA officials two applications, filed by farmers who, pursuant to new state regulations, had been approved by Johnson to grow the non-narcotic, environmentally-friendly crop. Johnson also took along two separate checks given to him by the farmers — each for about $3,000 — to cover the DEA's yearly, non-refundable hemp-licensing application fee. Since the growing season is already underway and there are no signs that the DEA has made any move toward reviewing the applications — including one filed by third-generation farmer and veteran Republican state Rep. David Monson — it appears the farmers have lost not only the chance to grow hemp this year but also the money they paid in an effort to gain [federal] approval.
[More...]