Dear Reader,
Some weeks are like roller coasters. Last week was one of them. I started off by presenting testimony for Vote Hemp for HB 424 before the Senate Commerce, Labor and Consumer Protection Committee in New Hampshire on Tuesday. I have been to better, more positive hearings. The hearing for the hemp farming bill came just before lunch and committee members seemed hungry to get out of there. It followed a lengthy hearing for a health insurance bill. The room was way too warm. I had decided after the hearing in the House that I would try to speak after law enforcement if possible. I was successful, but the Committee did not take the opportunity to ask me more than one question.
Major Susan Forey of the New Hampshire State Police and Associate Attorney General Ann Rice presented what I would generously call misinformation. Unfortunately I have heard the talking points that they were using in testimony in other states. These talking points are from a very old playbook, which we countered years ago in the Vote Hemp Treatise. Supporters of hemp farming in New Hampshire did not present their best testimony in favor of the bill. I would hope that the Committee can see through this and send HB 424 to the floor of the Senate for a vote before the end of the session.
Things went much better in Vermont on Thursday and Friday. I presented testimony for Vote Hemp for H 267 before the House Committee on Agriculture. I was a few minutes late for my hearing time, but I was in contact with Amy Shollenberger of Rural Vermont who informed the Committee Chair of my arrival time. When I did arrive I knew I was in friendlier territory by the Hemp for Victory poster on the Committee's wall! North Dakota House Assistant Majority Leader David Monson was there, too, having already arrived in preparation for his testimony the next morning. My testimony went well and the Committee asked questions for well over an hour.
The next day Rep. Monson was able to talk with Governor Jim Douglas and Lt. Governor Brian Dubie in person. Later that morning Rep. Monson, his wife, and I were introduced on the floor of the House of Representatives by Representative David Zuckerman of Burlington. Quite an honor. Mid-morning North Dakota Agriculture Commissioner Roger Johnson presented testimony to the Committee on Agriculture via telephone and North Dakota Representative David Monson presented his testimony in person. Being a farmer as well, Rep. Monson was able to give the Committee some better insight into agricultural hemp from their perspective. John Dillon or Vermont Public Radio covered the hearing in his story "Hemp legislation receives endorsement from Midwest officials" and you can also listed to the MP3.
Later that evening I was a guest panelist at a Rural Vermont Event and fundraiser "Hemp 101" along with Rep. Monson and one of the sponsors of the hemp farming bill, H 267. The food at the dinner beforehand was wonderful. I presented an overview on hemp as a lead in to some wonderful stories on the history of hemp bills in North Dakota told by Rep. Monson. We then went over the hemp bill section by section. Eileen McKusick of Cosmic Confections even brought some yummy toasted hemp seed nonpareils for dessert. A truly wonderful end to the week.
Please become a member of Rural Vermont to help them with their important work on farm issues in Vermont.
Please make a contribution to Vote Hemp today to help us fix the situation here in the U.S.
We need and truly appreciate your support!
Best Regards,
Tom Murphy
Weekly News Update Editor
Weekly Hemp News Stories
Hemp Shorts:

Hemp Backer Extols The Crop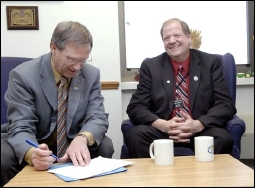 By Louis Porter, Vermont Press Bureau
The Times Argus
April 30, 2007
MONTPELIER — It would be difficult to picture someone who would seem less likely to be a leading advocate for legalizing hemp than North Dakota state Rep. David Monson.
Wearing a suit and with the hair on top of his head lying over like wheat in the high wind of his home state, Monson looks exactly like what he is — a family farmer, school administrator, leader in his church and assistant majority leader in a state legislature dominated by Republican lawmakers.
But those very facts are also the reasons Monson, who testified last week on the issue of legalizing industrial hemp production in Vermont, has become an important supporter of the crop, which also has backers in Vermont. He has been working for years to be allowed to grow hemp as a cash crop that can break the cycle of wheat disease and help him keep his family farm. Add to that a healthy dose of disgust at the idea of the federal government telling him what plants he can and can't grow, and an understanding of prairie politics, and it's easy to see how Monson became a force behind North Dakota's legalization of hemp grown for use as in livestock feed and to make fiber for rope or cloth.
Hemp Milk? It's Healthy And Legal As Hemp Cereal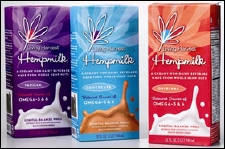 By Bob Batz Jr.
Pittsburgh Post-Gazette
May 3, 2007
Got milk?
Oh, we got milk all right.
In addition to whole, two-percent and one-percent fat, skim and super skim, we now also can choose to have organic milk, hormone-free milk, lactose-free milk, soy milks in a rainbow of flavors, rice milk, even almond milk.
Add to the list of nondairy alternatives, with an emphasis on alternative, "hemp milk."
The "milk," which just began to be sold this year, is made from the "nuts" or seeds of the industrial hemp plant, which is illegal for U.S. farmers to grow.
Industrial Hemp Was Topic At Capitol Hearing Last Week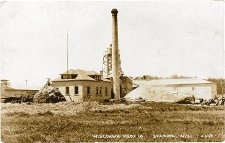 By Joan Sanstadt
Iowa Farmer Today
April 25, 2007
It wasn't anything really new - although to some the idea of growing industrial hemp might seem pretty far-fetched.
But anyone who remembers WWII probably remembers that the U.S. government asked farmers to grow hemp as a replacement for the hemp crop that was lost when the Philippines fell. Rope and binder twine were major uses for hemp.
Yet many remember the '60s - and they equate industrial hemp with the marijuana plant. In fact, that's the view of the Drug Enforcement Agency (DEA) that has placed industrial hemp in the same category of drugs as heroin.
Back somewhere in the mid-'90s the NFO's Ron Statz arranged a meeting with some Waupun-area farmers who remembered when the crop was being grown in Wisconsin back in the 1930s and '40s. They spoke of how labor-intensive the harvest was and because of its weight many small hemp mills were scattered across the countryside. In fact we visited one just outside of Waupun that is still standing today. I'm told there are several others.
Hemp Farmer Sitting On Possibilities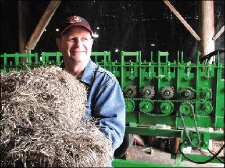 By Samantha Craggs
The Intelligencer
May 4, 2007
Grant Moorcraft can only hope, with cautious optimism, that he is farming the crop of the future.
The area farmer grows 30 acres of hemp, a hard-to-harvest crop with numerous applications for which he is helping develop a technology that separates the hurd from the fibre. He recently received a regional Premier's agricultural innovation award worth $5,000.
"(Hemp) is really tough stuff," he said.
Currently, the possibilities of hemp are greater than the technology and marketing available for it. It can be used to make everything from milk to clothing. Moorcraft's crop is used exclusively for a new environmental wave; the tightly-packed bales are stacked and covered in mortar to form the walls of straw bale houses.
[More...]