Dear Reader,
The legislative season in some states is winding down, and planting season is almost upon us. In many smaller states where farmers are often legislators, the legislative calendars revolve around the seasons. In many larger states, however, being an elected official is now a full-time job.
Ten farming states have introduced industrial hemp legislation in 2007: California, Hawaii, Idaho, Minnesota, New Hampshire, New Mexico, North Dakota, South Carolina, Vermont and Wisconsin.
I want to remind you that all state hemp bills and resolutions introduced since 1995 are listed on our State Industrial Hemp Legislation page.
North Dakota leads the pack with five bills introduced this year — two of which, SB 2099 and HB 1490, have already been signed by Gov. John Hoeven. Two others are resolutions urging Congress to recognize the multiple benefits of industrial hemp and to direct the DEA to differentiate between industrial hemp and marijuana. The fifth bill, HB 1020, has passed both the House and Senate with different amendments and is now in conference committee.
Vote Hemp continues to submit testimony for bills in various states. In Wisconsin the Assembly Committee on Rural Economic Development just held a public hearing on a hemp study bill there. Vote Hemp sent testimony in favor of the bill, and next week I will be traveling to both New Hampshire and Vermont to present testimony on behalf of Vote Hemp for hemp farming bills in those states.
If you live in the United States, please take a moment to send a letter asking your U.S. Representative to co-sponsor H.R. 1009, the Industrial Hemp Farming Act of 2007. If you live in Wisconsin, South Carolina, North Dakota, New Hampshire, Hawaii or California, you can also send a letter to your elected representatives in your state in support of hemp legislation there.
Please make a vital contribution to Vote Hemp today to help us continue fixing the situation here in the U.S.
We need and truly appreciate your support!
Best Regards,
Tom Murphy
Weekly News Update Editor
Weekly News Update Stories
NH House Votes to Allow Farmers to Grow Hemp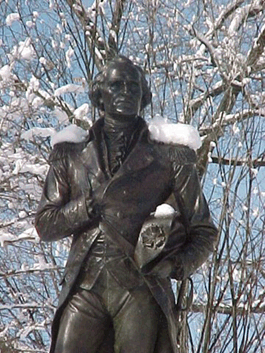 By Norma Love, AP
The Nashua Telegraph
April 6, 2007
Concord, NH — The House voted Thursday to allow farmers to grow hemp — a close relative of marijuana — despite federal hurdles to planting the controversial crop.
Supporters pointed out that hemp, which has a very low content of THC, the psychoactive ingredient in marijuana, has unfairly been characterized as the same as marijuana.
"You don't smoke hemp. A wheelbarrow full would only make you sick," insisted Rep. Derek Owen, D-Hopkinton.
"Hemp is one of the oldest and most useful and strongest natural plants known to man," he told the House.
No Go for Hemp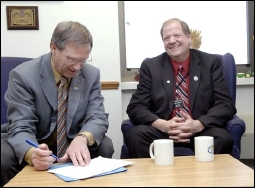 Compiled By Staff
Dakota Farmer
April 9, 2007
The U.S. Drug Enforcement Agency won't be acting on North Dakotans' applications to grow industrial hemp in time for the farmers to plant the crop this year.
North Dakota Agriculture Commissioner Roger Johnson says it is a "de facto denial."
"The DEA's latest response is a de facto denial of permission," Johnson said. "If the applicants cannot have a decision in time to plant the crop, then the applications are meaningless."
The DEA's delay was "not unexpected," Johnson said, "but [it is] still disappointing."
A Soap Opera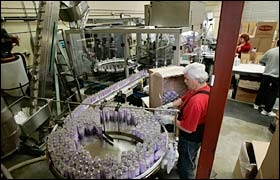 By Elena Gaona
San Diego Union-Tribune
April 14, 2007
Escondido, CA — For an environmentally friendly, socially conscious company founded on the principle of uniting humankind, Dr. Bronner's Magic Soaps has fought its share of battles.
It successfully took on the Drug Enforcement Administration, which tried to link its hemp oil projects to marijuana. It got the U.S. Department of Agriculture to back down, winning the right to label its soaps organic. Now it's dealing with the intricacies of establishing a fair-trade deal to protect farmers.
But in the latest twist involving Dr. Bronner's Magic Soaps — an Escondido company founded nearly 60 years ago by the eccentric Dr. Emanuel Bronner — the company is challenging what it contends could be police profiling of an aging punk rocker.
The New Health Food Darling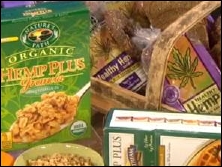 Forget the illicit rumors. Suspicious-sounding hemp is the latest heart superfood

By Marge Perry
Prevention Magazine
April 2007
If anyone had told me a few years back that edible hemp would go mainstream, I'd have asked what they were smoking. But this little seed — a marijuana relative without the psychedelic effects — has grown into one of the hot new ingredients of 2007, with sales of hemp products such as milk, cereal, and snack bars up 35% since last year. Although novelty might be driving the hemp hype, it's not a fad that's likely to fade anytime soon. Hemp actually has a lot going for it nutritionally:
It's an excellent source of protein.

Hemp seeds are one of the few plant sources of all nine essential amino acids your body needs to build and repair muscle. That's a boon for vegetarians because most non-animal sources of protein are incomplete.
It's packed with good-for-you fats.

Hemp is a good source of omega-3 fatty acids, which may help prevent heart attacks and reduce inflammation (but, unlike heart-healthy seafood, hemp is mercury-free).
[More...]