Dear Reader,
Just like in years past when I have traveled to New Hampshire on behalf of Vote Hemp — for the College Convention in 2004 and to testify for HB 55 in 2005 — it was cold and windy. I made sure each member of the House Environment and Agriculture Committee got our info packet, including a Vote Hemp brochure, a copy of Hemp is Hip, Hot and Happening, The Vote Hemp Report, my written testimony, and Health Canada's Approved Cultivars 2007. HB 424 (The New Hampshire Industrial Hemp Farming Act) sponsor Rep. Derek Owen presented his opening remarks to the committee, and then I presented my testimony.
I referenced a couple of lines in the bill and Health Canada's Approved Cultivars 2007 and answered quite a few good questions from committee members. James Tetreault of the New Hampshire State Grange presented testimony in support of the bill on behalf of their over 3,000 members. Mark Lathrop, owner of Monadnock Hemporium in Keene, NH, spoke in support of the bill and brought along a nice selection of samples to pass around. The New Hampshire Department of Safety and New Hampshire Association of Chiefs of Police both sent representatives to present testimony in opposition to the bill. Overcoming the objections of law enforcement will be the key to getting HB 424 passed this year.
You can read my testimony on our New Hampshire page.
If you are from New Hampshire, please write your state legislators in support of HB 424.
We also ask that you make a contribution to Vote Hemp today to help us continue fixing the situation here in the U.S.
We need and truly appreciate your support!
Best Regards,
Tom Murphy
Weekly News Update Editor
Weekly News Update Stories
Hemp ice cream anyone?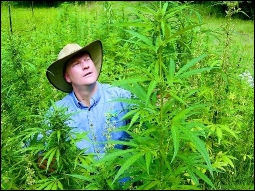 The Northern Rivers Echo
March 14, 2007
Dr. Keith Bolton sees the production of industrial hemp as a potential boon for Australian farmers wanting to get out of the cotton or sugar cane industry. He said hemp can be commercially viable on land lots as small as five hectares if the plant is used not only for its fibre, but also as a food source.
He said hemp seed contains no THC at all (the component in cannabis which creates "a high") and can be used to make hemp milk, hemp tofu and hemp ice cream. The plant also has a high yield, with two tonnes of seed produced per hectare.
"Humans have been eating hemp for at least 8,000 years or longer," he said. "The seed is a very high quality protein and hemp seed oil is very high in omega oils, often referred to as "the good oils." It's a very balanced, complete food and just about anything which is made out of soybean can also be made out of hemp seed."
ND farmers apply for hemp permits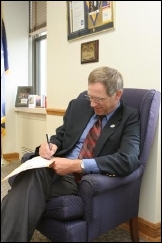 By Jordan Smith
Austin Chronicle
March 16, 2007
According to North Dakota Agriculture Commissioner Roger Johnson, his meeting with Drug Enforcement Administration (DEA) officials last month wasn't exactly encouraging. Johnson traveled to Washington, DC in February (his second trip to the Capitol to meet with the DEA) to hand-deliver the North Dakota industrial hemp-farming licenses he's signed off on for two farmers — the first two farmers to be licensed to grow the environmentally-friendly crop since the state codified rules for the plant's cultivation last fall. Although the state has licensed the farmers, they still need the nod from the DEA in order to sow their seeds — and whether the DEA will actually allow the agricultural endeavor to go forward is still unclear. "They made it clear that they continue to believe that industrial hemp and marijuana are the same thing," he said. "So we had a discussion about how I, and the rest of the world, have come to the opinion that they are not the same thing. And my hope is that … [the DEA] might start thinking about how to differentiate the two in their rules and their application."
If history is any guide, it is unlikely that will happen or that the narcos will sign off on the farmers' bid — the agency has only ever granted one request to grow the crop, to researchers in Hawaii, whose permit has long since expired. More commonly, the DEA simply ignores requests to grow hemp, which they consider a danger to their anti-drug mission (indeed, the agency has yet to make a final ruling on an application made by researchers at North Dakota State University in 1999). The DEA theory that justifies their choke hold on domestic hemp production goes a little something like this: Marijuana and hemp are strains of cannabis. Pot is illegal; therefore, hemp is illegal, and allowing its cultivation would encourage the illicit production of marijuana. This is, of course, a simplified version, but it nonetheless captures the essence of their anti-hemp stance: asinine and willfully thickheaded.
World interest in hemp-based building material

By Tony Quested
Business Weekly
March 7, 2007
Tiny Hemcore Ltd, based in Bishop's Stortford, Herts and Maldon, Essex, had decided to build the facility in central East Anglia to ramp up production of hemp fibre for conversion into a revolutionary building material that has phenomenal energy-saving properties.
The possibilities for housebuilding are so exciting that Hemcore has been asked to take its innovation worldwide. Leading players from Africa have already begun talks.
Although it employs just 17 people, Hemcore is the UK's largest grower and processor of hemp; it contracts British farmers to grow around 3,000 hectares of industrial hemp — a plant from the cannabis family with virtually zero drug content.
Johnson wants quick decision from DEA on hemp licenses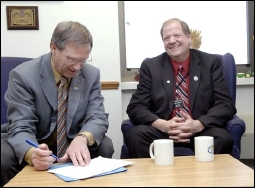 By Blake Nicholson, AP
The Bismarck Tribune
March 7, 2007
Agriculture Commissioner Roger Johnson is asking the federal Drug Enforcement Administration to make a decision on industrial hemp licenses for two North Dakota farmers by April 1. The DEA says it won't be rushed.
"To issue any decision after this year's planting season is to decide against the applicants, since these applications are for the calendar year 2007," Johnson said in a letter this week to DEA Administrator Karen Tandy.
Farmers Dave Monson and Wayne Hauge last month were issued the nation's first licenses to grow industrial hemp, a cousin of marijuana that falls under federal anti-drug rules even though it does not produce a high. The state licenses are worthless without DEA permission.
Johnson hand-delivered federal applications on Feb. 13 from Monson, a state lawmaker who farms near Osnabrock, and Hauge, a farmer from Ray, along with the farmers' nonrefundable $2,293 annual registration fees.
[More...]