Dear Reader,
The past few weeks have been great for hemp news, and Vote Hemp sent out two press releases. In the first release "Vote Hemp Exposes ONDCP and DEA Lies about Hemp Farming," we called out two federal agencies on their constant manipulation of the hemp farming issue. It's nice to see that even though marijuana is always mentioned in new stories about hemp, many outlets are starting to cover hemp farming as it should be Ñ an agricultural issue.

In the second release "Industrial Hemp Farming Act of 2007 Introduced in Congress," we were pleased to announce the introduction of HR 1009, the "Industrial Hemp Farming Act of 2007," by Representative Ron Paul (R-TX).
Please click here to write your elected representative and encourage him or her to co-sponsor and support this important piece of federal legislation.
North Dakota continues to be the leader in domestic hemp farming news, as they are doing more on this issue than any other state at the moment. There are currently five bills pending in the North Dakota legislature. The previous five bills, introduced in 1997, 1999, 2001 and 2005, were all passed into law, and the current crop are expected to pass as well. North Dakota's economy is based on agriculture and energy, and their state legislators obviously understand that hemp farming and processing would be a welcome addition to the mix. Let's hope that their Congressional delegation, Senators Kent Conrad and Byron Dorgan and Rep. Earl Pomeroy, all Democrats, can understand this as well and support HR 1009.
In other state legislation news, a hemp farming bill is scheduled to be introduced this week in California, there will be a committee hearing on the New Hampshire hemp bill in early March, and Hawaii has introduced a new bill which is not gererating any news Ñ yet.
Please make a contribution to Vote Hemp today to help us continue fixing the situation here in the U.S. And please remember to forward this email to your friends and acquaintances using the "Forward email to a friend" link at the bottom of this email.
We need and truly appreciate your support!
Best Regards,
Tom Murphy
Weekly News Update Editor
Weekly News Update Stories
North Dakota Legislator Close to Breaking Barrier to Hemp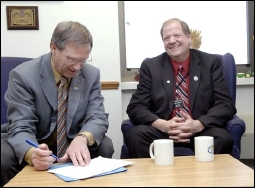 By McClatchy Newspapers
The Billings Gazette
February 11, 2007
BISMARCK, ND Ñ North Dakota state Rep. David Monson's phone has been ringing off the hook lately, and he says his computer is swamped with e-mails.
It is the middle of the busy legislative session, but it's Monson's role in a national issue that is attracting so much attention. He's closer than anyone else in the region to actually growing a commercial industrial hemp crop.
Monson has completed all of the necessary paperwork for his state-issued license. "I filled in fingerprinting [sic], and it was kind of fun doing the GPS positioning for the field," he says. "I've never done that before, so it was kind of interesting."
New Effort to Allow Hemp Farming in California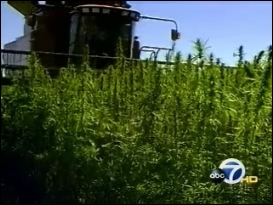 By Carolyn Tyler
KGO-TV ABC Channel 7
February 19, 2007
Two California lawmakers have launched a new campaign to legalize hemp. It's a challenge to federal drug laws from two men on opposite sides of the political spectrum. But they have a common goal Ñ to help the state's struggling farmers. Charles Meyer is a third generation California farmer. His land is in the Central Valley town of Stratford, where he grows the highest quality cotton and wheat. He would like to cultivate another crop.
Charles Meyer, California farmer: "I looked for the crop that had versatility. Hemp is one of the most versatile we can grow."
Hemp comes from the same plant as marijuana. Both are Cannabis sativa, but hemp has only trace amounts of THC, the stuff that gets you high.
Assemblyman Mark Leno (D - San Francisco): "A good analogy would be industrial hemp has about as much THC content as the poppy seeds on your bagel have opium."
Hemp Takes Root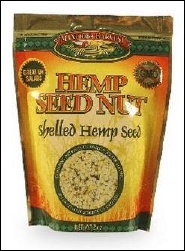 By Karen Miltner
Rochester Democrat and Chronicle
February 20, 2007
Every now and then we run across a food product that summons the reaction: "I didn't know you could eat that."
Hello, hemp.
In the natural foods aisles, hemp is making headway in breads, oil, nut butters, granola, nutritional shakes and protein powders. The tiny white-shelled [sic] seeds Ñ which can also be used in cooking Ñ have been hailed by Supermarket Guru newsletter editor Phil Lempert as "one of the hottest food trends of 2007."
Nutritionists hail hemp as a high protein source (its makeup is about 33 percent) and a solid booster of vitamin E and trace minerals. But hemp's most impressive nutritional note is its essential fatty acids profile, which includes omega-3s and omega-6s in an optimal ratio. (Studies link an overabundance of omega-6 fatty acids and a shortfall of omega-3 fatty acids as a trigger to a multitude of health woes, including heart disease).
Congressional Delegation Staying Out of Hemp Debate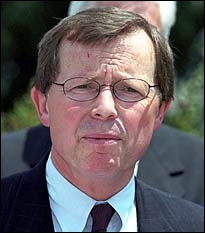 By Mary Clare Jalonick, AP
Bismarck Tribune
February 15, 2007
WASHINGTON, DC Ñ North Dakota legislators are urging Congress to make it easier for farmers around the country to grow hemp. But the state's congressional delegation won't be rushing to help.
Sens. Kent Conrad and Byron Dorgan and Rep. Earl Pomeroy, all Democrats, are staying out of the congressional debate over industrial hemp. At issue is whether it should be treated in the same way as marijuana or whether commercial hemp production should be allowed.
The North Dakota House passed two resolutions on the issue this week, urging Congress and the federal Drug Enforcement Administration to allow farmers to grow the crop. The state last week issued the nation's first licenses to two farmers seeking to grow industrial hemp.
North Dakotans Still Fighting for Hemp-Farming Approval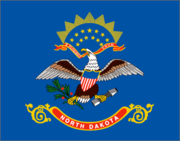 By Jordan Smith
The Austin Chronicle
February 9, 2007
It's been more than a month since North Dakota Agriculture Commissioner Roger Johnson penned a request to the U.S. Drug Enforcement Administration, asking that the agency waive individual federal registration for qualified farmers in his state who gain approval to farm industrial hemp, and state officials have yet to hear a peep out of DEA Administrator Karen Tandy Ñ apparently, Tandy hasn't even found the time to acknowledge Johnson's correspondence.
Still, the cold shoulder from the feds hasn't fazed the North Dakotans, who are used to long, cold winters. With or without Tandy and the federal narcos, North Dakota has continued moving forward with its plans to license individual state farmers to cultivate industrial cannabis Ñ the non-narcotic cousin of marijuana that is easy to grow, and actually rejuvenates the soil Ñ and on Feb. 6 issued the nation's first-ever hemp farming licenses to two farmers there, at least one of whom is ready to push Tandy and her pals into federal court in order to win the right to cultivate the environmentally-friendly crop. Indeed, with the results of a criminal background check in hand, the state this week licensed its first farmers Ñ fourth generation North Dakotan Dave Monson, who also serves as a Republican state representative and Assistant House Majority Leader, and farmer Wayne Hauge.
First Industrial Hemp Licenses Issued in North Dakota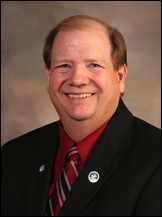 By Mark Conlon, Editor
Bismarck Farm & Ranch Guide
February 16, 2007
BISMARCK, ND Ñ It's official. The North Dakota Department of Agriculture issued the first two licenses to grow industrial hemp in North Dakota on Tuesday, Feb. 6. However, federal approval is still required before the farmers can even plant the the first seeds.
State Rep. David Monson of Osnabrock, ND, was issued the first license by the state to grow industrial hemp, followed closely by Wayne Hauge, a farmer from Ray, ND.
"Rep. Monson has been the leader in developing the necessary legislation for North Dakota to legalize production of industrial hemp," Agriculture Commissioner Roger Johnson said during the official signing. "It is fitting that he has the first license."
[More...]