Dear Reader,
This is the last issue of The Weekly News Update for 2007. Instead of doing a tired, old, year-end hemp news round-up, we are bringing you fresh news and a preview of our updated newsletter for 2008.
In the two years that the The Weekly News Update has been published by Vote Hemp, the list of subscribers has grown significantly. Starting with our next issue in January, the newsletter will be called simply the Hemp News Update and will be sent every other Tuesday. This new email newsletter will be a joint venture with the Hemp Industries Association (HIA) and will include new HIA-related features.
Note that we have sent this issue of the newsletter to everyone on the Vote Hemp Action Alert email list. Many of you may not even be aware that we offer the Hemp News Update, a more frequent and regular newsletter covering general hemp news. If you like what you see here, and you are not sure you are signed up for this newsletter, please click the "Update Profile/Email Address" link in the footer below (very bottom of the email) and select "Hemp News Update" as one of your list options. If you prefer not to receive this newsletter, and you have not been receiving it already, you don't need to do anything — this is a one-time mailing, and you will continue to receive only our Action Alerts and special updates. You may read back issues of the Hemp News Update in our archive.
We hope that you enjoy the way we present and shape hemp news in the upcoming year. Hemp has been legal to grow in Canada for a decade now, but that did not happen just because farmers and activists hoped that it would — they worked hard for it!
Please make a final year-end contribution to Vote Hemp today to help us continue fixing the situation here in the U.S.
We need and truly appreciate your support!
Best Regards,
Tom Murphy
Weekly News Update Editor
Weekly News Update Stories
Hemp Shorts:

HIA Featured Member - Hemp Sisters

Hemp Sisters is one of the largest wholesale hemp Web sites in the U.S. and carries a wide range of products, including hats, bags, clothing, twine, jewelry, hair care, body care, food and household items. In addition to the hats, bags and clothing that Hemp Sisters manufactures, they also offer wholesale products from Ruth's Hemp Foods, Hemp Oil Canada, Merry Hempsters and Lafes Natural and Organic Body Care. In 2008, Hemp Sisters plans to expand their food and body care vendor list.
Hemp Sisters was started in 1997 as a retail Web site by Dave and Cindy Shaffer. Dave and Cindy's original vision was to offer the widest range of high quality hemp items at the most affordable price with the highest level of customer service. In 2004, Ed Edmundson bought Hemp Sisters and changed the focus to wholesale, while maintaining Dave and Cindy's original vision. Although there is no minimum order requirement, Hemp Sisters ships all orders over $250 for free. The idea is that any store can buy a wide range of hemp products from one source, all shipped for free.
If your business or store sells hemp, please visit Hemp Sisters and sign up for wholesale pricing. Once approved, when you log in to the Web site, you will see wholesale prices for all items. Hemp Sisters is proud to be a member of the Hemp Industries Association (HIA), and they will donate 10% of sales to the HIA and Vote Hemp when you order through our affiliate link.
Thank you for supporting our efforts through your business with Hemp Sisters!
Movement Under Way to Make Hemp Hip Again

By Wendy Rieger
NBC4.com
December 4, 2007
WASHINGTON, DC — Hemp is one of the most versatile, economical and eco-friendly crops on the planet, but it's illegal to grow in the U.S. because it's a cousin to marijuana.
Hemp does not have any of marijuana's intoxicating properties, however, and with America going green, there's a movement to bring the hemp plant back to U.S. soil, News4's Wendy Rieger reported.
Hemp can be used in a number of products, including milk, cereal, soap and lotions. Its fibers are used to make rope and clothing — including wedding gowns. Its seeds are rich in protein, iron, Vitamin E and Omega-3s.
NDSU Could Begin Developing Northern Industrial Hemp Varieties; ND Farmers' Lawsuit Dismissed


By Sue Roesler
Farm & Ranch Guide
December 7, 2007
North Dakota farmers won't be growing industrial hemp anytime soon, but there was one major positive step toward state hemp farming taken this week.
North Dakota State University (NDSU) may soon be able to begin to cultivate hemp seeds and develop varieties that will work for North Dakota growers.
The university was notified by the Drug Enforcement Administration (DEA) last week that if certain agreements are signed, it can begin research.
Dr. D.C. Coston, Vice President of NDSU, said the university has not had time to look at the DEA agreement form.
Farmers Appeal Hemp Ruling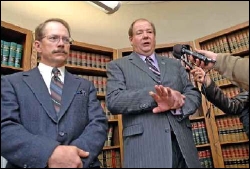 North Dakota farmers Wayne Hauge, left, and Dave Monson.
Photo credit: Associated Press.
By Marvin Baker
The Minot Daily News
December 13, 2007
Two North Dakota farmers have appealed a federal judge's Nov. 28 ruling that dismissed their suit for the right to legally grow industrial hemp.
Wayne Hague of Ray and David Monson of Osnabrock filed a notice of appeal Wednesday in the U.S. Court of Appeals for the Eighth Circuit.
The two producers originally filed a federal lawsuit in June to end the U.S. Drug Enforcement Administration's ban on commercial hemp farming in the United States.
By North Dakota state law, hemp farming has been legal in North Dakota since 1999, but federal government restrictions have overridden any attempts to grow hemp in the state.
[More...]