Dear Reader,
Well, the past week was definitely a "two steps forward, one step back" or, depending on how cynical you are, a "one step forward, two steps back" kind of week. The decision by the U.S. District Court in Bismarck, North Dakota in favor of the DEA's motion to dismiss the ND farmers' lawsuit (Monson v. DEA) was disappointing, but it really wasn't all that surprising.
There is an old Japanese proverb that says "a frog in a well cannot comprehend the ocean." It seems that those with the power to revive industrial hemp farming in the United States see the crop as does a frog in a well. We need to find effective ways to educate them and help them to see the ocean by changing their world-view.
You can help people better understand this issue by doing small things, like commenting on news stories that contain errors, as I did recently concerning the story "Yesterday's News: Effort Aimed at Helping World War II Eventually Turned into 'Dread Menace'." Ten minutes a day adds up to sixty hours a year. Ten minutes does not seem like much, but the impact can be huge. Similarly, your individual efforts may not seem so significant, but multiply those by thousands of people, and things will change. If you need some ideas, please check out the ten Quick Links in this newsletter (at right), including our new StumbleUpon page.
Going to Congress may seem like the easy answer, but the likelihood of it acting without some sort of miracle seems remote, especially during election time. North Dakota Ag Commissioner Roger Johnson noted this in the latest ND Department of Agriculture press release, as did The Minot Daily News in their editorial "Congress Should Solve Hemp Issue — But Will It?" Long-time hemp supporter and Hawaii state legislator Cynthia Thielen expanded on this thought in her commentary "Irrational Fear Sustains Taboo on Handy Hemp" in the Honolulu Star-Bulletin.
Where does this leave us? The legal team for the North Dakota farmers, Dave Monson and Wayne Hauge, is looking at all options and is considering appealing the Court's decision. Of course, all of that takes money.
Please make a contribution to Vote Hemp today to help us continue fixing the situation here in the U.S.
We need and truly appreciate your support!
Best Regards,
Tom Murphy
Weekly News Update Editor
Weekly News Update Stories
NDSU Weighing DEA Proposal on Hemp

By Blake Nicholson, Associated Press
The Bismarck Tribune
December 2, 2007
North Dakota State University (NDSU) has been waiting nearly a decade for federal permission to grow industrial hemp, but university officials say it could cost them more than $50,000 to install 10-foot-high fences and meet other requirements.
NDSU officials are not rushing to decide on a proposal from the Drug Enforcement Administration (DEA) that would seem to pave the way for hemp research in North Dakota.
The proposed "memorandum of agreement" was delivered by DEA officials last month to Burton Johnson, an associate professor in NDSU's plant sciences department.
Hemp: The Little Plant that Could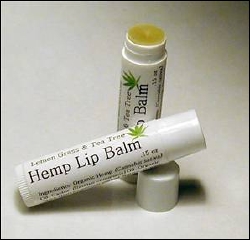 By Marisa Belger
MSNBC
November 26, 2007
Hemp's got a bad reputation. So bad, in fact, that commercial production of the plant is actually banned in the U.S. It seems that a large part of the problem is its close relation to another plant of the illegal smoking variety. This guilt by association is really too bad, because the multifaceted hemp plant can be transformed into numerous items — like paper, food, fuel, beauty products, clothing and accessories — that make our everyday lives better. And hemp does it all with minimal damage to the planet. Yes, this is one eco-conscious crop.
Industrial hemp — the name of the utilitarian strain that won't get you high — is another breed of the infamous Cannabis sativa. It has been given the "eco-friendly" label because it has a relatively short growth cycle of 100-120 days (so it's easily renewable) and the entire plant can be put to productive use. The core of the plant, or the hurd or shive, has been used in the creation of a concrete-like substance for the construction of homes. Oil from the seeds is used in beauty products and as a food. And the fibers are used in clothing, rugs and upholstery. For decades, numerous countries (the U.K., China, the majority of the European Union and even Canada — but not us!) have been turning to hemp for use in thousands of products.
Norwich Store Brings Hemp Clothing to Area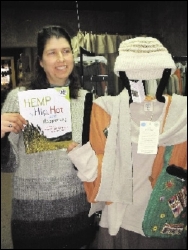 Barbara Collins, co-owner of Solstice Whole Foods & Herbs
By Tom Grace
The Daily Star
December 1, 2007
There's something new for sale in Norwich.
Since mid-November, Solstice Whole Foods & Herbs on South Broad Street has been selling clothing made of hemp, a crop that cannot legally be grown in the United States because it is related to marijuana.
"It's been getting a lot of attention, and we're selling quite a bit of it," Barbara Collins, the store's co-owner, said Thursday.
Judge: Congress Should Decide on Hemp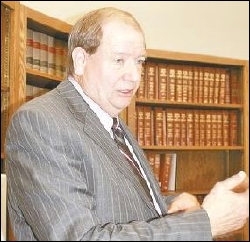 David Monson of Osnabrock, a farmer and North Dakota state legislator.
Photo credit: Marvin Baker/MDN.
BISMARCK, ND — A federal judge has dismissed a lawsuit two North Dakota farmers filed against the federal government in an effort to grow and harvest industrial hemp without reprisal.
Judge Daniel Hovland stated in his 22-page judgment Wednesday that Wayne Hauge of Ray and David Monson of Osnabrock should allow Congress to settle the issue of whether industrial hemp is a legal agricultural commodity or a controlled substance.
Hovland said the Industrial Hemp Farming Act of 2007, introduced in the House of Representatives in February by Rep. Ron Paul, R-Texas, was designed to address the current issue. Hovland referred to the act numerous times during a Nov. 14 hearing. It has yet to be debated.
[More...]