Dear Reader,
As the stories in this Weekly News Update show, there is a lot at stake in the farmers' lawsuit in North Dakota. We expect an initial decision (on the DEA's motion to dismiss) from Judge Hovland by the end of the month. The court transcripts of last week's oral arguments are quite revealing, and this is a very interesting case on legal, intellectual and practical levels.
Last week I attended the Capitol Advantage Customer Day Conference and Capitol Hill reception in Washington, DC. It was very revealing that a large number of people attending the event had seen and read the featured Washington Post story by Peter Slevin. The theme for this year's conference was "The Art and Science of Influence." Even though Vote Hemp is relatively small, we are a national, single-issue, non-profit organization, and much of the training was very applicable to us. A wide range of subjects were covered and included everything from tools and methods for effective communication to overcoming objections to intellectual and emotional reasons for opposing legislation.
Former Congressman Max Sandlin of Texas, now with Fleishman-Hillard Government Relations, was one of the speakers in the first session on influencing a legislator's decision-making process. I was able to ask a question on industrial hemp, and Congressman Sandlin both understood the subject and answered the question well. He did so on an intellectual and professional level, and he obviously saw the issue as an agricultural one and kept his personal emotions in check.
Dr. Frank Luntz, the keynote speaker, did not do as well with the issue of hemp farming. I was privileged to ask the last question in his lecture, "It's Not What You Say, It's What People Hear," which addressed what words should be used to overcome objections to industrial hemp farming. He lamented that mine was the last question, and stated that there was no way to overcome the objections at all. It was obvious from the beginning that his answer would come from an emotional perspective rather than a rational one. In the space of a minute, he went from the word "hemp" to hard drugs and recounted the death of a good and talented friend. The emotional overcame the intellectual, and he could not answer my question on a professional level. All too often, that is what we see in the legislative process as well.
A single word can evoke very powerful responses, often out of proportion to reality. Compared to the issue of hemp farming on a national level, wearing a t-shirt with the word "hemp" on it to school may seem insignificant, but it can also garner such a strong response. Recently a student at an Alabama high school was banned from wearing t-shirts advocating the use of hemp on them, and he is finding similar emotional responses. In a letter the school Superintendent equated wearing a shirt with the word hemp on it to wearing a Confederate flag! Just because some authorities in our society have tried to hijack the definition of the word hemp and have it refer only to drug varieties of Cannabis does not mean we need to accept it. We know better. Education is the answer, but it will take time.
Please make a contribution to Vote Hemp today to help us continue our legislative and educational work.
We need and truly appreciate your support!
Best Regards,
Tom Murphy
Weekly News Update Editor
Weekly News Update Stories
Farmers Continue Fight to Grow Industrial Hemp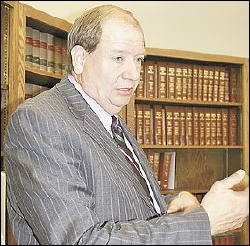 Osnabrock farmer David Monson. Photo credit: Marvin Baker, The Minot Daily News.
By Marvin Baker
The Minot Daily News
November 15, 2007
BISMARCK, ND — David Monson wants to grow industrial hemp for economic reasons, and Wayne Hauge said it will fit in well with his crop rotation.
Hauge and Monson, who filed a lawsuit against the federal government to stop industrial hemp prohibition, faced a pool of reporters following oral arguments Wednesday in U.S. District Court in Bismarck.
Monson, who has been working on legalizing industrial hemp for 10 years and introduced a bill into the 1999 Legislature to have it legalized, said Canadian farmers are making $300 an acre profit on a commodity that is grown a mere 24 miles north of his Osnabrock farm across the international boundary.
Alberta Seeks New Use for Hemp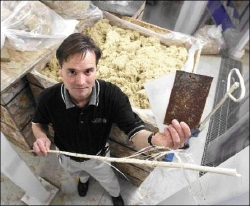 Alberta Research Council scientist John Wolodko. Photo credit: John Lucas, The Edmonton Journal.
By Hanneke Brooymans
The Edmonton Journal
November 16, 2007
EDMONTON, ALBERTA — For centuries, humans have found practical uses for hemp, weaving it into items such as rope and clothing. Now the Alberta Research Council wants to tighten those bonds by determining more cutting-edge uses for this versatile plant.
A new two-year, $2.25-million project hopes to find ways to blend Alberta-grown hemp fibers with locally-produced plastics to create more sustainable materials.
The research council is well placed to do this work because it has spent the last decade working on biofibers and bioindustrial products, said John Wolodko, the council's biocomposite program leader.
North Dakota Producers Still Awaiting Court Decision on Industrial Hemp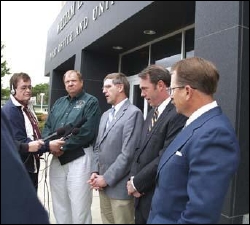 ND Agriculture Commissioner Roger Johnson explains why potential hemp farmers had to sue the DEA at a news conference held at the federal building in Bismarck, ND on June 18, 2007. Photo credit: Farm & Ranch Guide.
By Sue Roesler
Farm & Ranch Guide
November 9, 2007
Producers Wayne Hauge of Ray and Dave Monson of Osnabrock haven't given up attempts to grow the profitable crop industrial hemp on their northern North Dakota farms.
The state of North Dakota has issued them licenses and fully supports their efforts. NDSU, the state land grant university, also recently filed a brief to the court, supporting the producers.
But the federal government, specifically the Drug Enforcement Administration (DEA), has been another story.
Farmers Ask Federal Court to Dissociate Hemp and Pot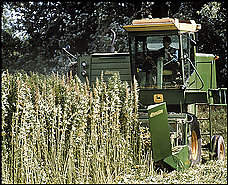 Hemp harvester. Photo credit: Hempline, Inc.
By Peter Slevin
The Washington Post
November 12, 2007
Wayne Hauge grows grains, chickpeas and some lentils on 2,000 acres in northern North Dakota. Business is up and down, as the farming trade tends to be, and he is always on the lookout for a new crop. He tried sunflowers and safflowers and black beans. Now he has set his sights on hemp.
Hemp, a strait-laced cousin of marijuana, is an ingredient in products from fabric and food to carpet backing and car door panels. Farmers in 30 countries grow it. But it is illegal to cultivate the plant in the United States without federal approval, to the frustration of Hauge and many boosters of North Dakota agriculture.
On Wednesday, Hauge and David C. Monson, a fellow aspiring hemp farmer, will ask a federal judge in Bismarck to force the Drug Enforcement Administration (DEA) to yield to a state law that would license them to become hemp growers.
[More...]