Dear Reader,
Sometimes it is a little bizarre to think that getting to the point where we can farm industrial hemp in the United States requires little more than overcoming the objections of law enforcement and the drug policy wonks in our government. Our opposition simply does not want to talk about economic development and agricultural policy.
"We try to base our positions on science and reality," as I was quoted in the story "Governor Vetoes Second Hemp Bill" in the Capital Press Agriculture Weekly. We have them beaten in those two arenas, so they wield their authority and power to unfairly influence the media and state and federal legislators into believing just about any fictional storyline that they want to tell.
Last month, California Assemblyman Chuck DeVore (R-Irvine) was quoted as saying "there are going to be some practical lessons learned from North Dakota that show this is not the boogeyman to law enforcement that some people try to make it out to be."
The issue of hemp farming has never been a problem for law enforcement in North Dakota. Every piece of legislation that has been put forth in the past decade has passed overwhelmingly. In an interesting turn of events, just before oral arguments next week in Bismarck, North Dakota State University (NDSU), a publicly-funded land grant university, has taken the unprecedented step of submitting an amicus brief in support of the two North Dakota farmers trying to grow hemp there. The legal case is funded entirely by Vote Hemp, thanks to contributions from supporters like you.
Please make a contribution to Vote Hemp today. Your donation to our Hemp Farmer Licensing and Legal Support Fund will help North Dakota (and soon, we hope, other) farmers overcome the unreasonable roadblocks that have been placed before them.
We need and truly appreciate your support!
Best Regards,
Tom Murphy
Weekly News Update Editor
Weekly News Update Stories
Hemp for the Hemp-less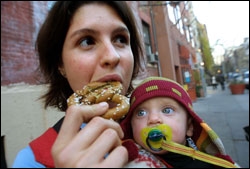 Tania Gladstone Enjoys a Hemp Pretzel. Photo by Mario Tama/Getty Images.
By Josh Clark
The Sunday Paper
November 4, 2007
In 2000, Americans spent $11 billion on marijuana. As many as 13 percent of Atlantans (including the metro area — can't forget the suburban kids) smoke pot. Those are stunning statistics. But while marijuana usually bogarts the spotlight, lately its buzz-kill cousin hemp is getting its moment in the sun, thanks to a lawsuit filed by two North Dakota farmers against the Drug Enforcement Administration (DEA).
The farmers, Wayne Hauge and Dave Monson, were granted licenses by the state to grow hemp for industrial use. The only problem is that hemp falls under federal guidelines for controlled substances. So, without an exemption, each time the farmers ship hemp across the state border, the feds — in the form of the DEA, for example — will confiscate or burn their crops. Also, Monson (who is a Republican state legislator) and Hauge [could] both face serious jail time.
Since a Congressional measure to remove hemp from the purview of the Controlled Substances Act (CSA) has been indefinitely stalled, the problem may come down to a question of states' rights. Though trafficking across state lines poses a problem, the state could conceivably protect the farmers' crops — after all, North Dakota already issued the licenses to grow the hemp. The case, which will get a hearing in federal court on Nov. 14, may set a precedent that encourages hemp farming elsewhere.
Hemp — The Smart Alternative

By Emma-Kate Knezevic
The Epoch Times
October 23, 2007
When taking a closer look at the numerous uses of hemp — nature's strongest, most durable plant fiber — it is a surprise this environmentally-friendly fiber isn't utilized on a more commercial basis.
As a society that now openly embraces the realism of environmental consequence, green campaigns are popping up everywhere we look. Is it possible the use of hemp could play a part in saving our planet?
Colin Buckler of G.R.E.E.N. Hemp believes so. Mr. Buckler became involved with the hemp industry after seeing "how cotton growing practices destroyed valuable rich land." G.R.E.E.N. Hemp, which stands for Global Revival of Environmental Economic Nations, has been producing hemp products in Australia since the late 1980s.
Hemp Debate Ignites between DEA and Academia

By Clarisse Douaud
NutraIngredients-USA
October 31, 2007
The battle over the right to farm hemp for food purposes rages on in the U.S., with North Dakota State University submitting an amicus curaie brief in support of a lawsuit filed by two farmers against the DEA.
North Dakota's Dave Monson and Wayne Hague filed a lawsuit in June to end the DEA's (U.S. Drug Enforcement Administration) ban on state-regulated commercial hemp farming in the U.S. Commonly associated with marijuana, hemp seed has been repeatedly banned for production in the country.
However, with about 25 percent protein, whole hemp seed is second only to soybean in terms of complete protein content and is therefore of interest to functional food manufacturers.
Hip on Hemp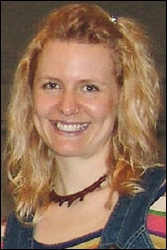 Kristin Davis
By Mary Sasa
Minnesota Women's Press
November 2, 2007
Kristin Davis' green lifestyle has its roots back in high school. She could no longer eat the juicy pot roasts her mother had prepared. She called the sight of chicken veins and fatty meat "unbearable," and decided to be vegetarian. "I'm a strict vegetarian and lazy vegan," she laughed.
Growing up in the farmlands of Maple Grove, she naturally transitioned into a "green" way of living, and as a fashion designer, her clothes prove it. Davis is hip on hemp, and recently started working full time in her home-based clothing business, Hemp Queen. Davis designs all of the apparel she sells on the Hemp Queen Web site, at events and in a few boutiques and co-ops.
Designs come easily for her. When she's exercising on the treadmill, her brain is flooded with ideas. "If I just had time to bust out half the stuff I'm thinking," she said. Davis wants to design more, so her next step is finding people to help her sew.
[More...]