Dear Reader,
Some weeks there is so much hemp news it's hard to figure out where to put it all in the newsletter. The past two weeks have been especially great for high quality news on hemp — and that's a good thing, since it helps us get past the Governor's veto in California.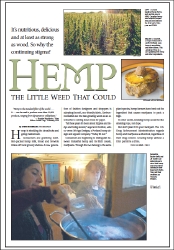 One of the most amazing stories I've seen in a newspaper appeared in the Sunday magazine of The Oregonian on October 14. Steve Woodward, the author, did an excellent job of profiling a wide range of hemp companies doing business in Oregon, including: Living Harvest Conscious Nutrition, Tinctoria Designs, The Merry Hempsters, Wilderness Poets, Mama's Herbal Soaps, Urb Age Designs and The Master Peace. Registration is required to view the story, "Hemp: The Little Weed that Could," unless you live outside of the U.S., but it is well worth the time to do so in order to read it. We have not been able to pass a hemp bill in Oregon yet, but things are looking better all the time, especially with stories like this that reach over 400,000 readers!
Late last week CNN posted their story "Farmers Sue DEA for Right to Grow Industrial Hemp" on the Vote Hemp-funded lawsuit in North Dakota. Author Eliott C. McLaughlin did a fantastic job, as did the graphics and Web design crew at CNN. We never would have had this story if it were not for the skills and persistence of Adam Eidinger, Vote Hemp Director of Communications, and the rest of the Vote Hemp media team. It is a great story, and we wholeheartedly recommend that you scroll down to the bottom of any of the pages at the CNN site and click on the "E-mail to a friend" link.
Also last week, The Bismarck Tribune published the story "Veto Seals ND as a Pioneer for Hemp." This is a timely reminder that North Dakota is now clearly the leader in advancing hemp farming in the United States.
We will be able to win this case, especially with your help. Please make a contribution to Vote Hemp today to help us continue fixing the situation here in the U.S.
We need and truly appreciate your support!
Best Regards,
Tom Murphy
Weekly News Update Editor
Weekly News Update Stories
Veto Seals ND as a Pioneer for Hemp


By Jonathan Rivoli
The Bismarck Tribune
October 18, 2007
In the hemp-growing world, hip, countercultural California is eating North Dakota's dust.
For the second year in a row, California Gov. Arnold Schwarzenegger has vetoed a bill that would have created state guidelines for farmers wishing to grow hemp. North Dakota passed a similar hemp guidelines law during the 2007 session with bi-partisan support from lawmakers, Republican Gov. John Hoeven and Democratic Agriculture Commissioner Roger Johnson.
The law outlines a state permitting process for hemp, which is extensively regulated by the federal government because of its relation to marijuana. Hemp, a coarse fibrous plant with much lower THC levels than its intoxicating cousin, is used to make everything from soap to clothes.
DeVore Still Fights for Hemp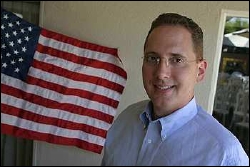 By Alicia Robinson
Daily Pilot
October 17, 2007
The first two tries didn't do it for Newport Beach Assemblyman Chuck DeVore, whose industrial hemp bill has now been vetoed twice by Gov. Arnold Schwarzenegger, but DeVore said Wednesday he isn't giving up the fight.
The bill, co-written by DeVore and San Francisco Democratic Assemblyman Mark Leno, would allow California farmers to grow industrial hemp, which is non-hallucinogenic and can be used to make cloth, soap, paper and building materials. Opponents charge the crop causes problems for law enforcement because it's easily confused with its illegal cousin, marijuana.
"I think that we're going to try again," he said, adding officials can look to North Dakota, where a similar law was passed. "There's going to be some practical lessons learned from North Dakota that show this is not the boogeyman to law enforcement that some people try to make it out to be."
Schwarzenegger Again Vetoes Industrial Hemp Bill

By Sarah Terry-Cobo
The Oakland Tribune
October 15, 2007
SACRAMENTO, CA — On Thursday Gov. Arnold Schwarzenegger vetoed the Industrial Hemp Farming Act again, even though the bill's authors said they had redrafted the legislation from last year's version to address the Governor's concerns.
The bill authorizes farmers in four counties to grow plots of non-psychoactive hemp as a pilot project, but has no effect on federal legislation.
In a statement on his Web site, Schwarzenegger said, "I would like to support the expansion of a new agricultural commodity in this state."
"Unfortunately, I am very concerned that this bill would give legitimate growers a false sense of security and a belief that production of 'industrial hemp' is somehow a legal activity under federal law."
Farmers Sue DEA for Right to Grow Industrial Hemp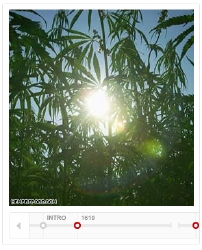 By Eliott C. McLaughlin
CNN
October 18, 2007
The feds call industrial hemp a controlled substance — the same as pot, heroin, LSD — but advocates say a sober analysis reveals a harmless, renewable cash crop with thousands of applications that are good for the environment.
Two North Dakota farmers are taking that argument to federal court, where a November 14 hearing is scheduled in a lawsuit to determine if the Drug Enforcement Administration (DEA) is stifling the farmers' efforts to grow industrial hemp. The DEA says it's merely enforcing the law.
Marijuana and industrial hemp are members of the Cannabis sativa L. species and have similar characteristics. One major difference: Hemp won't get you high. Hemp contains only traces of delta-9 tetrahydrocannabinol, or THC, the compound that gets pot smokers stoned. However, the Controlled Substances Act (CSA) makes little distinction, banning the species almost outright.
[More...]