Dear Reader,
The waiting game is over. Unfortunately, we are extremely disappointed to report that Gov. Schwarzenegger has vetoed AB 684, the California Industrial Hemp Farming Act. A lot of time, hard work and money had been invested by numerous people and organizations in passing the bi-partisan, four-county, five-year hemp farming bill.
If you would like to learn more about what we were up against with the anti-hemp lobbying efforts concerning the bill, please check out the "Hemp and Law Enforcement" segment of the "all Cannabis" NPR show "Marijuana Laws: From Medical Marijuana to Hemp", produced by the talented people at Justice Talking. There are also interviews with Jean Rawson of the Congressional Research Service, Kyle Pulliam of Hemp in the Heartland, and Representative David Monson of North Dakota — one of the first licensed U.S. hemp farmers in fifty years. It is an amazing series of shows. Please take some time and check it out.
There are also four addtional recent radio interviews concerning hemp. David Bronner of Dr. Bronner's Magic Soaps was on The Dr. Pat Show. Patrick Goggin of Vote Hemp discussed the California hemp farming bill, AB 684, on the KMUD Local News. Ruth Shamai of Ruth's Hemp Foods and I were also on Clout! with Richard Greene, broadcast live from Expo East in Baltimore, MD on Air America Radio nationwide.

These are just a few samples of the media coverage regularly generated by Vote Hemp's efforts, overall worth millions of dollars. However, those efforts require significant time and money. Please support our media outreach today.
Finally, in North Dakota the farmers' case against the DEA is progressing well. You, our supporters, are helping to fund this case and have an important role to play.
Please make a contribution to Vote Hemp today to help us continue fixing the situation here in the U.S. With our ongoing efforts, soon actions like yesterday's California veto will no longer be politically viable. We're getting there, and we continue to need your vital support!
Best Regards,
Tom Murphy
Weekly News Update Editor

P.S. — Stay tuned for the certain flood of news stories about the situation in California.
Weekly News Update Stories
Hemp: Is the 'New Billion-Dollar Crop' Back?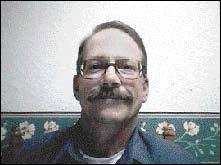 Wayne Hauge, prospective hemp producer in North Dakota
By Aimee Erdman
Prairie Business Magazine
October 1, 2007
Ask the average person on the street what they think of when they hear the word 'hemp' and you'll probably hear, "Isn't that a type of marijuana?"
Therein lies the problem for North Dakota producers Wayne Hauge and Dave Monson. They were the first to be licensed by the state to legally grow industrial hemp as an agricultural crop in North Dakota. Hemp contains tetrahydrocannabinol (THC), the same psychoactive substance found in marijuana, and so falls under the jurisdiction of the Drug Enforcement Administration (DEA). Therefore, Hauge and Monson must receive approval from the agency in order to grow it legally.
Monson, who also serves as a legislator from Osnabrock, has been working toward raising hemp on his farm since 1997. "It was around January of 1997 we started to introduce legislation on industrial hemp," states Monson. The first pieces of legislation were simply to promote research by NDSU to see if the crop was a viable alternative to wheat and barley. "Our wheat and barley were getting disease. It had been wet and we were seeing blight. We were looking for a new alternative crop."
North Dakota Farmers in Hemp Lawsuit Ask Judge to Rule in their Favor


By Blake Nicholson, AP
The Bismarck Tribune
September 21, 2007
Two North Dakota farmers suing the federal government over the right to grow industrial hemp have asked a federal judge to rule they can legally do so under state regulations.
The motion for summary judgment by Dave Monson, who farms near Osnabrock and also serves as a state legislator, and Wayne Hauge, a farmer from Ray, is in response to a Justice Department motion filed in August asking that the lawsuit be dismissed.
The government's motion says federal law does not distinguish between industrial hemp and marijuana.
Hemp Bill Awaits Arnold's Autograph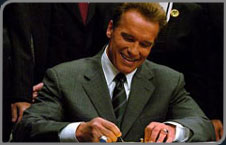 By Sarah Terry-Cobo
Oakland Tribune
Page A-1
September 24, 2007
SACRAMENTO, CA — A revised bill that would allow some state farmers to grow hemp is en route to Gov. Arnold Schwarzenegger's desk, and both sides of the argument are optimistic the governor will agree with their position.
The California Industrial Hemp Farming Act was redrafted from last year's version to address gubernatorial concerns about law enforcement issues. The act was passed by the legislature on Sept. 12.
Proponents of the bill, such as the Hemp Industries Association (HIA) and the non-profit advocacy group Vote Hemp, argue that hemp products — including food, body care products and textiles — are a multimillion-dollar industry that could benefit California's economy by allowing the raw materials to be grown here instead of importing hemp from overseas [or Canada].
Great Hemp Hope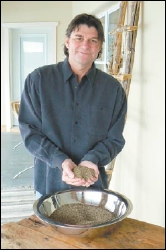 Hempola Valley Farms' Greg Herriott
Photo by: Kelly Smith
By Wayne Roberts
Now Toronto
October 11-17, 2007
"Rope, not dope" was my slogan some years back, when I was involved in a successful campaign (yes, we do win some battles) to legalize industrial hemp in Canada.
My eye was on the 25,000 industrial products hemp was thought to offer, a farm-friendly, pesticide-free, green source for everything from clothing to rope to paper to plastic.
It never occurred to me that food would be first out of the gate once the plant was legalized.
But it did occur to Greg Herriott, who was then running a design shop that had just won acclaim for producing a reusable takeout coffee cup.
[More...]