Dear Reader,
Steady progress is being made in the effort to restore commercial hemp farming in the United States.
The budget impasse in California has been broken, but not without massive cuts in health and human services. AB 684, The California Industrial Hemp Farming Act, passed the Senate Appropriations Committee by a vote of 9-1 on August 21. We are hoping for a floor vote in the Senate soon, but typical law enforcement propaganda is being pushed by their lobbyists. If you have the time, please listen to the KQED Radio show "Forum: The Hemp Bill" to hear what we are up against.
In North Dakota work continues on prospective hemp farmers Rep. Dave Monson's and Wayne Hauge's lawsuit against DEA. The U.S. Justice Department, of which DEA is part, filed to have the case dismissed. The quote of the week is from Tim Purdon, the farmers' attorney in Bismarck, who said in an Associated Press story that the DEA's response was "predictable and without merit."
It takes steady funding from Vote Hemp's supporters to pay our lobbying and legal bills.
Please contribute to the Vote Hemp Farmer Fund today and join us in the fight to make growing Industrial Hemp in the U.S. a reality.
We need and truly appreciate your support!
Best Regards,
Tom Murphy
Weekly News Update Editor
Weekly News Update Stories
Area Farmer Still Hopes Door Opens To Industrial Hemp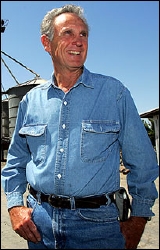 By Seth Nidever
The Sentinel
August 28, 2007
A year ago, Stratford farmer Charles Meyer was staring at his cotton and wheat fields, imagining stalks of industrial help swaying in the breeze.
He's still imagining.
A year after Gov. Arnold Schwarzenegger vetoed a bill that would have allowed farmers to grow the plant -- a non-pyschedelic relative of marijuana -- Meyer has his sights set on a new version of the legislation that on Thursday cleared the state Senate Appropriations Committee in a 9-1 vote.
North Dakota Still Wandering Through Federal Hemp-Farming Maze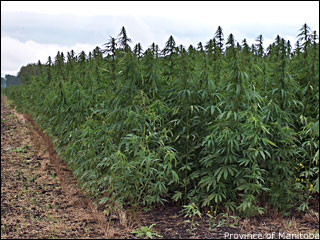 By Jordan Smith
The Austin Chronicle
August 24, 2007
The U.S. Drug Enforcement Administration has just one day left to file its first response to a federal lawsuit brought by two North Dakota farmers who want to cultivate industrial hemp – and who want the DEA to back off and butt out – before the Aug. 24 deadline. David Monson, a third-generation farmer and veteran Republican state representative from the northeastern corner of the state, and Wayne Hauge, also a third-generation farmer from the northwestern corner of the state, filed suit in Bismarck in June, in essence asking a federal judge to tell the DEA that its power to enforce drug prohibition (under the federal Controlled Substances Act) does not give it the power to regulate a purely agricultural endeavor to cultivate hemp, the nonnarcotic cousin of marijuana.
Government Wants Industrial Hemp Lawsuit Thrown Out


By Blake Nicholson, Associated Press Writer
The Bismarck Tribune
August 23, 2007
The Justice Department is asking a federal judge to dismiss a lawsuit filed by two North Dakota farmers who applied to the Drug Enforcement Administration for permission to grow industrial hemp.
The motion filed this week in federal court in Fargo says federal law does not distinguish between industrial hemp and marijuana, which can cause mood changes when smoked or eaten. It also says Dave Monson, a state legislator who farms near Osnabrock, and Wayne Hauge, a farmer from Ray in northwestern North Dakota, do not have a case because the DEA has not finished reviewing their applications and they cannot prove serious harm.
Tim Purdon, a Bismarck attorney who represents the farmers, called the DEA's response "predictable and without merit."
High Hopes For Hemp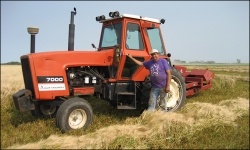 By Cassandra Willyard
Plenty Magazine
August 2007
Dave Monson is not a druggie. He's a mild-mannered farmer with three grown boys and a seat in the North Dakota Legislative Assembly. But in June, Monson and another farmer took the nation's top drug authority to court with the hope of winning the right to grow cannabis.
Monson intends to produce industrial hemp, not marijuana. The hardy crop requires few chemicals, and the stalks and seeds can be made into everything from paper to health food to biofuels. Other countries like Canada allow farmers to grow hemp. But because marijuana and hemp share the same name, Cannabis sativa, the US Drug Enforcement Agency (DEA) lumps them both into the same category — illegal.
"The DEA has been stonewalling for 10 years," says Monson. "We finally got to the point that we had to do something. This [lawsuit] is about the last resort."
[More...]