Dear Reader,
Most hemp news over the past couple of weeks has been out of California, but the budget problems there are threatening a number of bills. We hope that AB 684, the California Industrial Hemp Farming Act, is not a casualty of the impasse. AB 684 has been amended a number of times and as it stands now the bill would authorize a pilot program for the cultivation of industrial hemp in four counties — Imperial, Kings, Mendocino and Yolo — and has had a number of provisions added to overcome law enforcement objections.
The Vote Hemp-funded lawsuit in North Dakota has also been quietly bubbling away on the back burner. There have been a number of great stories on the case, and we also now have the Vote Hemp Bar made by Ruth's Hemp Foods to help us support the effort.
Won't you please also make a contribution to the Vote Hemp Farmer Fund today to help us continue fixing the situation here in the U.S.?
We need and truly appreciate your support!
Best Regards,
Tom Murphy
Weekly News Update Editor
Weekly News Update Stories
Hope for Hemp — A Banned Crop Could See Approval in California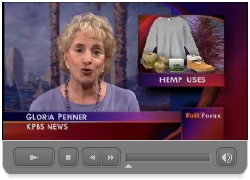 By Elsa Sevilla
KPBS-TV
July 23, 2007
Hemp is a versatile crop: it can be used to make clothing, paper, food, body care products, biofuel — even auto parts. It is considered more environmentally-friendly than growing plants like cotton. And, it is the only crop that is illegal to grow — but legal for Americans to import. Reporter Elsa Sevilla brings us the story.
In May, the State Assembly passed the California Industrial Hemp Farming Act. And a February poll of likely California voters said they would support changing the state law to allow farmers to grow hemp. The bill goes back to the Assembly in September.
Candy Bar to Fuel North Dakota Hemp Lawsuit


Compiled By Staff
Dakota Farmer
July 26, 2007
Ruth's Hemp Foods has introduced a special edition hemp snack bar to promote support of Vote Hemp.
Vote Hemp, a Washington, DC-based industrial hemp advocacy group, is funding the legal costs of two North Dakota farmers, Dave Monson and Wayne Hauge, in the farmers' lawsuit against the U.S. Drug Enforcement Administration.
100 percent of all profits from the first three months' sale of the Vote Hemp Bar will go directly to Vote Hemp. Thereafter, 20 percent of the bar's profits will be donated to Vote Hemp for the entire life of the bar.
Yolo County Board of Supervisors Supports Hemp Bill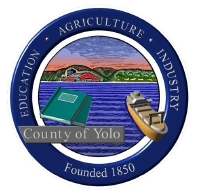 By Lizeth Cazares
The California Aggie Online
August 6, 2007
The Yolo County Board of Supervisors agreed unanimously to support Assembly Bill 684 Tuesday.
If passed, AB 684 would allow for the industrial farming of hemp in four California counties — Imperial, Kings, Mendocino and Yolo counties — for the next five years, in spite of federal law which classifies the plant as a controlled substance and prohibits hemp farming.
Yolo County staff recommended the county support the bill because hemp production can be beneficial to the county, said Petrea Marchand, manager of intergovernmental affairs for Yolo County. "Staff is recommending support because Yolo County agriculture may benefit sometime in the future from an availability of another crop," she said.
Hemp My Farm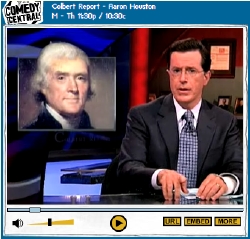 The Colbert Report
July 26, 2007
North Dakota legalizes hemp farming — the corn won't be as high as an elephant's eye. Steven gives the news of the North Dakota lawsuit fairly straight and shows the New York Times story in advance of an interview with MPP's Aaron Houston.
California Farmers Should Be Allowed to Grow Hemp
By Sen. Abel Maldonado
Santa Cruz Sentinel
July 29, 2007
Industrial hemp is a burgeoning international agriculture industry. It is grown in more than 30 countries, including Canada, Germany, England, France, Spain, Australia, Hungary and Romania. But California, and the United States in general, is being left behind in a cloud of misinformation and archaic laws that prevent our agriculture industry from taking advantage of this profitable and important crop.
Current state and federal law allows hemp products to be manufactured in the United States and sold in stores. Californians can buy hemp clothing and food products, California businesses can manufacture and sell hemp products, but California growers cannot grow hemp and are prohibited from participating in the growing agriculture market.
In an effort to unbind the hands of the California agriculture community, Assembly members Mark Leno, D-San Francisco, and Chuck DeVore, R-Irvine, have introduced AB 684, which will allow for the cultivation of industrial hemp as part of a five-county pilot project [Ed. note: the law has since been amended to four]. Butte, Imperial, Mendocino, Kings and Yolo counties will participate in the five-year pilot project. This is common-sense legislation that needs to be signed into law.
[More...]