Dear Reader,
The documentary Standing Silent Nation has generated a good bit of news since its showing on P.O.V. on PBS last Tuesday. After the television premiere, there was also a lively discussion on the PBS Discussion Forums.
Chet Brokaw of the Associated Press (AP) wrote our featured article this week. The AP sent out an update of the story yesterday. Here is the version that appeared in The Washington Post. Vote Hemp gets a mention towards the end of the story, and it was picked up widely.
AB 684, the California Industrial Hemp Farming Act, continues to wind its way through the legislature. Please see our California page for the latest updates and bill versions. Some media outlets, like the Chico Enterprise-Record, get it. Others, like KNTV - NBC Channel 11, pass along misinformation as fact with a deceptive, underlying drug storyline in a tongue-in-cheek (foot-in-mouth?) manner.
On a lighter note, hemp mazes — hanf labyrinths — have become quite popular in Germany. A very elaborate example of one can be seen below. Here is another one created by the HanfLabyrinth team. Soon, hopefully, we'll be able to do this here in the U.S., too.
Please make a contribution to Vote Hemp today to help us continue fixing the situation here in the U.S.
We need and truly appreciate your support!
Best Regards,
Tom Murphy
Weekly News Update Editor
Weekly News Update Stories
Wear It. Eat It. Drive It. Just Don't Grow It.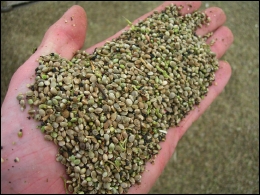 By Ann Woolner, Opinion
Bloomberg
July 6, 2007
You can buy it at any Whole Foods Market, Trader Joe's or health food cooperative. Look for it among the high-fiber cereal, the Inulin, the flax seeds.
Pick up the powdered version to sprinkle green protein on your salad. Buy the granola and just try not to gobble it up immediately.
Hemp, or more specifically, its seed and oil, tastes good (usually). It makes hemp butter, hemp bread, hemp bars and hemp seeds, which look like sesame. All of it is good for you, though none of it will get you high.
The Battle over Hemp on an Indian Reservation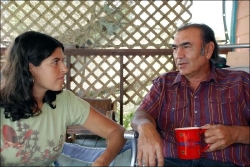 By Virginia Heffernan
The New York Times
July 3, 2007

The story of a dirt-poor but enterprising family thwarted by shocking, stupid acts by jerks armed with red tape and guns produces a single effect: umbrage.
It's good umbrage, mostly, that surging, almost euphoric response to a crusading documentary that frees you from the duty to be even-handed or hear out the other side.
The one side — the good guys, the Oglala Lakotas, that is, in the perspective of "Standing Silent Nation," tonight on "P.O.V." on PBS — has done everything so exactly right, so modestly and appropriately and life-lovingly and hopefully right. And the bad guys, the Drug Enforcement Administration and eventually certain quarters of the federal government, don't only seem heartless, they also come across as idiots. Even R. James Woolsey Jr., the former director of the Central Intelligence Agency and no one's pushover, says so.
Hemp Field Becomes a Folly in the Mad Spirit of King Ludwig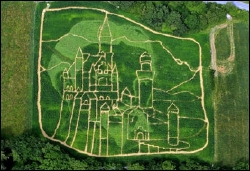 Times Online
July 2, 2007
UTTING, GERMANY — A picture of Neuschwanstein Castle, the retreat of King Ludwig II of Bavaria, took 1,200 hours to plough in a hemp field in Utting, Germany. The enterprise celebrates a king who was a promoter of the arts and architecture and littered Bavaria with imaginative castles.
Bavarians revere the eccentric King. Musicals and songs have been composed about him, and Bavarian pubs still carry his portrait.
Pine Ridge Farmer Struggles to Grow Hemp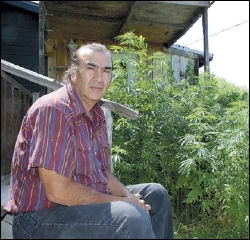 By Chet Brokaw, AP
Indian Country Today
July 6, 2007
MANDERSON, SD (AP) — Alex White Plume hoped his extended family could make a good living growing hemp when he first planted seeds on the Pine Ridge Indian Reservation in southwest South Dakota, but years of fighting with federal drug officials have left him in financial trouble.
The White Plume family planted hemp for three years from 2000 through 2002, but they never harvested a crop. Federal agents conducted raids and cut down the plants each year because U.S. law considers hemp, a cousin of marijuana, to be a drug even though it contains only a trace of the drug in marijuana.
"We had all these plans of grandeur and independence, to lead the way with industrial hemp," White Plume said. "None of it worked out."
[More...]