Dear Reader,
The giggle factor that seems to surround hemp often gets exaggerated on television such that the underlying storyline becomes "hemp is a drug," even if it is clearly stated otherwise. Television is a very powerful medium, and it can both help and hurt our cause. While print lends itself well to explaining shades of grey, television lately is all about 30-second sound bites. That can change, however, if we as a culture want it to.
Please remember that Standing Silent Nation will be aired on PBS on Tuesday, July 3 at 10:00 PM (please check your local listings). If you would like an email reminder sent to you, click here and select the "Send Me A Reminder" button just below the "Watch Trailer" window.
An excellent follow-up to the nationwide showing of "Standing Silent Nation" would be the airing of the documentary "Hemp and the Rule of Law" on cable local access stations. You can make this happen! Filmmaker Kevin Balling has agreed to grant copyright permission to local access stations to show his hemp documentary. Please contact us if you are interested in showing the film in your community.
You can get your very own DVD of "Hemp and the Rule of Law" with a donation of $45 to Vote Hemp.
We need and truly appreciate your support!
Best Regards,
Tom Murphy
Weekly News Update Editor
Weekly News Update Stories
Feds Shield Our Farms' Moral Fiber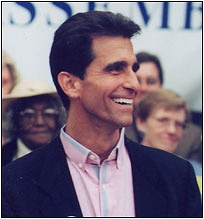 By Steve Wiegand
The Sacramento Bee
June 21, 2007
Sometimes there are aspects of lawmaking that remind one of scenes from "Alice in Wonderland," such as when Alice has a circular conversation with the hookah-smoking caterpillar.
This came to mind Tuesday morning, whilst sitting in Room 113 at the Capitol and observing the state Senate Agriculture Committee.
The topic under consideration was hemp. Hemp is an oft-misunderstood plant. Many people think it's the same as marijuana, when actually they're just good friends.
On a High: Is Weed the New Green?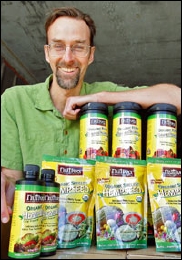 The Economist
June 21, 2007
"Plans are afoot for a great expansion of the hemp industry." So proclaimed the Department of Agriculture in its rousing 1942 movie, "Hemp for Victory," which urged farmers to rally to the cause. "Hemp for mooring ships! Hemp for tow lines! Hemp for tackle and gear!" The plant's long, strong fibers twist easily into rope, which made it useful for parachute webbing. The war effort was imperilled when Japan's seizure of the Philippines curtailed America's supply.
But despite the enthusiasm of wartime planners, hemp never took root (as it were). Taxes and regulations, introduced in 1937 but minimally enforced during the war, kicked in again during the 1950s. Hemp is a variety of the Cannabis plant, which also produces marijuana — though industrial hemp has a much smaller concentration of the mind-blowing compound, THC, than the smokable stuff. America's puritans, not to mention nylon-makers, wanted production shut down.
Hemp Once Grown around Lexington to Support War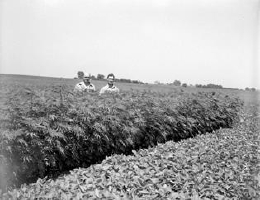 By Bill Steinbacher-Kemp
The Pantagraph
June 24, 2007
LEXINGTON, KY — In the summer of 1943, there were more than 4,000 acres of marijuana being grown around Lexington. The buyer for this crop, though, wasn't some downstate gangster or crime syndicate. No, in this instance, the buyer was none other than Uncle Sam.
During World War II, industrial hemp, a variant of marijuana which contains lower levels of the psychoactive ingredient THC, was used to make rope and other items, such as parachutes, harnesses and shroud lines for airborne troops.
Hemp has been around for a long time. Although not as valuable as other fiber crops such as flax, the long, soft fibers of hemp were put to good use by early pioneers to fashion myriad items, from twine to coarse fabrics. In the early 1900s, Kentucky was the center of U.S. hemp production, though there were several other areas where it was still commercially grown, including northern Champaign County.
Native Americans Growing Hemp Find that Tribal Sovereignty Collides with Government Policy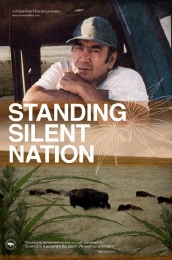 Native American Times
June 26, 2007
Alex White Plume and his extended Lakota family, or tiospaye, are known on South Dakota's Pine Ridge Reservation for the determination and industriousness with which they have faced the hard economic choices imposed by history and reservation life. Undeterred by poor soil and uncertain weather on their land, the White Plumes planted alfalfa, barley and corn. They raised horses and buffalo. All of which brought the family little better than a subsistence life and continued reliance on government subsidies. Still, the family was resolved to achieve economic self-sufficiency, thus preserving the Lakota traditions and bonds that sustain the identity of family and tribe.
So, after much research, and under Alex's leadership, the family planted industrial hemp, the non-psychoactive relative of marijuana. As Alex discovered, and as told in Standing Silent Nation, the new P.O.V. documentary recounting the White Plumes' tragi-comic adventures in hemp growing, the world is in the midst of a boom market for hemp products. The demand is no less in the United States, with this anomaly — hemp products can be sold in this country, but hemp growing is a felony. Alex wasn't out to challenge the logic of the federal government's drug war, but figured that tribal sovereignty allowed him to plant hemp as surely as it allowed casinos elsewhere. He was wrong.
[More...]