Dear Reader,
Happy New Year! Welcome to the first issue of the second volume of The Vote Hemp Weekly News Update. Every week or so members of the Vote Hemp Board of Directors and our Media Team help choose the best hemp news to present to you for your perusal.
As you might expect, North Dakota continues to dominate the hemp news. Work is progressing on the application form at their Agriculture Department, and the form is expected to be approved by the end of this week. We hope that there will be more exciting news on this developing story next week.
Our lead story this week is "North Dakota Challenges Federal Ban on Hemp" from Minnesota Public Radio. Please click here to listen to the audio in Real Player format. The story features North Dakota Agriculture Commissioner Roger Johnson, North Dakota State Representative David Monson and Vote Hemp Director David Bronner. Congratulations to Adam Eidinger, our Communications Director, and the Vote Hemp Media Team for their work in getting another great story on the air!
Please make a contribution to Vote Hemp today to help us continue fixing the situation here in the U.S.
We need and truly appreciate your support, as we move ahead with exciting projects in 2007.
Best Regards,
Tom Murphy
Weekly News Update Editor
Weekly News Update Stories
State Asks DEA to Waive Hemp Registration Fees

By James MacPherson, AP
Bismarck Tribune
December 27, 2006
A $2,293-a-year federal registration fee for growing industrial hemp is ridiculous, says North Dakota Agriculture Commissioner Roger Johnson, who wants the government to waive the fee so more state farmers can grow the crop.
Johnson said he sent a letter on Wednesday to federal Drug Enforcement Administration chief Karen Tandy, objecting to the fee and to confusing paperwork associated with the registration.
"I think it's ridiculous that you have a fee exceeding a couple of thousand dollars for someone to grow industrial hemp," Johnson said.
Garrison Courtney, a spokesman for the DEA in Washington, DC, said the annual registration fee is set by Congress. It also applies to such businesses as pharmaceutical companies that use opium to manufacture morphine, he said.
Hemp Grows with Technological Advances

By Sharon Adams
Business Edge
December 22, 2006
The production of hemp doubled this year in Canada, with the grain moving from a niche product into the foodstuff mainstream as consumers developed their taste for hemp oil, hemp protein and seed.
Now producers of hemp-fibre products are poised for exponential growth, too, with the worldwide increase in consumer demand for sustainable goods.
"We've had a massive increase in acreage nationally to 45,000 acres [Ed. note: Health Canada actually issued licenses for 50,768 acres] from 22,000 in 2005," says Arthur Hanks, Executive Director of the Canadian Hemp Trade Alliance, which is based in Saskatchewan.
"We've had strong markets," he notes, adding that some of the crop was produced on speculation because "hemp pays well" Ñ about $38 per bushel.
Industrial Hemp Backers Try to Clear the Air

By Bert Caldwell
The Spokesman-Review
December 28, 2006
North Dakota farmers want to get into the hemp business. A few want it so badly they would be willing to ante up $202 in state licensing fees, and another $2,293 for a non-refundable U.S. Drug Enforcement Administration registration fee.
That assumes the DEA will give them the time of day.
How North Dakota proceeds, and how federal authorities respond, will likely determine whether the United States again allows the cultivation of industrial hemp. Except for a brief experiment in Hawaii, the plant has not been grown in the country since 1957.
Interest in hemp has grown rapidly as consumers warm to the beneficial effects of hemp-based foods and oils. The newest thing is hemp milk, with brand names like Manitoba Harvest Hemp Bliss. Really.
Industrial Hemp Poised to Become Major Crop

By Sue Roesler
Farm & Ranch Guide
December 21, 2006
Industrial hemp could easily become a leading alternative cash crop of the future in North Dakota, after all it has been growing wild for decades in the state Ñ so proficiently, in fact, that it has even been classified as a noxious weed.
But producers and ag officials are rediscovering the crop's agricultural value and have been working hard to allow hemp to be grown here.
And beginning Jan. 1, North Dakota farmers may be able to get in on the value-added ag side of the crop, as the state will be the first in the nation to issue licenses to farmers to grow industrial hemp next spring.
There is high consumer demand for industrial hemp which has nearly 30,000 uses. From sturdy clothing, rope, automotive products and ship sails made from the fibers of the hemp stalk, to the most balanced Omega 3 and 6 oil available made from crushing the hemp seed, the entire plant has been used in a variety of ways around the world for centuries.
North Dakota Challenges Federal Ban on Hemp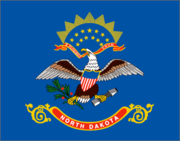 By Dan Gunderson
Minnesota Public Radio
December 27, 2006
Moorhead, MN Ñ Farmers in the U.S. have been trying for years to get federal permission to grow hemp, but the Drug Enforcement Administration has refused all requests because hemp is related to marijuana.
North Dakota Agriculture Commissioner Roger Johnson says it's time to force a change.
"Virtually every other industrialized country in the world allows the growing of industrial hemp," says Johnson. "We're kind of an island with this almost caveman mentality on the federal level toward the growing of industrial hemp."
Johnson sees irony in the fact that in the 1940s the federal government strongly encouraged farmers to grow hemp. The government even provided free seed. Hemp was considered vital for fabric and rope production during WWII. The USDA even produced a film called "Hemp for Victory," which promoted hemp production as a patriotic duty.
In the 1940s hemp was regulated as an agricultural crop. Now hemp is controlled by the Drug Enforcement Administration.
[More...]