Dear Reader,
Welcome to the seventh issue of The Vote Hemp Weekly News Update! The Vote Hemp Media Team has been quite busy with AB 1147, "The California Industrial Hemp Farming Act." All of our hard work Ñ and that of our supporters Ñ has paid off! AB 1147 has passed both the state Senate and Assembly and is now headed to Gov. Schwarzenegger for his signature.
Except for one story out of Ontario, Canada, all of our stories this week are about the California bill. The New York Times story "California Seeks to Clear Hemp of a Bad Name" is very good and is on the Times' Most E-Mailed List. Please log in to their Web site and email this story to everyone you can and ask the recipients to do the same. As of this mailing, the story is already in the Top 10!
Please also use our Send a Letter tool to write to Governor Schwarzenegger today and ask him to sign AB 1147, The California Industrial Hemp Farming Act.
After you have sent your letter, please make a contribution to Vote Hemp to help us continue our work.
We need and truly appreciate your support!
Best Regards,
Tom Murphy
Weekly News Update Editor
PS Ñ If you want to read more of the coverage of AB 1147, and other hemp news, visit the Vote Hemp News Coverage section.
Weekly News Update Stories
Hopes Still High for Hemp

By Hank Daniszewski
The London Free Press
August 26, 2006

Eight years after it was legalized, industrial hemp growers are still waiting for that big break that will make it a mainstream crop in Ontario.

Dan Scheele is one of the folks keeping the faith. He's holding a hemp field day on his farm south of Ingersoll today.

Scheele, vice-president of the Ontario Hemp Alliance, estimates there are about 20 hemp growers in the province working about 500 to 1,000 acres.

Scheele grows 23 acres of hemp, in addition to 175 acres of corn, soybean and wheat.

"The hemp is a main crop. It looks like that 23 acres will be the most profitable this year," said Scheele.
Hemp Bill Heads for Schwarzenegger's Desk

By Tom Ragan
Santa Cruz Sentinel
August 25, 2006
Watsonville, CA Ñ Wine grapes move over.
Strawberries watch it.
Salinas lettuce, you may be a top moneymaker now in the Salad Bowl of the World, but don't let that turn your head.
California-grown hemp could crop up as a contender.
Farmers aren't sowing their fields with hemp seeds just yet, but a few Pajaro Valley growers, along with the county Farm Bureau, are hoping Gov. Arnold Schwarzenegger signs a bill that would permit farmers to grow hemp legally.
Assembly Sends Hemp Bill to Governor

By Kimberly Geiger
San Francisco Chronicle
August 22, 2006
Sacramento, CA Ñ California lawmakers narrowly passed a bill Monday that would allow California's farmers to tap into the $270 million hemp industry by providing the raw materials used to create hemp products.
The bill, AB 1147, is a bipartisan effort by Assemblyman Mark Leno, D-San Francisco, and Assemblyman Chuck DeVore, R-Irvine (Orange County), that would allow California's farmers to produce hemp oil, seed and fiber Ñ the raw materials that are used in hemp products.
Industrial hemp, marijuana's non-hallucinogenic cousin, is used to produce personal care products, food, paper, clothing, car parts and building materials.
Logic Prevails in Hemp Legislation

Editorial
Chico Enterprise-Record
August 22, 2006
Sometimes the state Legislature does the intelligent, logical thing Ñ and it shocks us. Such was the case last week, when the state Senate overwhelming passed a bill that will allow hemp farming in California.
The Assembly followed suit Monday and sent the bill to the governor's desk.
The legislation seemed destined to become entangled in knee-jerk partisan opposition because of the word "hemp," which sounds an awful lot to some conservatives like the word "marijuana."
The proposal struggled a bit in the Assembly in January when Republicans, including Chico's Rick Keene and Richvale's Doug LaMalfa, voiced their objection to allowing farmers to grow something that looks similar to its distant cousin, marijuana.
California Seeks to Clear Hemp of a Bad Name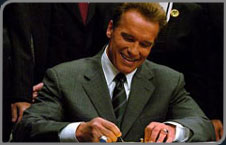 By Patricia Leigh Brown
The New York Times
August 28, 2006
Stratford, CA Ñ Charles Meyer's politics are as steady and unswerving as the rows of pima cotton on his Central Valley farm. With his work-shirt blue eyes and flinty Clint Eastwood demeanor, he is staunchly in favor of the war in Iraq, against gun control and believes people unwilling to recite the Pledge of Allegiance should be kicked out of America, and fast.
But what gets him excited is the crop he sees as a potential windfall for California farmers: industrial hemp, or Cannabis sativa. The rapidly growing plant with a seemingly infinite variety of uses is against federal law to grow because of its association with its evil twin, marijuana.
"Industrial hemp is a wholesome product," said Mr. Meyer, 65, who says he has never worn tie-dye and professes a deep disdain for "dope."
"The fact we're not growing it is asinine," Mr. Meyer said.
[More...]